June 5, 2010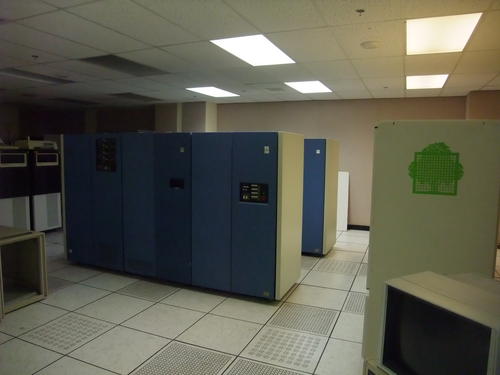 It was Doors Open Ottawa again this weekend, and Brendan, Elizabeth and I duly headed out Saturday to visit the Diefenbunker (Canada's Cold War Museum) with friend Michael.
Technically the Diefenbunker can be visited at any time. A Doors Open purist would take the opportunity to visit buildings that are normally closed to the public, but it is already June, Doors Open Ottawa meant that the Diefenbunker was offering free admission and I have a lot of museums still to visit for my New Year's resolution. I was completely sold on the idea once I found out there was a geocaching puzzle to solve there too!
So off we went to Carp.
The Diefenbunker is a ginormous underground and formerly secret complex built in the late 1950s to house 535 of Canada's most important personnel in case of a nuclear attack. I could say most important men and wouldn't be far off - even now the washroom facilities for women are sadly lacking. Forget change room facilities; we ended up changing Elizabeth in the trunk of the car.
The complex was obviously never used for its intended purpose, and eventually was taken over by the military. From 1980 to 1994 the complex was used for top secret military businesses that is still mostly classified. Or so the guides told us. When the military abandoned the bunker, some thought the complex should be destroyed. The Hell's Angels wanted to buy it. A mushroom grower thought it would be a good place to expand. Someone else thought it would make a fantastic place for paint ball. But ultimately it became a museum. No one asked us and we agree that paint ball would be too destructive, but the Diefenbunker should totally consider converting part of the space that they aren't using to a laser tag facility. Seriously!
We thought about getting a guided tour but in the end didn't and were glad because Elizabeth would have ditched the tour guide in less than five minutes. Some rooms she found very interesting, and others not so much, so it was just as well that we were travelling at our own pace.
To be continued...
You might also like
- 24 Sussex
(0.407096)
- Grand Reopening
(0.406015)
- Cumberland Heritage Museum
(0.40367)
- Bloodwork
(0.39793)
- Butterfly Adventure
(0.396435)
All
June 4, 2010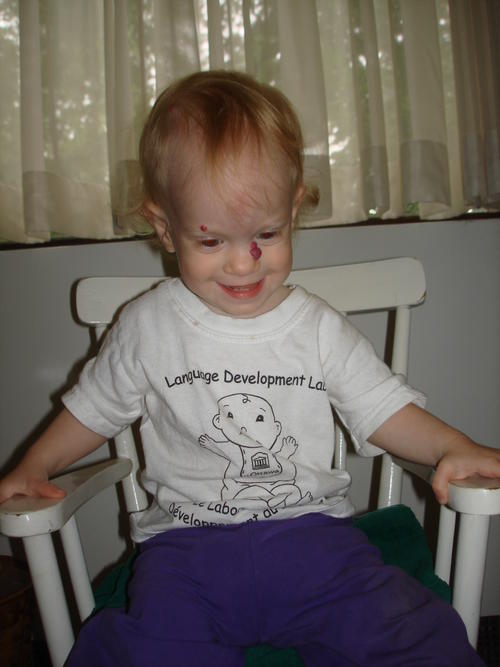 Elizabeth loves helping Daddy. Daddy was fixing Grandma J's flower boxes tonight and Elizabeth had a very special job. Aside from playing Goldilocks (trying out each and every one of the chairs in the house) and looking after her dolly. Elizabeth carefully brought Daddy the screws that he needed, one at a time. She'd carefully select a screw from the box, placing it in her hand and holding it tight. Then holding onto Mommy with the other hand she'd walk to Daddy's work area about five metres away.
"Dit do" said Elizabeth. ("Here you go"?) "Thank you Elizabeth", said Daddy. Big grin and then grabbing Mommy's other hand Elizabeth charged back the five metres at a gallop to get the next screw. Of course it would have been more efficient to move the box, but being experienced parents we know the value of free entertainment when we see it!
You might also like
- Chicken Chicken
(0.328244)
- First day of Maternelle
(0.327103)
- First babysitting gig
(0.326146)
- Dance Camp
(0.326059)
- Scary crickets
(0.325714)
All
June 2, 2010
Nine years ago, I married my high school sweetheart.
Last year we celebrated our anniversary by taking Elizabeth to Home Depot. This year we took her to CHEO for a routine follow-up appointment for her hemangiomas. The appointment went well. We've graduated from the dermatology department because they have now completely ruled out the need for medication. Elizabeth was very happy because she was totally done with being cooped up in one room and waiting around to be seen by doctors.
While we were waiting we got to read the oddest collection of books. One was about a snake and his brother who wouldn't share. So the snake squeezed all his brother's toys and ate them! In the end he squeezes his piggy bank and offers to buy new toys. The other was about pigs. "Pigs eat everything." It said. "We eat pigs." It was rather strange.
Elizabeth didn't appreciate having her nose squeezed by the doctor for some reason. We're officially in the "end of the growth phase" now. They are not concerned about and aren't planning to do anything about any of the hemangiomas except for the one on the nose, unless Elizabeth starts scratching at them or they begin to bleed a lot. Luckily Elizabeth ignores them, although other kids often try to pull them off her face!
Plastic surgeon Dr. Duncan believes that due to gravity and its size, even if the hemangioma regresses completely there will be extra skin that will need to be removed surgically. Since surgery is necessary either way, and since Elizabeth will end up with some scar tissue on the nose regardless of her age at the time of surgery, she's going to recommend proceeding sooner rather than later.
The hemangioma on the nose has not yet started to collapse enough though, so it won't be before next year at the earliest, but by the time Elizabeth is five at the latest in order to reduce the number of comments she'll receive once she starts school.
After the appointment, Brendan and I were planning to go out for dinner but he was not feeling well so we took a rain check and ordered in instead. We had gluten free pizza and chocolate cheese cake. It was kind of strange sitting around the dinner table with Elizabeth having our "romantic" supper together. But on the other hand it was also really special. We are so fortunate to have spent so much time together first as a couple and now as a family. Don't get any ideas though Elizabeth. Next year it's a sitter for you.
You might also like
- Healthy Girl
(0.435496)
- Last OB appointment
(0.426621)
- Hawaii
(0.425125)
- Dermatology Peek-a-Boo
(0.42)
- Child Labour
(0.419134)
All
May 30, 2010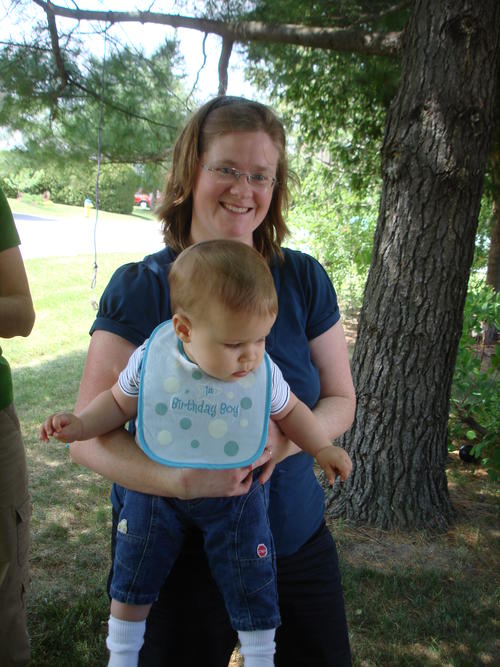 Elizabeth's friend Aidan turned one this weekend, and we were invited to celebrate with parents Dianne and David. He's changed a lot since we first met him at only a week old (He's the teeny tiny one at the end of the photo series)! He's even started to take his first steps!
Aidan had a pinata and really enjoyed seeing the other children whack at it. Every time someone made contact, he giggled and giggled and giggled. Elizabeth got play with the pinata stick, but we decided she was too little to actually try hitting the pinata. She did enjoy eating some of the chocolate that fell out, to no one's surprise. She also loved the noisemakers but although she blew vigorously she did so with mouth open. She didn't quite understand why she couldn't make it go.
She chased bubbles, "danced" with six year old Eric who was just fascinated with her and generally charmed her way around. She played very nicely with Aidan, passing plates back and forth for a long time. Then they both decided they'd like to play with Aidan's new play garden cart. Aidan was happy to share. Elizabeth was not. She has started putting her head down on the ground and wailing when she gets frustrated. After a few minutes in full meltdown mode, we decided it was time to go home for a nap.
You might also like
- Aidan is TWO
(0.400468)
- Chickadees
(0.380739)
- Camping!
(0.377961)
- First day of "preschool"
(0.377123)
- Elizabeth end of year concert
(0.373698)
All
May 29, 2010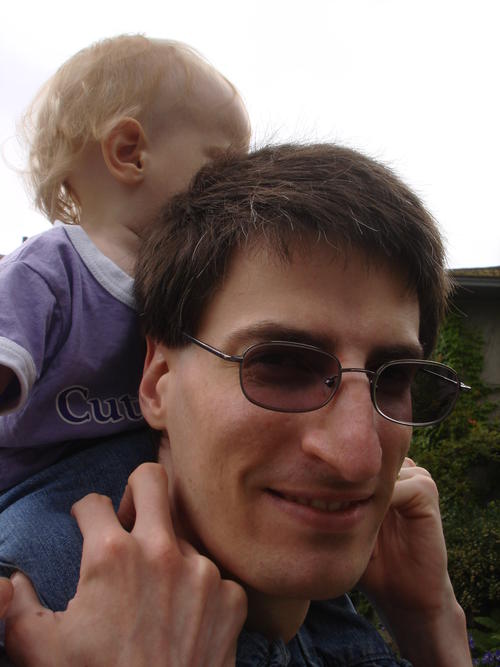 Today was the 24th annual Great Glebe Garage sale. I'm happy to report that more stuff left our house than arrived; in fact Brendan and I refrained from any purchases at all. Elizabeth would have liked to buy many, many things, mostly in the stuffed animal department. Eventually we decided to come home and let Elizabeth do some of the selling...
After the garage sale we spent a little bit of time working on the playhouse. We've finished three walls and put in the window. Elizabeth seems to approve so far.
You might also like
- Great Glebe Garage Sale
(0.348511)
- Sand Delivery
(0.335953)
- Like riding a bike
(0.325806)
- Playstructure
(0.324421)
- Washing the Car
(0.314189)
All