July 22, 2010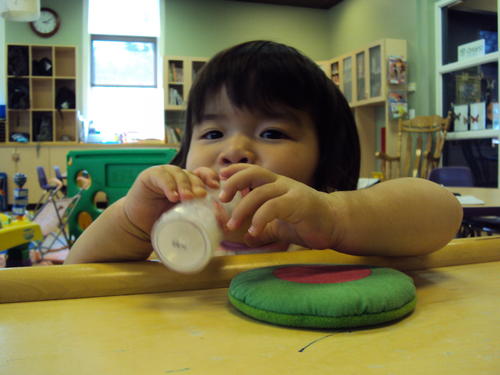 I felt strangely tired this afternoon...
The day started with a leisurely walk to the library depot to pick up our book requests. Elizabeth slept most of the way but she woke up in time to go to Sylvia Holden park to play in the wading pool. It was a hot day but the water was still very cold, and Elizabeth did NOT approve. She spent the entire time clinging to Mommy and whimpering. Even the playful dolphins peekaboo-ing behind Mommy's back didn't help. "Done", she cried. "Done."
So we got out and went and played in the park down the street. The park itself is tiny and completely filled with sand toys. Quite aside from the playstructure, seesaws and swings, there were tractors, trucks, pails, shovels and two large play kitchens.
After lunch we met up with Auntie Yukiko and the girls at the Ontario Early Years Centre. The theme was "Under the sea" and "Babies". Guess which theme the girls liked best? We wanted a posed shot of all three of them but they were too busy playing to be very happy about this idea. Sigh.
Since we really, really wanted a posed shot of the girls, Yukiko and I took them to Clare Gardens park after playgroup was over. We took some almost fabulous shots. Oh well... we'll just have to try again.
Home for a quick bite of supper and then we headed out again. Mommy and Daddy dropped Elizabeth off at Auntie Yukiko and Uncle Chris's place to play for a while while Mommy and Daddy went on a date. We watched a movie about babies at the Mayfair. The topic seemed fitting! For those not in the know Babies is essentially a documentary following four children from birth through to early walking. The four children are from vastly different parts of the world (Namibia, Japan, US, Mongolia) and it was quite interesting to see how the cultural and social differences and similarities play out in these children's lives. We thoroughly enjoyed the movie and would recommend it highly. After our date we headed back to pick up a happy but very sleepy Elizabeth and took her home to bed.
You might also like:
-
Sportball
-
Elizabeth's 9th birthday party
-
Cosmic Adventures
-
Snow, NAC, GNAG Halloween, dinner
-
Je d'école
July 21, 2010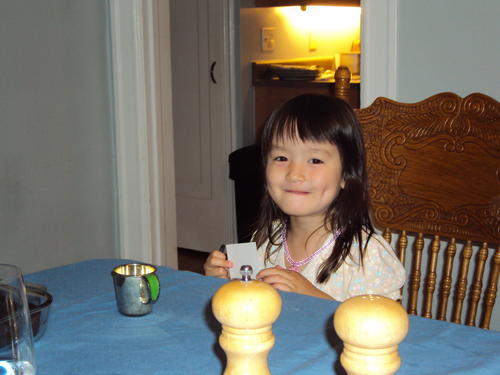 Elizabeth had her "fifteen" month checkup today. She weighs 8.46kg and was measured at 75cm, although they were pretty sure the height was wrong since Elizabeth was very uncooperative. We've measured her anywhere from about 78 to 85cm depending on how much she is wiggling...
I'm happy to report that the doctor didn't give me any flack for still breastfeeding, and eating issues aside Elizabeth is growing just fine. She's basically returned to where she would have been at had her weight curve continued without the dreaded late winter / early spring vomitfest. Happily we were even able to answer yes to all of the developmental questions they asked us. Who knew that scribbling and stacking blocks are similar? Or that walking isn't on the list of important developmental milestones yet?
When it came time for the shots and we all assumed our positions Elizabeth was clearly apprehensive. Some reassurance from Mommy and Daddy seemed to comfort her and a couple of stickers after the shots pretty much wiped away any remaining tears. What a brave girl!
In the evening we headed over to visit Auntie Yukiko and company to celebrate her recent birthday. The cousins had a tremendous time chasing each other around and shrieking. Much "indoor voice please" was heard and forgotten seconds later.
We also took the opportunity to record birthday wishes for Uncle Mark who is currently living overseas. We couldn't make him a cake but Erika drew him a beautiful one. Mark, apparently your cake is vanilla with strawberry chunks and next time you visit Erika says she'll bake it for you.
You might also like:
-
Four month checkup
-
Happy Birthday
-
Je d'école
-
The Big Clock
-
Stomach Ache
July 20, 2010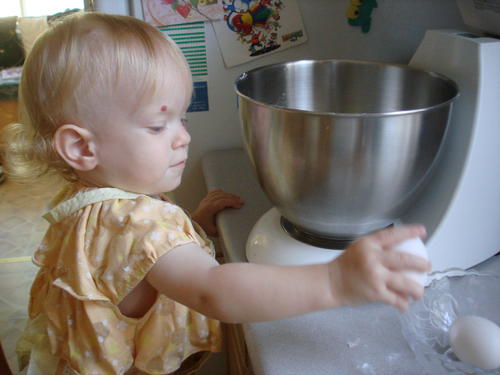 Elizabeth loves to help Mommy and Daddy.
I've posted before about how much she loves to bring Daddy screws when he's building things. But she also folds laundry, puts away clothes, wipes the floor and helps Mommy cook. Granted, folding the laundry ends up with clothes looking like a tornado passed through the laundry basket, the clothes in the drawer are just dumped together, and the floor only needs wiping because of all the ingredients she accidentally spilled on the floor, but we all had to start somewhere!
You might also like:
-
Like riding a bike
-
Spring
-
Big baby in carseat
-
Pancake Chef
-
Lindsay's Baptism
July 19, 2010
Auntie Janice came sailing with me tonight so Elizabeth and I went to the Aviation Museum to pick her up.
Elizabeth wanted to bring Poodle Bear. I was hoping we'd get an extra sticker but no such luck! (Museum members get to collect stickers in exchange for prize ballots).
You might also like:
-
Breakfast at Great Aunt Muriel's
-
Beach party
-
Graduation Day
-
Pink Eye
-
Skating, skating
July 18, 2010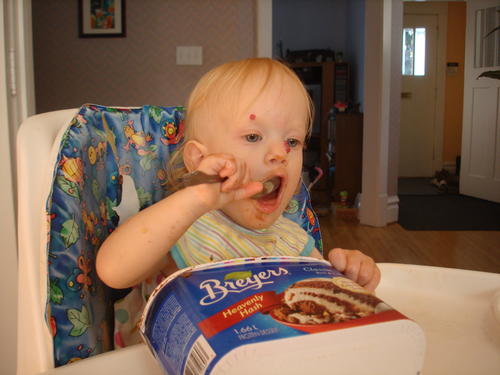 Now THIS is the way to eat ice cream!
You might also like:
-
Ice cream party
-
Great Aunt Mary
-
Snow forts with Auntie Heather
-
First Braid
-
First Ice cream cone