August 23, 2010
Last full day with Grandma and Grandpa H. Elizabeth wakes up in the morning and asks to go downstairs to see "Bapa" (Grandpa). He taught her how to play airplane with her food, in the hopes that she would eat more. Now she spends time zooming food around in the air and making vrooming noises, but it doesn't seem to have increased the quantity or type of food she eats...
Grandma and Elizabeth had a great time building and decorating sandcastles. And then smashing them to smithereens.
You might also like
- The sandbox is coming...
(0.324607)
- First Steps
(0.291954)
- Maria's first swim
(0.289474)
- Angie
(0.288288)
- Elizabeth's first cold
(0.285988)
All
August 22, 2010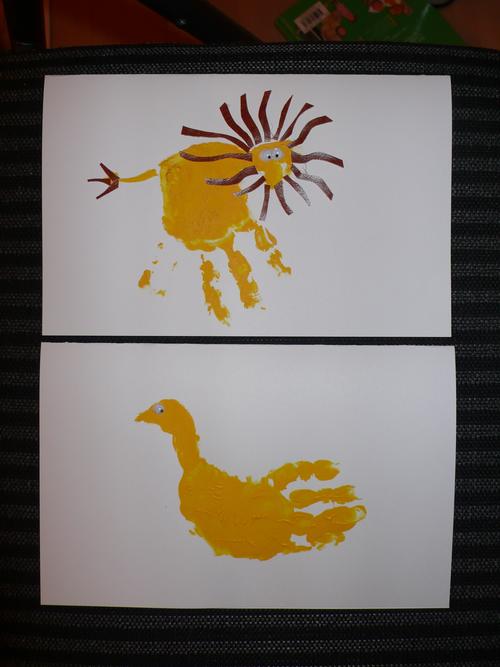 With Grandma and Grandpa H home from Portugal, we took the opportunity to celebrate their birthdays.
Elizabeth (or should I say Mommy?) went nuts with the handprint art. Lest you think I'm super creative, let me hasten to add that I get most of my ideas online. Elizabeth is actually starting to have opinions about where to put her handprints and what colours to use. Of course she'd rather paint free-style, but I did want to have a few handprints of hers while they are so tiny...
You might also like
- Family Day
(0.315881)
- River Oak birthday
(0.311111)
- 6th birthday party
(0.311024)
- Playdough
(0.310469)
- Christmas Cake 2012
(0.310212)
All
August 21, 2010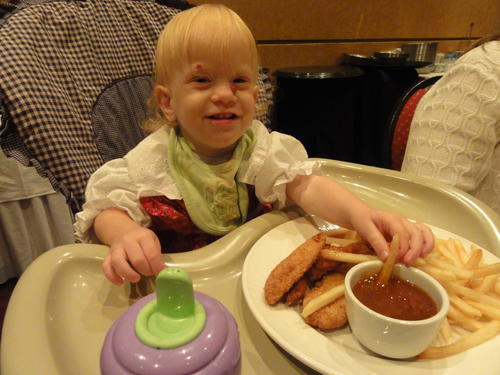 We went to Iain and Renee's wedding, which featured a full orchestra accompaniment at the church, lots of brilliant musicians performing before and during the reception, and the grand finale of the Casino de Lac-Leamy fireworks competition. I instantly decided there should be a rule requiring all wedding receptions to end with fireworks.
Elizabeth had her own meal for the first time "out". She had some of Mom and Dad's yummy pear soup and demolished most of her very own bun, but her eyes nearly fell out of her head when the waiter brought her own plate of chicken fingers and fries. Not that she ate more than a microscopic amount of the chicken (we joke she's a vegetarian that eats bacon), but she did take a bite out of pretty much every single fry.
Then they brought out the dessert, but by then Elizabeth was pretty full. She ate all the M&M's and took a few bites out of the oreo before settling down to some serious chocolate pudding puddling.
You might also like
- A visit from Godmother Rachel
(0.345821)
- Like riding a bike
(0.341598)
- Happy Birthday Aidan
(0.341207)
- River Oak
(0.340909)
- Baby Summit 2015
(0.340659)
All
August 20, 2010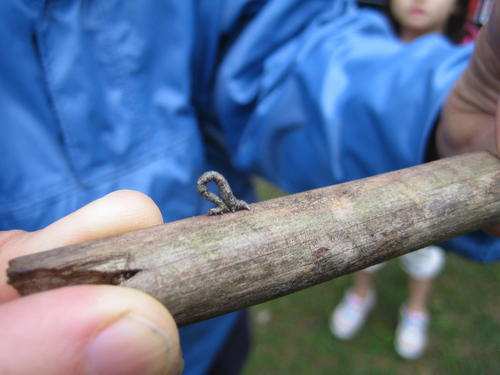 We're becoming masters of the overnight camping trip... No canoeing this time because the campsite at Lac La Peche was sadly full but Fitzroy Harbour park had a large group campsite available for us.
Camping with three children under the age of five was not as frightening as we thought it might be, especially after we arrived and were greeted by beware of poison ivy signs!
We popped all three girls into a tent as soon as we arrived but not liking to be confined Maria soon popped out again to crawl around on a blanket. Erika and Elizabeth were quite happy to hang out together out of sight of the grownups (Erika zipped all the windows and doors closed as soon as Maria left) but we could kind of tell what they were up to by all the singing. Ring around the Rosie was especially popular.
Eventually they wanted out to explore. Luckily Auntie Janice and Auntie Karen arrived so the kids were diverted to help put up tents. Auntie Janice's tent was the most popular by far, possibly because of the kid-sized cat flap. They really liked jumping on Auntie Janice's air mattress too. I don't recommend this though; it's hard on both the air mattress and the Auntie, especially if she's prone to sore backs.
Auntie Karen and Uncle Dave brought some glow sticks. These were a huge hit with the kids and actually made pretty good flashlights. Mom and Elizabeth went to bed early amid much giggling over the sleeping bag and headlamp flashlight. Elizabeth was fascinated by the red light filtering through her hand.
The rest of us all enjoyed sitting around the fire and admiring the moon and the stars in the night sky. We were quite startled when we heard some noises and thinking that we had a racoon shone our flashlights in the direction of the commotion. It was a skunk ten feet away. What happened next really surprised us. Instead of moving away from us after having been discovered the skunk just casually sauntered around and even came closer to us. Our skunk friend didn't seem to really care that we were there. We finally managed to show it away and settled down around the fire again. Several minutes later we heard a noise and found our beloved skunk just the other side of the fire pit! Yikes. At least this time it scooted with some enthusiasm. With some trepidation we all finally went to bed hoping that no one would have a mid-night run in with our furry friend.
You might also like
- Canoe Camping
(0.436055)
- Slides and Hogs
(0.422134)
- Erika and Maria
(0.420628)
- London
(0.419255)
- Family Day
(0.4191)
All
August 18, 2010
It's okay Uncle Dave, entering your fourth decade is nothing. I'm entering my 19th month any day now!
You might also like
- Photo with the bear day
(0.231183)
- Guy Fawkes
(0.204724)
- Ireland Bound!
(0.187919)
- Boys in bed
(0.182927)
- Chris has a birthday
(0.182796)
All