September 12, 2010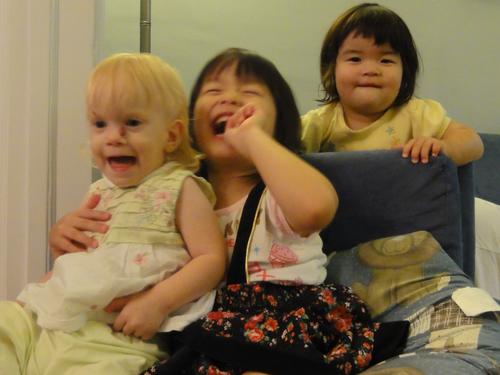 On Sunday Uncle Dave and Auntie Karen came for lunch. Elizabeth showed Auntie Karen her playhouse, and Auntie Karen showed Elizabeth her ipod.
Then we headed to Sunnyside to help Auntie Yukiko paint Erika's dark green room ballerina pink. The babies didn't get to help, but we did let Erika finish off the last section of wall.
You might also like:
-
A hard day's play
-
Museum and Birthday
-
Brownies
-
Ready, Set, Pack!
-
A quiet house
September 11, 2010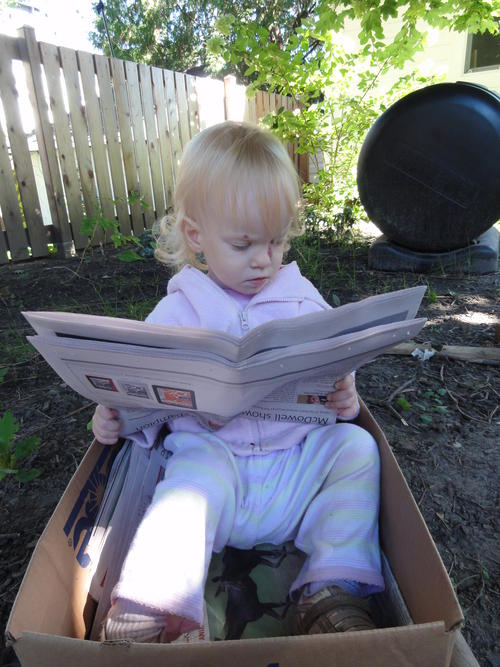 Our brick desperately needed repointing and the weather was FINALLY just right (not too hot, not too cold and not raining) so we spent the entire day outside. Elizabeth was desperate to help. She bothered Daddy on the ladder for a few minutes but although she would have been thrilled to spend hours clinging to his knees Mommy and Daddy didn't think this would be very helpful.
So Elizabeth and Mommy worked in the garden and played in the playhouse. At first Elizabeth was not keen to play in her house by herself but that has worn off now and Mommy isn't always welcome (and no, I am NOT ready for that stage...) We have a new game where I knock on the door and she giggles and runs away. Then I open the door and say peekaboo. She runs to the door and slams it in my face and runs away again. She got so giggly that she couldn't walk straight! I'd upload a video, except that we haven't figured out how to use videos from our new camera.
You might also like:
-
First Snow
-
Big Bed
-
Apple Picking Reprise
-
Cottage Days:Cousins
-
Swimming
September 6, 2010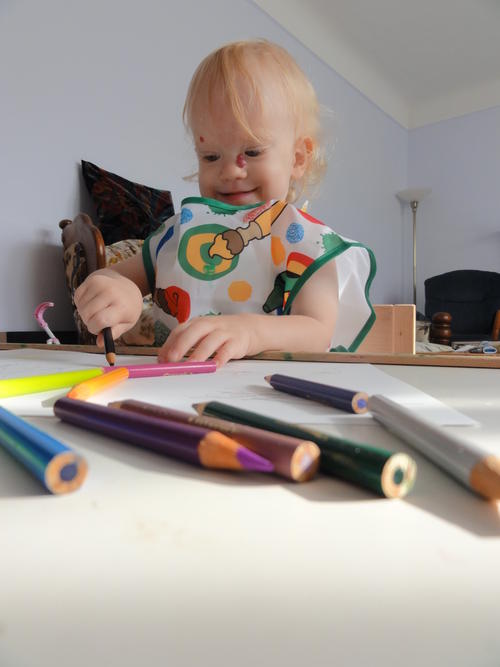 We let Elizabeth try her hand with watercolour paints for the first time. She's used to having to press her crayons into the paper in order to get a nice colour and tried to do the same with the paintbrush. I could practically hear it begging for mercy, especially when she drowned it repeatedly in the rinse water.
The rinse water was much more fun than the actual paint as it turned out, although she did enjoy painting for a few minutes before declaring her masterpiece finished and demanding a new piece of paper... and some pencil crayons, please.
You might also like:
-
Violin
-
Life skills
-
First Communion
-
Tournament Team
-
End of an era
September 5, 2010
We made it to Watson's Mill on the last day for the live wheat grinding demonstration by interpreters in period costume. Yes WHEAT. Oh.... That's complicated for a celiac. However, I'd met one of the mill's interpreters on Colonel By Day, and after talking to him about the setup we figured that we could safely visit as long as I wore a face mask and kept my distance from any really dusty areas.
We headed there immediately after church. As soon as we walked in the door we were impressed. Right away you are surrounded with the complete milling process. You've got grain moving up and down through a mechanical elevator system, the millstone spinning away grinding and the flour coming down through another elevator into the bags on the weigh scale. The miller was working away adjusting the millstone by adjusting the flow of water to the turbines below the building. Did you know they had turbines in 1860? Crazy! As we worked our way through the building we continued to be amazed by all the neat machinery, most of which was actually in operation. The use of wood was quite impressive for the time. Wooden gears, augers and contraptions to do all kinds of cleaning and separating of the grain. They don't have to clean and separate the grain anymore; it comes to the mill chaff and smut free! I was quite entertained to discover that smut is a type of fungus that can be mechanically removed with a smutter. I am easily amused...
We learned about the mill's ghost, felt the warmth and texture of the partially ground flour, and made friends with the local ducks. Okay, so Daddy and Auntie Janice felt the flour. Mommy declined and Elizabeth was too shy. We spoke at length to the chief miller who was extremely friendly and knowledgeable. He even stepped outside to talk to us in a "wheat-free environment"! It turns out that the wheat grain they use isn't currently local - there's apparently a big problem with a non-smut variety of fungus that has ruined wheat crops in Ottawa the last two years, so the mill has had to import their grain from the US.
We also learned that Manotick basically sprang up around the mill and the other local businesses that sprang up around it. Apparently the mill exported power via a steel cable across the river to the local bung factory. Bung - who knew?
There's no question that this is a somewhat questionable outing for celiacs - the flour was just pouring from the ceiling into bags. The bagging part of the mill had enough flour dust in the air that I wondered whether it wouldn't be a good idea for everyone to be wearing masks! (We didn't stay in that area long) But overall the mill is a wonderfully interesting place and Elizabeth enjoyed it. We had a great time, learned a lot and even made it out with some crazy cheap bread ($1.00 / loaf) baked locally using flour from the mill. If we'd discovered it earlier in the season I am sure we would have made several trips during the summer, especially since it is right around the corner from one of our regular berry picking farms. I'm sure we'll be back!
You might also like:
-
Music Day
-
Cumberland Heritage Museum
-
H1N1 Rock Concert
-
Doors Open: Robert O. Pickard Environmental Centre
-
Sewing with kids
September 4, 2010
Unlike her mother, Elizabeth loves to shop. She's especially fond of running around the store pulling random items off the shelves.
Mom and Dad desperately wanted a rest before tackling the rest of their shopping list, and riding up and down and up and down the escalator didn't really count. So that probably explains how we ended up at the McDonald's in the Billings Bridge food court, ordering Elizabeth her first McFlurry.
You might also like:
-
Ice Cream
-
A visit from Godmother Rachel
-
Heidi and Tante Elfi
-
Le Patinoire
-
How did THAT get there?