September 18, 2010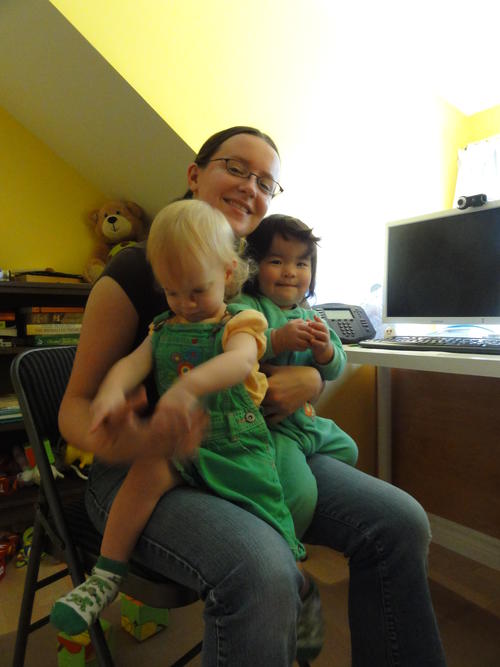 Cousin Maria came to play this morning while her sister and Daddy were at Japanese Saturday school. Elizabeth was very excited that her "Aya" was coming but didn't understand why her "Tata" (Erika) didn't come in too.
The two girls played very nicely together, but whatever one was doing, the other had to do as well. Maria needs to go upstairs for a diaper change? Elizabeth wants "too". Is Mommy carrying Maria? Elizabeth wants "bup pees" (up please).
We made pancakes and despite two enthusiastic helpers there was only a slight mishap in the shape of batter all over Maria and the floor. Maria ate two or three times the amount Elizabeth did, but everytime Maria wanted more, so did Elizabeth, even though Elizabeth still had lots of food on her plate. Elizabeth started taking a bite out of each banana piece in order to try to keep up, but no dice!
After pancakes the girls coloured together, read books together and danced with their toys together. There was a lot of giggling. Then Maria seemed tired so we tried to have a nap together. Maria lay down, closed her eyes and went to sleep right away. Fearing that Maria's nap would be disturbed by the jack-in-the-box that was Elizabeth, we went to have some quiet time in the room next door. So much for monkey see, monkey do...
You might also like
- Recital, Home Depot, movie night
(0.396509)
- Strike Day
(0.384248)
- Boston
(0.378875)
- First Sleepover
(0.376623)
- Kitties
(0.375931)
All
September 16, 2010
When Elizabeth wants something nowadays, she'll say so. If she doesn't consider that we're paying sufficient attention, then she'll repeat her request over and over and over and over again.
"Chair, Chair, Chair, Chair" she chants. She likes the little stool upstairs best because she can move it around by herself...
You might also like
- Arboretum
(0.291096)
- Spring has sprung
(0.29021)
- First steps
(0.289562)
- Goo
(0.28754)
- Cooing
(0.282609)
All
September 14, 2010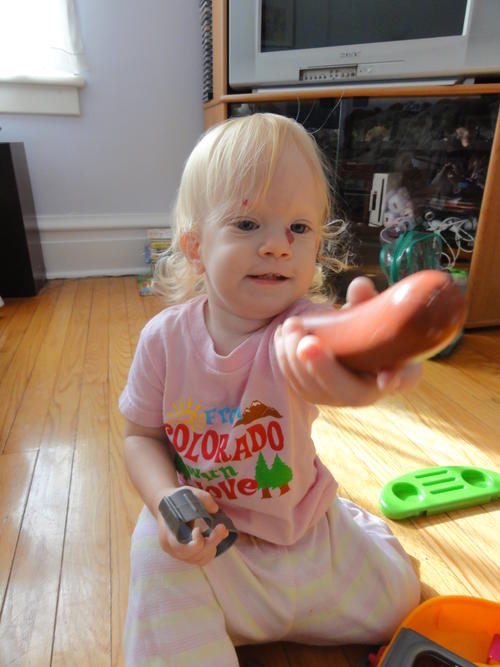 The last couple of weeks, Elizabeth's been learning to BBQ with the help of an awesome play BBQ toy that we borrowed from the OEYC. It comes with a clicking lighter, fake plastic meat, and utensils. The unit itself makes flaming and sizzling meat noises with lights flickering underneath to simulate burning. The sizzling noises only happen once the meat is actually put on the grill. Not that I would have noticed that detail; Brendan had to point it out!
Elizabeth likes to pretend to eat the fruits of her labour, but to Daddy's great consternation she has a tendency to eat first and cook second. She must be related to Grandpa H...
You might also like
- Sitting unassisted?
(0.308108)
- Tunnel Fun
(0.299456)
- First Steps
(0.29918)
- Brendan and Mommy-dear
(0.297352)
- Happy Easter!
(0.296703)
All
September 12, 2010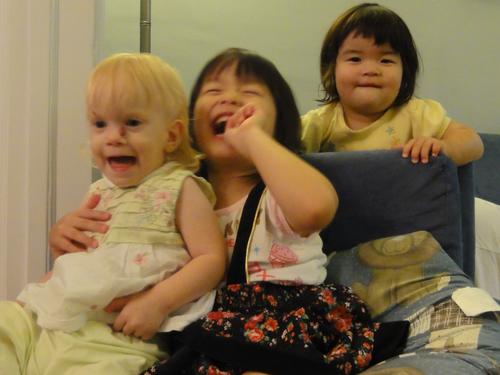 On Sunday Uncle Dave and Auntie Karen came for lunch. Elizabeth showed Auntie Karen her playhouse, and Auntie Karen showed Elizabeth her ipod.
Then we headed to Sunnyside to help Auntie Yukiko paint Erika's dark green room ballerina pink. The babies didn't get to help, but we did let Erika finish off the last section of wall.
You might also like
- A hard day's play
(0.305699)
- Museum and Birthday
(0.305556)
- Brownies
(0.304487)
- Ready, Set, Pack!
(0.304094)
- A quiet house
(0.300613)
All
September 11, 2010
Our brick desperately needed repointing and the weather was FINALLY just right (not too hot, not too cold and not raining) so we spent the entire day outside. Elizabeth was desperate to help. She bothered Daddy on the ladder for a few minutes but although she would have been thrilled to spend hours clinging to his knees Mommy and Daddy didn't think this would be very helpful.
So Elizabeth and Mommy worked in the garden and played in the playhouse. At first Elizabeth was not keen to play in her house by herself but that has worn off now and Mommy isn't always welcome (and no, I am NOT ready for that stage...) We have a new game where I knock on the door and she giggles and runs away. Then I open the door and say peekaboo. She runs to the door and slams it in my face and runs away again. She got so giggly that she couldn't walk straight! I'd upload a video, except that we haven't figured out how to use videos from our new camera.
You might also like
- First Snow
(0.351032)
- Big Bed
(0.346883)
- Christmas Day 2: PJ Day
(0.345794)
- Apple Picking Reprise
(0.343832)
- Cottage Days:Cousins
(0.343001)
All