October 11, 2010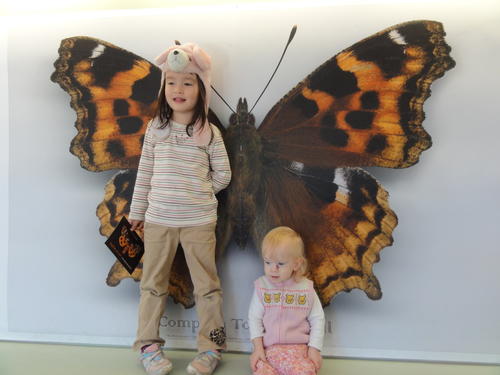 Chris and Brendan needed to make some repairs to Chris and Yukiko's deck, so I took all three girls to visit Carleton's annual butterfly exhibit.
Last year Erika, Elizabeth and I went mid-week, in the pouring rain. We walked right in among the butterflies and spent a long time wandering around practically by ourselves. Elizabeth crawled around on the floor while I lifted Erika up high. So I was a little shocked to discover half the city in line in front of us when we arrived.
The last weekend of the exhibit is apparently always pretty busy, but the Carleton staff (volunteer?) commented that they've never had so many people, with lineups starting today as soon as the greenhouse opened. The line snaked around the block, with people shuffling slowly around the greenhouse holding pieces of orange up high in the hopes that a butterfly would land. A good environment for the claustrophobic it was not.
It was a great way to meet other Ottawans though. The kids played with sticks, stones and dirt while the parents chatted. Many people discovered they knew each other or had mutual friends. In fact, the family right behind us has a son in Erika's Japanese language classes. I was one of only a few people there by myself, so the children had to stay close to me in the line, but many people commented on how well behaved all three cousins were.
I thought I was doing pretty well until I took Maria out of the stroller and turned around to stop Elizabeth from marching right back out the door. A little boy around Elizabeth's age seized the opportunity to abscond with the stroller and sped off down the hall with it, nearly crashing into a couple of other butterfly visitors in the process. One of the Carleton representatives decided that I could use help parking the stroller at that point!
I clearly couldn't bring the double stroller into the greenhouse, nor could Maria crawl around without danger of being trampled. This posed a bit of a challenge, because Maria can't walk by herself yet. Elizabeth is perfectly capable of walking by herself, but jealousy plus uncertainty over the number of people plus zooming insects meant that she wouldn't.
For a few minutes I tried carrying both girls, but soon another parent offered to help me and I gratefully accepted his offer. Someone else gave Erika an orange and she was thrilled when a butterfly actually landed on it. Elizabeth, not so much - she nearly had hysterics seeing the butterfly so close to her beloved cousin. I gave Maria and Elizabeth pieces of orange too. Maria ate hers (and Elizabeth's too).
The little girls were getting hot, hungry and cranky so we soon left. Both also needed the toilet facilities, so all four of us piled into a single bathroom stall. The little girls and I then trooped out to allow Erika to go without an audience. Meanwhile a line had formed for the bathroom. You should have seen their faces when I informed them that the stall was still occupied!
Although I discovered that you can easily fit all three children on the stroller, Elizabeth and Erika actually ran most of the way home. Elizabeth chasing, and Erika going on ahead and then stopping periodically to let herself be "tatched" with a great big hug.
You might also like
- Dr Lynn is leaving :(
(0.455104)
- Doors Open: Robert O. Pickard Environmental Centre
(0.455077)
- The Big Clock
(0.453828)
- H1N1 Rock Concert
(0.451962)
- Music Day
(0.451064)
All