October 18, 2010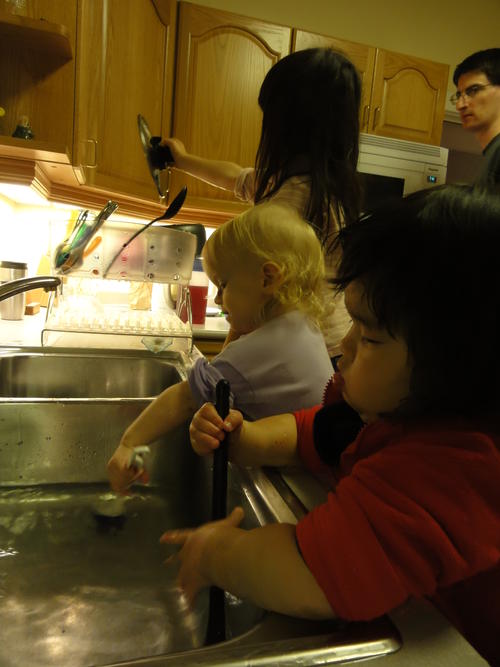 Elizabeth was pretty excited to have her cousins for supper today. Cousins THREE days in a row! Erika still told Elizabeth all about how much she missed her as soon as they saw each other. Even though it had been less than twenty-four hours since they last chased each other around the kitchen.
We're actively looking for rent-a-sibling opportunities these days because Elizabeth gets very jealous if Mom gives another child too much attention, bursting into crocodile tears and tugging on Mom's leg. So we've been happy to have her cousins around to help her learn how to share!
We also discovered tonight that Elizabeth will eat a lot more if instructed to "show Maria how nicely she eats". The three girls laugh a lot together. It turns out that supper garnished with three giggly girls has a pretty nice taste.
You might also like
- Cutest thing in the pool
(0.351485)
- Olympic skater
(0.346457)
- Do you ever feel like a gerbil?
(0.345272)
- Bikes
(0.344178)
- Kid Math
(0.344051)
All
October 17, 2010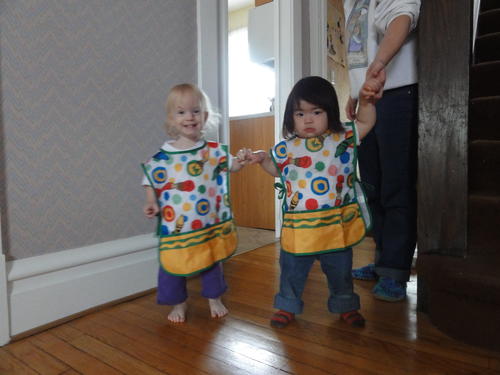 Yukiko is still in Japan so I had Maria yesterday while Chris and Erika were at Japanese school. Elizabeth and Maria made waffles and then we fingerpainted a t-shirt for Grandma's birthday. Afterwards Daddy was so tired he needed a nap. Luckily Maria took one too. Elizabeth pretended for a while but after fifteen minutes she was ready to play again.
Elizabeth made the flowers on the left, Maria the flowers on the right. Erika made the butterfly when she came for lunch.
Grandma and Grandpa, and Chris and the girls came for lasagna, apple turnip, salad, swiss chard, carrot cake and of course presents! Elizabeth was so excited that at one point she was literally running in circles around the coffee table. Erika helped Grandma blow out the candles. Grandpa expressed relief that there were no boyfriends. "You are a very silly Grandpa", said Erika.
You might also like
- Uncle Dave
(0.365269)
- Monkey See, Monkey Do
(0.34058)
- Bells and Smells
(0.340108)
- Happy Canada Day
(0.335938)
- Happy Birthday Daddy
(0.335725)
All
October 15, 2010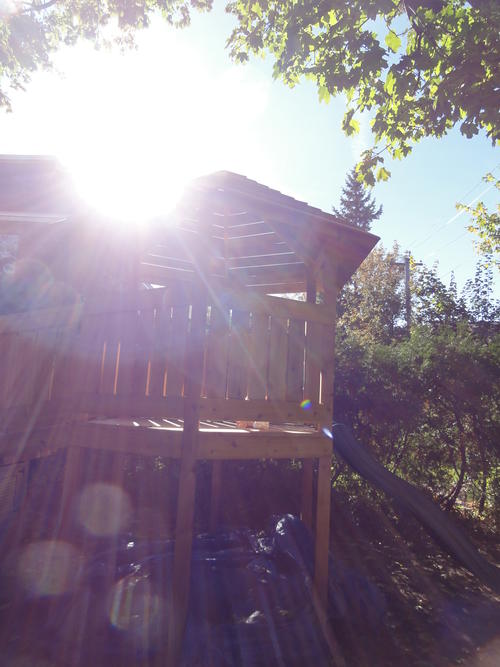 I don't think we ever posted pictures of the "finished" playstructure and play house exterior, so here's what we've done so far. The play kitchen still needs a stove and a fridge, the sandbox fabric is lurking in our stairwell begging someone to please make it into a cover, we need to source playground tile to put around the whole thing and we haven't cut little animals into the sides of the railings. But other than that we are completely done.
I'm trying to avoid finishing it too much though because really the kids should be able to make the space their own...
Elizabeth seems to really love the playhouse in particular although she's a bit perturbed that all the deck furniture is currently cluttering her house (winter storage!) The slide is also very popular. She's in a dolly does everything phase so we've been spending a lot of time sliding babies up and down and up and down the slide.
You might also like
- Piano Recital
(0.358297)
- Remembrance Day
(0.341702)
- Gingerbread
(0.340351)
- Kid Math
(0.340094)
- Smiley Face Pancakes
(0.339259)
All
October 14, 2010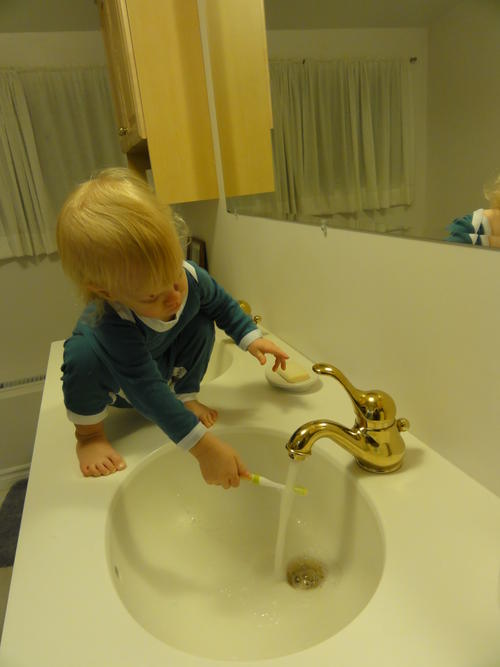 My dentist is keen to ensure that Elizabeth doesn't have the same dental problems that I've experienced, so he sent home a toothbrush before she even had teeth with strict instructions that she use it "to get used to the idea", and every visit since he checks to see whether she's using it. When he first heard we'd had a baby he took about half an hour or maybe longer to give me a basic overview of emergency dental care for children from zero to eighteen.
Now we've been requested to bring Elizabeth to our next couple of appointments so that she can observe Mommy or Daddy having fun at the dentist, get to know the dentist and possibly sit in the chair for practice if she's brave enough.
This visit I was also reminded that I should start thinking about introducing Elizabeth to the concept of flossing and sent home some children's flossers to try out. "Make sure that the gums are getting massaged adequately when she brushes her teeth. Brushing the face of the teeth isn't important but focus on the gums!"
He also wanted to make sure that we were careful about sticky food, especially dried fruit or fruit rolls. "Dried fruit may be natural, but it's loaded with sugar and stays stuck to the teeth." I actually knew about this already because a five year old girl from our church had to have 11 fillings, 2 root canals and crown last year. Most of the fillings were between the teeth. The parents were very shocked because she wasn't allowed to have candy, but did eat a lot of raisins and fruit bars.
You might also like
- First Dentist Appointment
(0.424518)
- First Trip to the Dentist
(0.392898)
- The birds and the bees
(0.391787)
- Hemangioma update
(0.391784)
- Messiah rehearsal, Santa parade
(0.390608)
All
October 12, 2010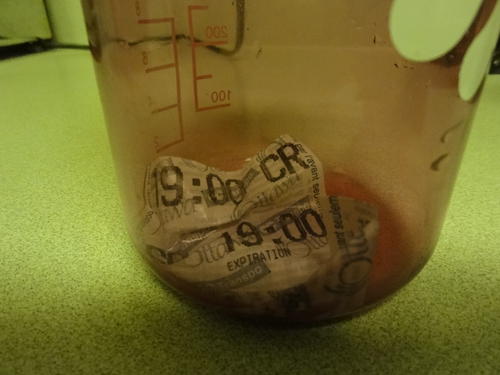 Auntie Janice here.
The other day I walked downstairs to wash my dishes when suddenly I noticed something out of the ordinary. "Mary...?" I called to the living room. "Um... how did a bus transfer get into this Nalgene?"
The reply was rather amusing. "The real question is... 'How did Elizabeth get a hold of a transfer?'" Probably she found one lying around the house, and decided it would be really fun to put it into something.
Now the only question is... what's next? and where will it end up?
Auntie Janice over & out.
You might also like
- Choppy Choppy
(0.332024)
- Fish!
(0.312925)
- Bubble Tea
(0.310748)
- Flying Piggy's
(0.310409)
- Van party, photos at park
(0.306288)
All