November 7, 2010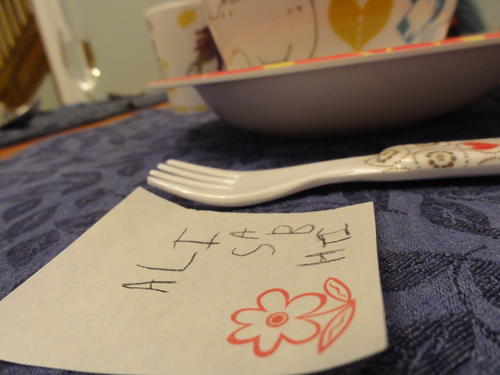 Elizabeth frequently talks about her cousins, especially Maria. "Change", Elizabeth will demand. "Do you need a diaper change?" we'll ask. "No! Aya. Change!" "Does Maria need a diaper change?" "Uh HUH", says Elizabeth, delighted to have made us understand the problem.
So Elizabeth was thrilled to go to visit "Tiss" (Chris), "Tata" (Erika) and "Aya" (Maria) for dinner on Sunday. (Yukiko is apparently hard to pronounce.) Erika was obviously pretty excited to have guests too. She wrote out invitations and made custom placecards all by herself.
You might also like
- Sleeping Beauty
(0.308411)
- Cousins Lindsay and Anna
(0.299517)
- First Letter
(0.297414)
- Kid Math
(0.291449)
- Grade 2
(0.284351)
All
November 6, 2010
Norwegian maple trees keep their leaves very late, and we have THREE so we're always in a race to get the leaves raked before they are buried in snow. We used to just rake them over the flower beds but the last couple of years Ottawa maples have been infected with blight, and the only "treatment" is to remove infected leaves from the yard. We've noticed a big improvement since we started doing this, although it's a lot more work!
Luckily, Elizabeth likes to help, as long as she doesn't spot any scary worms in the dirt. When she gets bored, she pushes her pets up and down the driveway in her little pink stroller. She'd like to push Mommy up and down the driveway too. I explained that I was much too big for the stroller. So then she thought maybe she could push Daddy instead...
She helped us plant some tulip bulbs too, throwing each bulb into the ground one at a time. "One, Two, Three, BOOM!" she yelled. Between the toddler version of "planting" and the squirrels, it will be amazing if any come up...
You might also like
- How my garden grew
(0.381222)
- Braking Leaves
(0.372035)
- Skating
(0.363006)
- Balance Bike
(0.358467)
- Frosty Blades
(0.3583)
All
November 3, 2010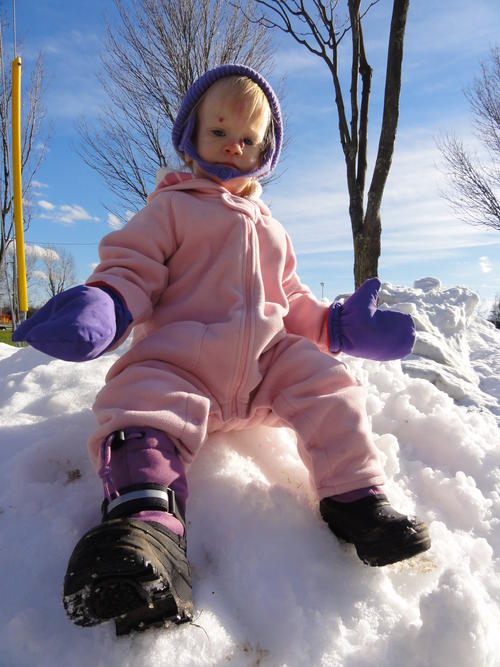 Elizabeth is all ready for winter.
Her nose is all red because she got a little too comfortable in her boots and started running. The first time she wore boots she refused to take one step before trying to take them off, so this is progress!
Mittens are an ongoing battle. She's already discovered that playing in the sandbox is challenging with mitts, and cold without!
You might also like
- Last sail of the season
(0.326203)
- Guy Fawke's 2017
(0.317901)
- Butterfly
(0.301205)
- First Swing
(0.299419)
- 13 months
(0.297968)
All
October 31, 2010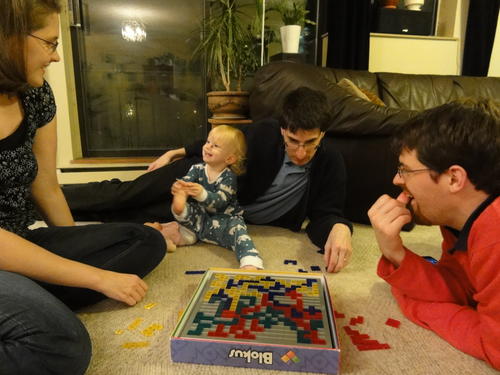 Uncle Dave and Auntie Karen had us over for dinner on Sunday.
Cousins Heather and Ruth came too, dressed to the nines for the Masquerade Ball that they were going to after supper. Heather made me want to put glitter in my hair too!
You might also like
- Breakfast at Mary's
(0.326613)
- Museum and Birthday
(0.319728)
- Thanksgiving
(0.314741)
- Two birthdays
(0.308824)
- Hi Uncle Mark
(0.295082)
All
October 30, 2010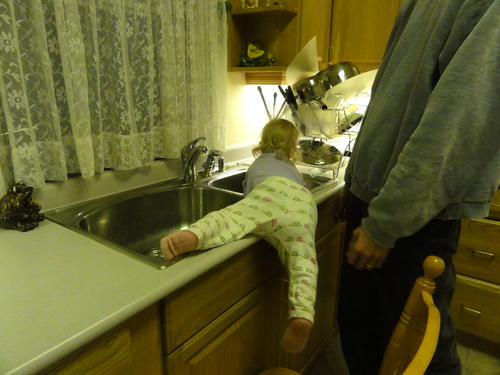 [n
or
ɵ
ӕ
m
ɛ
rikn tri m
ʊ
nki
](
nawrth uh-mer-i-k

uh
n
tree
muhng-kee)
, n.; A mischievious animal able to suspend its body in unusual ways in order to reach things its parents didn't know it could. Clambers out of all but the firmest grip.
You might also like
- Babywearing bloggers
(0.243357)
- Christmas Cards and Crayons
(0.241505)
- For Aunt Judy
(0.24055)
- A little knowledge
(0.239683)
- Baby Sensory
(0.2391)
All