December 25, 2010
This year I participated in the 12 Hours of Christmas hourly photo project. I started at 8:45 am, and more or less took a picture every hour. I intended to post them throughout the day, but we didn't get around to opening stockings until 11:45am and the day suddenly got very busy after that. Then we got sick... it seems this year for Christmas our family has been passing around an unwanted gift that keeps on giving... and keeps on going! My mom had it first, but the last week I've spent most of the week either moaning in bed, nursing elizabeth while she moans in bed, or listening to her screaming and trying to find a way to make her feel better. Christmas itself was nice, thankfully, and the upside to being sick is that Elizabeth has been a cuddly snuggle bunny all week- it's almost like having a newborn again.
You might also like
- Water Baby
(0.333333)
- Bath Paints
(0.326687)
- Hourly Photo
(0.325826)
- First day of school
(0.325033)
- The unsuspecting sleeping baby...
(0.324468)
All
December 23, 2010
We had our traditional raclette on the 23rd again this year. By not trying to have it after church on the 24th we are able to do it early enough in the day that the kids aren't totally out of it by the end. Elizabeth held up well but doesn't really understand why we eat such strange food and by the end was certainly ready for bed.
You might also like
- End of Year concert
(0.321503)
- Hottawa
(0.317647)
- Thanksgiving
(0.30303)
- Epiphany
(0.3025)
- Michael Bernardo's WKC virtual worlds qualifier #3
(0.300481)
All
December 22, 2010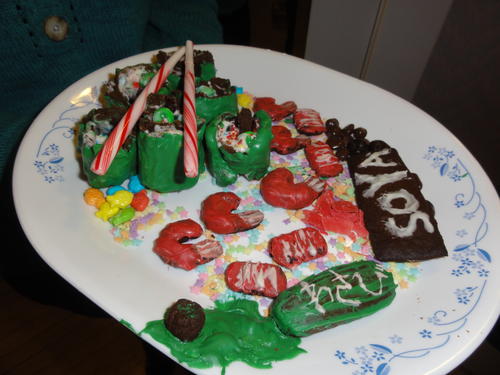 This year marked our fifteenth annual gingerbread party! Lots of commotion but Elizabeth was pretty sociable and for once didn't act up when Mommy dared snuggle another baby.
Erika made a very ambitious train, with lots of help from her Mommy. Elizabeth and Maria were old enough to make their first creations. They painted gingerbread men with chocolate and added M&M's as decoration. Actually they ate most of the M&M's, and we coaxed them to put one or two on the gingerbread. It didn't take long before we decided that they had had enough chocolate.
Another little boy made a vaccuum cleaner. His sister made a penguin. A teeny violin, some frogs, houses, an alien from my highschool days and many more gingerbread men... Then there was Auntie Janice's sushi and the house of cards that regrettably collapsed on the way out the door.
You might also like
- Preparing for Gingerbread
(0.36173)
- Come sing Messiah Rehearsal 2
(0.348315)
- Happy Birthday John
(0.347068)
- Lac des Loups
(0.344978)
- Orange swimsuit please
(0.344101)
All
December 18, 2010
We went down to New Hamburg to visit my maternal grandparents, Aunts, Uncles and cousins, stopping in Toronto on the way there and back.
Elizabeth is now a veteran road tripper and let us drive from Ottawa to Toronto with only a couple of quick washroom breaks! No crying... Mommy and Daddy cheered loudly. Elizabeth serenaded us with endless renditions of "Zoom Zoom to the Moon". When we got to Great Aunt Muriel's house, Elizabeth gave us a full blown concert! She was quite suspicious of Great Aunt Muriel at first. We visited Muriel's new office and Elizabeth got to ride on the rocking horse and eat chocolates. That evening, Elizabeth was thankful for "Murl" and "rocking hoss" in her bedtime prayers!
All the out of town relatives arrived at the church for the family dinner first. We ate, played games and had a lot of fun. All the boys wanted a ride in my Grandpa's fancy electric wheelchair. Elizabeth played basketball. My Grandpa was even spotted playing wheelchair soccer at one point.
We were supposed to pick my parents up from the airport Friday evening but unfortunately their flight was cancelled due to bad weather in Europe. And then cancelled again. And cancelled again! So we eventually met up with them back in Ottawa.
You might also like
- Extended family Christmas
(0.371728)
- End of an Era
(0.364377)
- Crosshill
(0.359096)
- Travel to and around Europe
(0.358788)
- Trip to Wellesley
(0.358553)
All
December 13, 2010
We celebrated our part of Auntie Karen's birthday week with my first homemade "Būche de Noėl" - gluten free! I found a great recipe online which more or less worked (as usual, icing covers a multitude of sins!).
You might also like
- Christmas in July
(0.291312)
- Handprint art
(0.266979)
- Museum and Birthday
(0.261111)
- Brendan's party
(0.259594)
- Happy Birthday Auntie Heather
(0.245509)
All