January 20, 2011
Auntie Yukiko's friend Yukiko heard that I really like mochi, so she invited Yukiko, Erika, Maria, my mom, Elizabeth and me for a mochi making session using power tools for girls.
I've decided that I really need my own mochi maker! Yukiko showed me how to make a edamame bean paste sauce for the mochi. Mochi rice is a special sweet short grain rice. Cook the edamame beans, then crush into a smooth paste (she used a food processor plus mortar and pestle). Then add sugar and water.
We were surprised by how fast the rice forms into a smooth ball. We rolled the rice balls in potato starch and ate them with red bean paste, edamame paste, a soybean / sugar mix and lots of yummy green tea.
You might also like
- Playdough
(0.321976)
- Like riding a bike
(0.320988)
- Good Friday
(0.31744)
- Butterfly Show
(0.309707)
- Strawberry picking
(0.307692)
All
January 19, 2011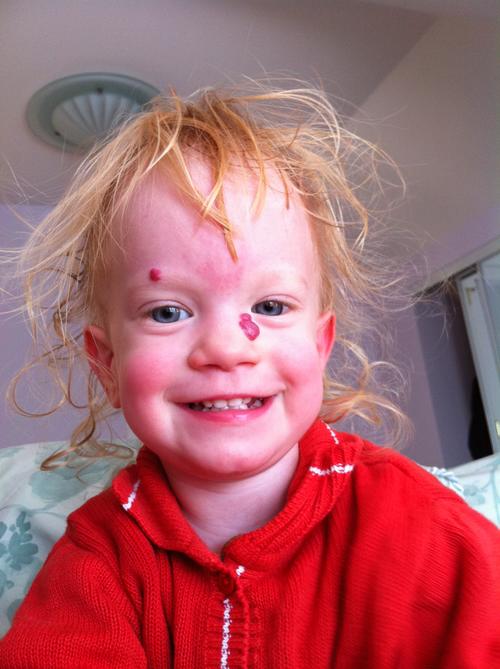 The cuteness of this age is nearly overwhelming.
You might also like
- Teacher cards
(0.204819)
- Michael does karate
(0.203008)
- Matthew
(0.191667)
- Spring Garden
(0.191083)
- Guy Fawkes
(0.184466)
All
January 18, 2011
Big day with new library program starting in the morning, painting and a visit with cousins to the Museum of Science and Technology.
Needless to say we didn't find time for a proper nap! I realized that Elizabeth hasn't had much interaction with other kids her age since before Christmas due to all the gallivanting and plague recouperating we've been doing. It was hard to get her to pay attention to the librarian when there were so many other little people to watch. She did brave the crowd to get her very own shaker, but waited until most of the kids sat down and then sidled her way up to the librarian one half step at a time. She told Daddy she had fun afterwards.
After lunch we walked Erika to her pottery class. Elizabeth and I painted at the Mud Oven while we waited. Elizabeth wanted to paint "self" (by herself) so we mostly used stencils and little sponges in an attempt to ensure the end product ends up thin enough for baking. We ran out of time but at this age it's more about the process than the end product so I'm just as happy to be heading back again sometime in the next couple of weeks.
You might also like
- River Oak
(0.369565)
- Virtual Piano Recital
(0.365796)
- Family Day
(0.365079)
- Cousins
(0.360955)
- Dovercourt
(0.360799)
All
January 16, 2011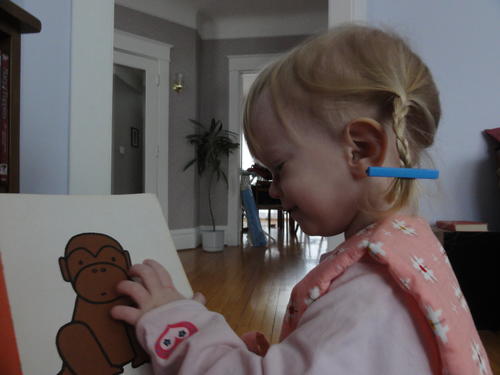 Okay, so I can't resist playing with Elizabeth's hair now that I've discovered that it's long enough to braid.
I have learned to remove loose clips before letting her sit on the toilet after an unfortunate swimming episode. "Poor froggie", said Elizabeth.
You might also like
- Winter
(0.262346)
- Cottage Days: Point Swim and Treasure hunt reprise
(0.26087)
- Outdoor party
(0.26076)
- Choppy Choppy
(0.260116)
- Graduation Day
(0.259587)
All
January 14, 2011
Friend Vera visited Ottawa to check up on the girls, but somehow neglected to bring her daughter Astra too. Something about business trips...
Erika had previously invited me to come on an adventure, and asked Vera if she'd like to come to the moon. The moon turned out to be in Erika's room. "Buckle up!", Erika advised sternly.
You might also like
- My doll is made of baby
(0.247159)
- Breakfast at Great Aunt Muriel's
(0.240741)
- 12 Days of Christmas: Reading day
(0.239892)
- Tooth fairy
(0.239521)
- Leftovers
(0.238606)
All