April 30, 2011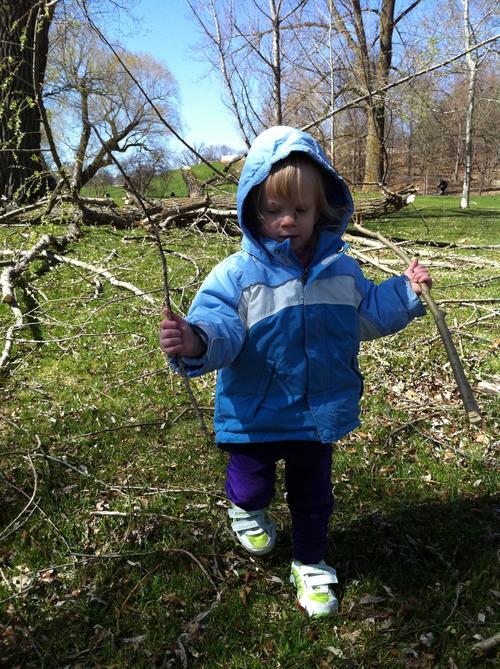 The huge windstorm that swept through Ottawa recently brought down a number of large tree branches in the Arboretum. Elizabeth was thrilled to discover and add on to a little "house" made of the fallen sticks.
Our house survived mostly unscathed, if you don't count a few roof tiles.
You might also like
- Spring walk
(0.340381)
- Curly hair
(0.331081)
- Decorating
(0.311927)
- O Christmas Tree
(0.304245)
- Snow
(0.302872)
All
April 29, 2011
The laundry basket is a favourite toy. Elizabeth loves to help fold laundry and put away clothes. She actually knows where a lot of them go. She shakes each piece of clothing she is "folding" out very seriously and then rolls it up into a tube. Then she stuffs it into the drawer. Now you know why my clothing may be a little wrinklier than usual. Actually, she's probably more careful about folding than I am. I'm not quite sure where she gets the shaking step from, although she's probably imitating me!
Once the basket is empty, it becomes a boat. Or a car. Or a train. This is especially popular if she has more than one basket. She lines them up and pushes one with the other, yelling "choo choo".
Then she pretends to be a baby bunny in a cage. She's not quite convinced that Mommy is too big to fit in too, but so far she makes do with stuffed animals instead.
You might also like
- 10 Months!
(0.342012)
- 21 months
(0.334672)
- Maya Big Girl
(0.333851)
- Amelia 21 months
(0.333731)
- Elizabeth
(0.333333)
All
April 28, 2011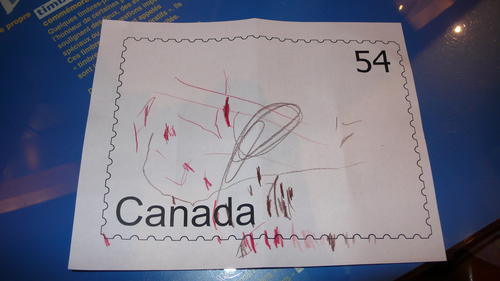 Auntie Janice took Elizabeth to the Museum of Civilization the other day. They played hard in the theatre, went to the postage museum and Canada Hall. They came back with hats and reams of footage going up and down the escalator. Apparently learning how to take an escalator "by self" was the best part.
We purchased a membership to the museum in February, and it's a good thing since we've been so often that the staff are starting to recognize Elizabeth. The museum is on the way to work so I've been dropping her off with a grownup playmate and pick them up when I'm done.
The only trouble comes if I go to work without Elizabeth. My auto pilot gets lost if I don't drive past the museum first, so I've driven more than my share of circles.
Janice has also recently taught Elizabeth how to sew "by self". We've been working on a quilt (more about that soon!), so sewing and quilting has been a major preoccupation for some months. Janice talked me into exhibiting the quilt at the Ottawa Valley Quilters show May 6-8 2011, so we've sewed and sewed and sewed some more. Elizabeth is very proud of her own sewing cards, although she hasn't quite got the hang of going dot-to-dot.
You might also like
- Guided Tour
(0.353511)
- Decision making study
(0.339141)
- A shower and the Great Glebe Garage Sale!
(0.337598)
- Museum of Civilization
(0.336216)
- End of an Era
(0.335632)
All
April 27, 2011
Grandma and Grandpa J have been going above and beyond grandparent duties recently as we gear up to complete a big project at work. With Mommy-dear spending many days in Quebec, small stuff has become noticeably clingier and more difficult to put to bed. Forget about naps!
Except that Elizabeth does still want to have a nap occasionally and has been overheard asking for a "stroh stroh nap" (her version of stroller nap).
You might also like
- Orange Belt
(0.28281)
- University Buddy Day
(0.278689)
- Last day of grade one, Matthew's baptism birthday
(0.277108)
- First Steps
(0.275168)
- Playing with Daddy
(0.273486)
All
April 25, 2011
Daddy took Elizabeth to the Agriculture Museum at Easter, along with the rest of Ottawa. We heard that the lineups were several hours long, so they went first thing in the morning before it got too crazy.
Elizabeth was frightened of the person dressed as a giant bunny, and insisted on steering clear, even when Daddy explained that the giant bunny gave out chocolate. She was also more interested in the tractors than the baby animals.

She did enjoy watching the baby pigs nursing, but when she saw the baby chickens she took one look and announced that it was time to colour.
You might also like
- Daddy and the buck bucks
(0.321364)
- Josie and Daniel
(0.319703)
- Bug Day
(0.3125)
- Douvris Christmas Potluck
(0.311871)
- Ice Cream Festival
(0.311864)
All