May 29, 2011
Maria is two, going on seven. (Erika tried to teach Maria how to show her age with her fingers.) The picture with the thumb? That's Erika's. Proud Uncle Brendan feels it's more authentic to post it unedited.
Elizabeth hero-worships Erika, but at the moment it's Maria that she copies - baby-talk, mannerisms and clothes. Not willing to wear a particular new outfit? She'll wear anything if she thinks it belongs to "YaYa".
Some of our furniture, utensils, sippy cups and toys also apparently belong to "Yaya". Sometimes this is weird but convenient.
Ed. note: I just realized I forgot to hit publish on my post about Elizabeth's first train ride.
You might also like:
-
Music Recital (reprise)
-
Happy Birthday John
-
Brendan and Mommy-dear
-
Strangers
-
Smiles melt a Daddy's heart
May 28, 2011
Today was the 25th Annual Great Glebe Garage Sale. Elizabeth has participated before, but this year she was more interested in pretending to sleep and/or urgently looking at the grass if anyone dared say hello.
We bought a glass of lemonade from the little neighbour girl next door.
Despite threatening skies, so many people were wandering around that I started to wish I hadn't brought little red wagon (too crowded to walk properly). The dragon boat ladies were super organized as usual and even had rain protection!
My favourite "find" was the lady selling aprons made out of ties, although the only thing I actually bought was a couple of tiny plastic lawn chairs for Elizabeth. She is thrilled and wants to keep them in the house with her.
You might also like:
-
Great Glebe Garage Sale
-
Jesse Tree
-
A shower and the Great Glebe Garage Sale!
-
Great Glebe Garage Sale
-
Winterlude
May 27, 2011
Elizabeth experienced a lot of "firsts" this trip. For instance, she saw her first feature film in a theater. For the record, it was an IMAX film about Niagara Falls "Legends and Daredevils". It was LOUD. It featured a suicide story, civil war and people trying to drown themselves and their pets in a quest for fame. We watched it at Elizabeth's supper time and into bedtime. My grandmother summed it up best: "Well, that was a really inappropriate movie for a two year old!" Luckily, Elizabeth survived the experience by nursing almost the entire time while Mommy blocked the baby's ears and wished she had her own earplugs. Extended nursing for the win!
Another questionable first: Happy meals. I regret to say that Elizabeth ate at McDonald's four times during this trip, mostly because it was one of the easiest places to "eat" gluten free. Not that it was exactly easy. I had to look up their allergy menu on my phone, and while it is possible to figure out what is gluten free from this document, doing so is very time consuming!
I needed every second of the more than fifteen minute wait to figure out what the heck I could order. And after reading the ingredients I had mostly lost my appetite. Janice ordered a Happy meal thinking she'd share with Elizabeth. I had vaguely thought toys were banned, but it turns out that's only in San Francisco.
"Girl or Boy toy", they asked. "Girl", Janice responded. We ended up with a really cute but weird pink ball that grows ears and eyes when you press a button. The Happy Meal container was one half weird pink ball decorations and the other half Tonka truck decorations, so when I ordered Elizabeth her own Happy Meal a few days later (I know - but honestly the other options were not much better!) I opted for the "boy" toy, since Elizabeth really likes trucks. So of course we got this weird and useless Einstein bobble head thing. Why McDonald's insists on labelling the toys by gender instead of the actual toy is beyond me.
You might also like:
-
A shower and the Great Glebe Garage Sale!
-
-
5th Birthday Party
-
London
-
Niagara (aka water falling on Bapa's nose)
May 26, 2011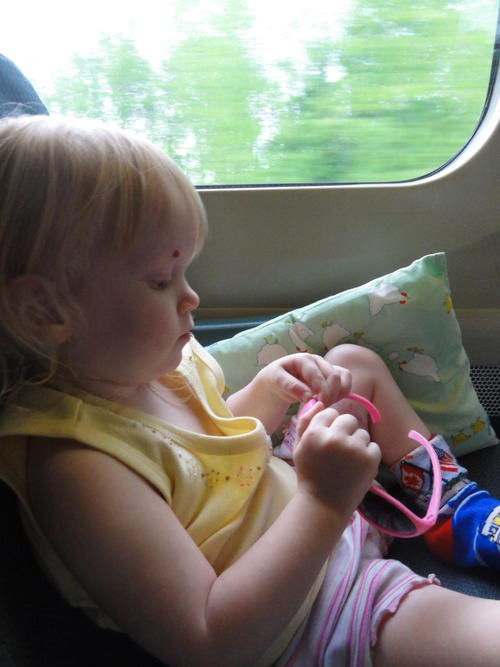 We took the train home because Daddy wanted to keep the car. Something about needing to work while we were off gallivanting...
You might also like:
-
Skate to church
-
Sandboxes
-
Victoria Day fireworks
-
Colouring Contest
-
Through the eyes of a child
May 25, 2011
Bird Kingdom was a real highlight of the Niagara trip. Birds everywhere - in the big aviary and the small one, everywhere you looked was another bird.
The staff were friendly and helpful, but honestly the best part was that a bird actually landed on Grandma's head! It pulled out a couple of strands of hair, then flew off. Then it came back and it was my turn to donate to the nest. When I posted about this on Facebook, most people thought it sounded painful, but it was SO cool. I was pleased that it didn't poop on me though. We could have spent hours in the small bird aviary alone.
In the large aviary there were a couple of ducks hanging out in front of the indoor waterfall, strutting their stuff back and forth. Suddenly one took a step backwards, lost its footing and went hurtling over the edge with a startled squawk! It came back shortly with ruffled dignity and feathers. I think my favourite birds were the scarlet Ibis.
Visitors are asked not to touch the birds, but there is a cage where you can "encounter" some tame ones with the help of a staff member and some nectar. You can buy extra nectar for two dollars (and professional photos at the end), but we didn't bother because it was clear that Elizabeth wasn't too sure about being that close to the bird. She certainly wasn't about to let it walk on HER!
On the way home we noticed millions of bird nests lining the highway on the Burlington bridge. Anyone know what they are? Big black heron-like birds.
You might also like:
-
Race weekend 2017
-
Garden
-
Hawaii
-
Christmas Cake and Leaves
-
Apple Picking Reprise