June 28, 2011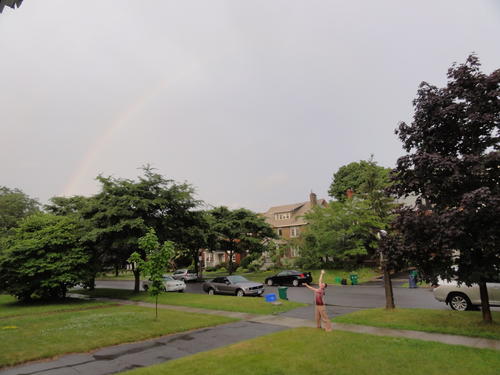 We've had a lot of storms recently. Thunder, lightening and rain that fills our 200 litre rain barrels in only a couple of minutes.
Elizabeth is not a fan. "I not like thunner torms, Mommy-dear" is a frequent refrain. Apparently fear of thunderstorms is a developmental milestone, although I've kind of lost track of the various "normal" ranges for milestones since Elizabeth has nailed what I consider the basics (walking, talking, eating "by self" and toilet training).
She asks what causes the storms using "whys" of at least three syllables. It's not whining exactly but she puts a lot of expression into the word "why". Rational explanations are only good before and after the storm; but we've found her a special bible verse that seems to bring comfort during the really intense booms.
Speaking of which: I'm very impressed by how easily she memorizes things, at this rate I'm going to need flash cards in order to keep up.
You might also like
- Medical appointments
(0.357049)
- Guided Tour
(0.349367)
- Orange Belt
(0.348624)
- Elizabeth is eight
(0.347601)
- Frosty Blades
(0.343983)
All
June 26, 2011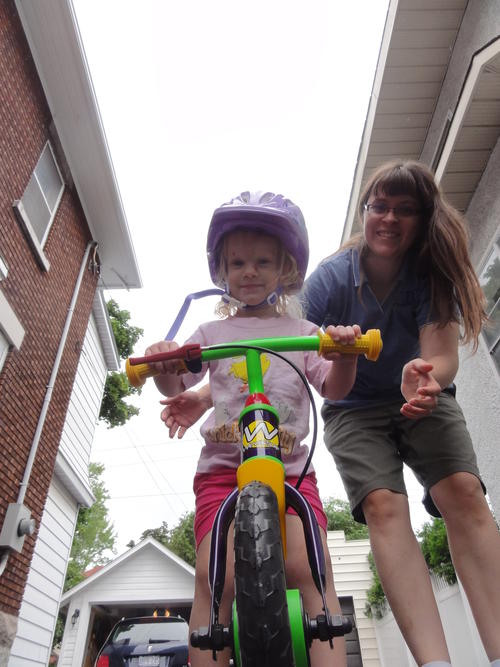 Elizabeth is now the very, very, very proud owner of a balance bike. We have never seen her so excited.
Brendan had never heard of them before, but I can't remember when I first learned about them. Did one of my friends have one growing up? I thought maybe I had one but then I remembered having training wheels. Margaret told me that she thought they were new, and apparently balance bikes are very trendy in Canada right now. The clerk at Canadian Tire didn't even know what I was talking about either. But I swear I've known about them for a long time - well before they were (re)"invented" in the 1990s.
We asked Elizabeth what colour she thought she wanted. First she wanted a "boo" one, then an "allow" one and then a "ween" one. Then we found out about the $30 special at Canadian Tire, which only came with one paint scheme. Luckily it features "boo", "allow", "ween" AND some red thrown in for good measure. The helmet was pretty much the same price as the bike, but I guess it will last a few years unless it gets used for its intended purpose! Elizabeth picked it herself, out of the two options small enough for her head and NOT covered in Dora or other random cartoon characters.
You might also like
- Halloween
(0.394111)
- Like riding a bike
(0.3794)
- Dance Camp
(0.374574)
- Garden
(0.374494)
- Gatineau Park Ski
(0.374055)
All
June 25, 2011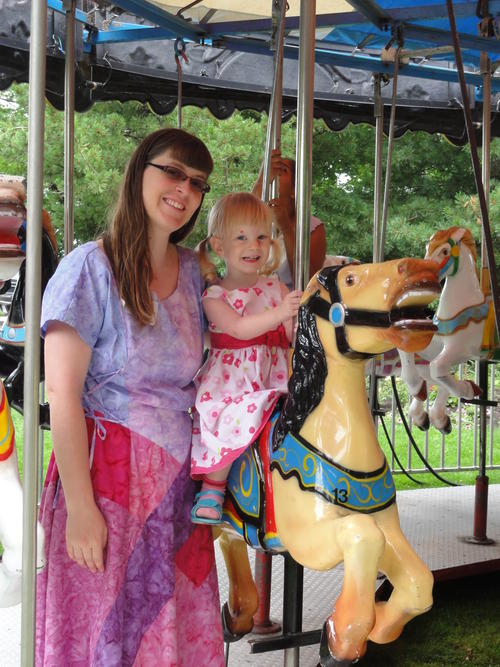 We were lucky enough to be invited to Stephen Harper's fabulous garden party again this year. I guess the PMO had other priorities this week because they haven't sent us our official photo of the prime minister hugging me and Brendan yet. Majority Harper apparently is friendlier than minority Harper.
The clown made up a song about meeting Elizabeth as we waited to get into the grounds. He pretended to think I was her sister. I found it more creepy than flattering. Elizabeth wasn't a big fan either.
Although she duly signed the guest book "by self", Elizabeth wouldn't make eye contact once we got up close and personal. "A little shy today?" Harper asked. I wished him good luck with the mail strike and he assured me "don't worry, we'll get it". A few hours later the back-to-work legislation did indeed pass. Was it something I said?
Elizabeth enjoyed a mini train ride with Mommy so much that she didn't want to get off for lunch. After lunch we took her on her first merry-go-round. It didn't go well at first. She had very definite ideas about which horse she wanted to ride, which was problematic because the staff needed us to move to a different horse in order to balance it properly (too many adults holding tinies). Elizabeth was having none of this so we had to get off. She liked that even less. The next time it stopped, the sympathetic staff balanced the whole merry-go-round around Elizabeth and "her" horse. We went round and round and round and round. When the ride came to an end, horse got an unprompted kiss goodbye.
Then we went to the bouncy castle. Elizabeth went in by herself, bounced around by herself and tried to get up to go down the slide. She was too little. "I need help, Mommy-dear", she said plaintively after her fourth or fifth attempt, so I corralled an older kid into giving her a hand. Elizabeth was so determined to go down the slide that she went happily with this perfect stranger. (Eek! My baby is growing up!)
There was free face painting and Elizabeth was keen so instead of more train or carousel rides we waited in line. And waited. And waited. And waited. I'm not sure the end result was worth the forty-five minute wait but Elizabeth was very happy. I was proud of how patiently she waited!
You might also like
- Dr Lynn is leaving :(
(0.424635)
- Calypso
(0.424045)
- Family Day
(0.423783)
- Je d'école
(0.423178)
- Skating
(0.417757)
All
June 24, 2011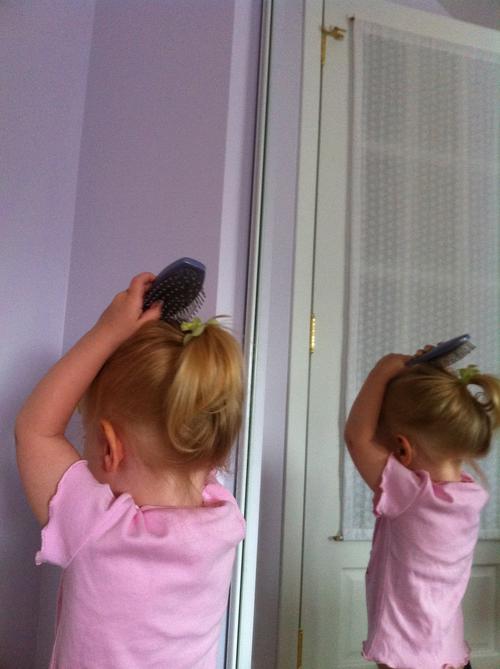 Elizabeth loves to brush other people's hair. On the odd occasion that I've indulged her with mine, she brushed and brushed, all the while tsking about how it is "weelly tangly, mommy dear, weelly tangly". By the time she's done, that's an understatement!
We often put her hair up to try to prevent tangles. When I was little I really wanted curly hair, but I'm cured! I hope she keeps her curls though, tangles and all!
You might also like
- O Christmas Tree
(0.381443)
- Snow
(0.373219)
- Isabelle is TWO
(0.368421)
- Decorating
(0.353659)
- Erika is seven
(0.352423)
All
June 23, 2011
Small girl pirouettes
into first bloody lip; tears.
Dirt? Booboo better!
Mom will hear sound of head hitting floor for a long time. Luckily no damage to the teeth but we've banned "slippy socks".
You might also like
- First smile
(0.349823)
- Boots
(0.340984)
- Bubbles
(0.339869)
- O Christmas Tree
(0.338235)
- Voting
(0.33209)
All