August 25, 2011
Elizabeth's Simcoe cousins Josie and Daniel have come to live with Auntie Heather, which means we're going to get to spend lots more time together.
We visited the Agriculture museum together, which was a lot of fun. Josie was jealous to learn that Elizabeth had actually seen some of the baby pigs being born on one of our previous visits. One of the biggest pigs got out while we were there, but luckily a staff member was on hand to shoo it back into its pen.
It was super windy while we were there. The windmill pump was shooting water right over top of the bucket. Auntie Heather nearly got soaked! As usual, the kids could have spent more time with the tractors, and Daniel definitely thought our allotment of time in the playstructure area was way too short...
You might also like:
-
Daddy and the buck bucks
-
Capital of extremes
-
Dentist
-
Elizabeth end of year concert
-
Pregnancy Announcement
August 24, 2011
Auntie Janice's back hasn't healed as quickly as everyone would like. In fact, she often comes home from work very tired and obviously in pain.
When this happens, Elizabeth almost always follows the below script verbatim, skipping even a "hello":
"Auntie Janice, why your back sore?"
"Because I broke it"
"Why you broke your back?"
"I didn't mean to, it was an accident"
"Maybe you need new one"
Elizabeth likes to help Auntie Janice with her physio exercises, which we encourage. Sometimes Elizabeth tries to get out of things by telling us that her back is too sore, which we don't...
We can't decide whether new obsession with playing "surgery" is related or not, but Elizabeth has declared her toy spatula to be her "scapel", her duck to be "medicine" and loose costume jewelry to be "needles". So far I've had both arms amputated, Daddy lost his feet and Teddy had stomach surgery. Auntie Janice says she's waiting for Elizabeth to gain more experience before letting her operate on her back though...
You might also like:
-
Like riding a bike
-
Pregnancy Announcement
-
BYOB
-
Water Baby
-
Auntie Janice steps on a crack
August 23, 2011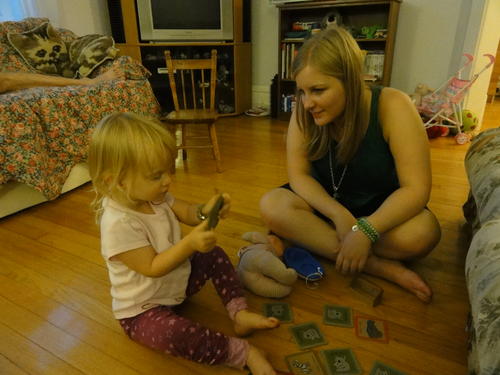 With the end of the summer in sight (you can always tell by the appearance of snowblowers at major stores) we decided that we needed to get another visit with Godmother Rachel in before she went back to school for the year. Elizabeth was so excited that she could hardly sleep. "I'm going to play ball and dance with Waachel!" We had a lovely time and did indeed dance and play ball. So much so that we were all a bit shocked by how Elizabeth had taken to Rachel (not that we are complaining...). Last time Rachel was over Elizabeth barely made eye contact. This time they were wandering around outside in the backyard doing the tour of the "wittle housie" while Mommy and Daddy got food ready inside.
Rachel brought Elizabeth the cutest little book and game. It is all about mommy and baby animals. The game is basically a set of memory cards (heavy duty for little fingers) but instead of a pair of identical animals it uses a mommy and a baby of the same animal to make each pair. Brilliant. Elizabeth took her new card game up to her room with her when we finally carted her off to bed.
You might also like:
-
52 cm of Snow
-
Orange swimsuit please
-
Rain
-
Sheep Shearing
-
Daddy and the buck bucks
August 21, 2011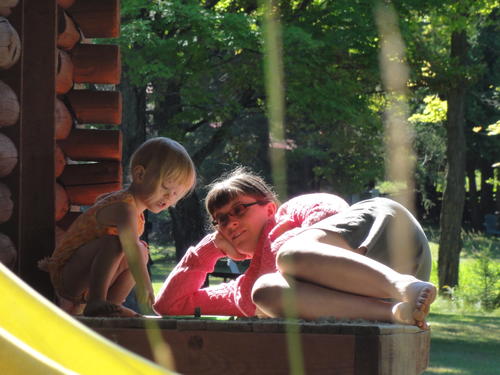 Elizabeth had two main questions for us during the second cottage week: "Is it raining yet? I want to wear my boots" and "I want to wear my orange swimsuit". Mommy found the water very chilly the second week (and I think Elizabeth did too, since she didn't get all the way wet most of the time). But apparently that was just us because both Daddy and Grandpa went swimming - more than once - and agreed that the water was nice! They are notorious for only swimming when the water is very warm.
Someone made the word "Bondi" out of sand balls down by the beach, so a boy playing on the beach with us decided he needed to make some words too. I think he said there were 74 buckets for Bondi (but you can count). Later he added Village. And still later pre-pended "We Love". Elizabeth wanted to stomp all over his creation but although she destroyed part of the B, the boy was gracious about it. "I don't mind if the little girl is having fun", he said. His mom was impressed - I gather his brother had done the same thing and gotten yelled at. The boy told us that it was "all about intent".
Nonetheless we got Elizabeth to stamp on her own castles instead. At suppertime I had a nice meal of sand soup with sand rice. For "Yert" she made me a cake. "It's the slide's birthday", she declared. Her menu is rather limited - either we eat a lot of soup and rice or she wishes we did! Then she decided she needed a little house to sleep in, so Daddy built her one.
You might also like:
-
Marathon swim
-
Virtual Piano Recital
-
Elizabeth's 9th birthday party
-
Cottage Days: Support boat
-
Rainy day
August 19, 2011
I'm not a birder, especially not compared to my Aunt Judy, but at the cottage there were so many different birds we couldn't help but notice them every time we stepped outside.
Woodpeckers in the tree across from our cottage, loons in the bay, a line of merganser ducks doing a hilarious bobbing swim above and below the water all in a row and the biggest flock of blue jays I have ever seen stuffing their faces on a berry tree.
There was a flock of Canada geese too, but since they were "not invited" (as our family would say), we didn't photograph them...
You might also like:
-
Chicken Chicken
-
Family Day
-
Spring
-
Family Reunion
-
Big Day