September 25, 2011
Xander and his parents are home from the hospital. Poor Uncle Dave was so sick (food poisoning? lack of sleep?) but luckily Grandpa H was able to drive them home. Grandpa didn't fly down to Kitchener as planned because his airplane had a "non-emergency mechanical issue". Auntie Janice was less than impressed - she was supposed to fly back on the aborted round trip. She got home eventually, despite faulty spark plugs, thunderstorms, closing of the 401, and missing her second scheduled flight as a result, but she felt like she could have walked most of the way!
Uncle Dave: "Before the baby was born, everyone told me to sleep when baby sleeps and that I would be more tired than I'd ever been before. I nodded and smiled but inside I was saying to myself... I dunno, I've been pretty tired! But you know Mary? THEY WERE SO RIGHT!"
Xander is still cute, though his parents say he's also pretty smelly when he farts. Which is frequently. Allegedly. As a doting aunt, I don't believe a word of it...
You might also like:
-
One week
-
Recovery
-
Virtual Piano Recital
-
End of an Era
-
#Jessdoesthemath
September 24, 2011
We'd promised Elizabeth that we could go to a restaurant and celebrate Alexander's arrival after we left the hospital.
No sooner than the promise was made, we realized we'd inadvertently been out of contact with our clients. Of course that meant that something had gone horribly horribly wrong and long story short Daddy had to head home to deal with the crisis. We try very hard to keep promises we make to Elizabeth, so even though Daddy was fixing the problem while Mommy was running interference with the client, Mommy, Elizabeth and Grandpa still managed to make it to Swiss chalet for dinner.
Elizabeth isn't a big eater, so we've never ordered off the menu for her before. But Elizabeth was very excited about the kid's menu and Daddy wasn't around to share his dinner...
Elizabeth decided she wanted a chocolate milk AND asked the server for it "by self". Then she ordered the mini hamburgers. She ate one burger and about a third of an enormous serving of corn. We packed up the rest along with her dessert - "m&m chocolates for meeeeee"
You might also like:
-
Flying Piggy's
-
Matthew is Two!
-
Big Baby Bed
-
Trip to the big city
-
Uncle Dave
September 23, 2011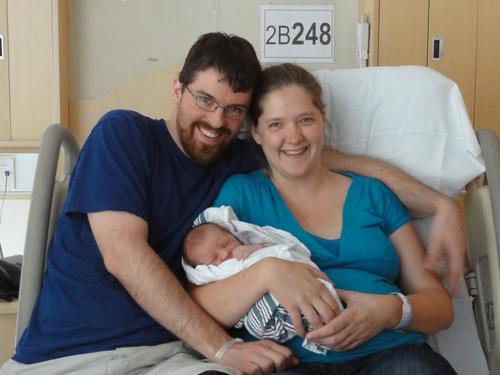 Alexander Timothy was born this morning at 1:47am weighing 7lbs and 4 ounces (3300 g), with the help of a vaccuum extractor. Due September 11th, he may have been fashionably late, but once the eviction process started he was in a hurry to be born. He may be a whole pound more than Elizabeth was but he is SO TINY!!!
He has huge feet (9cm), loves to be swaddled and sucks his fingers with vim and vigour. So far he seems pretty laid back. I heard him hollering on the phone in the hospital but in person he has yet to really voice his displeasure. He makes hilarious grunting noises when he sleeps. Poor baby already has Mom's cold. I didn't know that was even possible, but I don't think it's very fair!
Dave and Karen are both very tired but over the moon with their new addition. Elizabeth has been eager to meet her new cousin, praying every night for weeks and weeks that he will come out soon "and give me a BIG hug. And let me play with his toys." But now that Alexander is here it's about as much as she can do to look at him. Babies are so scary! Or is it that toddlers are silly? :)
You might also like:
-
Matthew at 9 months
-
Number 3
-
Terrible Horrible
-
First Dentist Appointment
-
Elizabeth is 6.5
September 22, 2011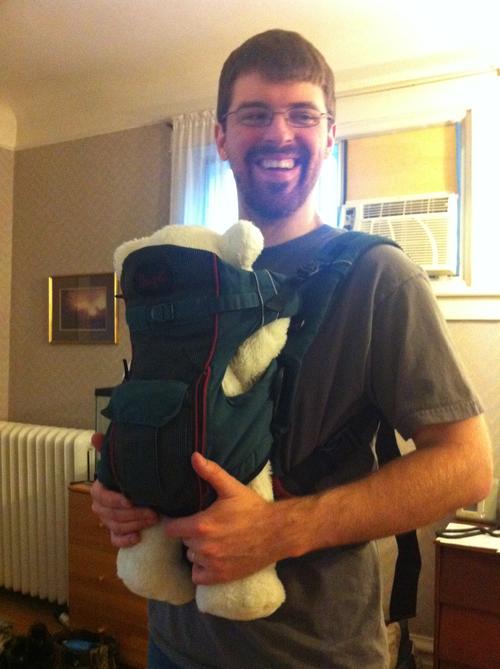 Uncle Dave is ready to be a dad (and Auntie Karen is more than ready to let someone else hold the baby for a while), but baby is not ready yet...
We reckon there's an 85% probability of baby this weekend though. Elizabeth prays for "baby-in-tummy" to come out and "give me a BIG hug" pretty much every night. I've been trying to adjust expectations to match newborn abilities. "Baby is going to let me play with his toys" is reasonable. "Baby is going to do puzzles with me"? Not so much.
You might also like:
-
Xander
-
Dinner at Dave & Karen's
-
Aunts and Uncles come to visit
-
-
Skating and Swimming
September 21, 2011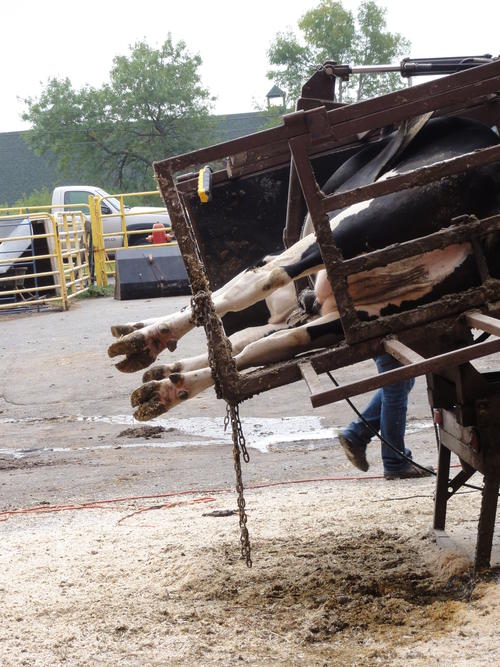 "Tmrw only - see a rollover cattle crush in action as this might machine rolls cows for hoof trims", said my twitter feed.
"Awesome!" said I, after processing the various mental images. Elizabeth was game to go see the professional cow tippers at work so we headed off to the Agriculture Museum at the duly appointed time.
"Ook Momma", said Elizabeth. "Dat cow is holding still and the mans is kipping her nails, like I hold still when Daddy kip MY nails."
The cows didn't seem terribly excited about being tipped sideways. Most of them mooed rather resignedly during the entire process. I was struck by how physically demanding the day must have been for the herdsmen (and woman!). The cows did not want to go into the yard near the machine, let along get into the tipping cage. The herdsmen basically had to physically wrestle with the cows to get them in!
The first cow we saw got a pink bandage on one of her hind feet. Elizabeth was most impressed by this detail, repeating it several times when later regaling Daddy with tales of her adventures.
You might also like:
-
The birds and the bees
-
Preparing for Gingerbread
-
Plasma Car
-
Sheep Shearing
-
Sheep Shearing Fest