October 4, 2011
My alma mater has hosted a free butterfly show in the fall for the last twelve years, and this is Elizabeth's third time. The first time she wasn't even able to sit on the ledge with Erika to be photographed!
We learned from our crowded experience last year and didn't attempt to visit on a weekend. There was no line up, but the butterfly greenhouse was still pretty busy. Elizabeth was extremely freaked out by the butterflies, wanting to leave immediately and be carried by Mom. I remember that from last year as well - except last year both Elizabeth and Maria were crying and wanting to be carried. I couldn't hold the camera and carry both, and Maria couldn't walk yet so a kind stranger helped me out by carrying one of them. This year Yukiko came and Maria wasn't phased by the butterflies at all! Elizabeth had lots of opportunities to hold a butterfly too but that was clearly not happening. When I was a little girl I liked to catch butterflies, which I'd then put in a jar. I'd hold the jar on my shoulder for a while and then presto! I'd get a butterfly on my shoulder! So I'm bemused by this worry that the butterfly is going to "lick my head". Of course, as soon as we left she wanted to go back.
You might also like
- Butterflies 2013
(0.392813)
- Butterfly Adventure
(0.385827)
- Canoeing
(0.378808)
- Strangers
(0.376404)
- Strawberry picking
(0.376224)
All
October 3, 2011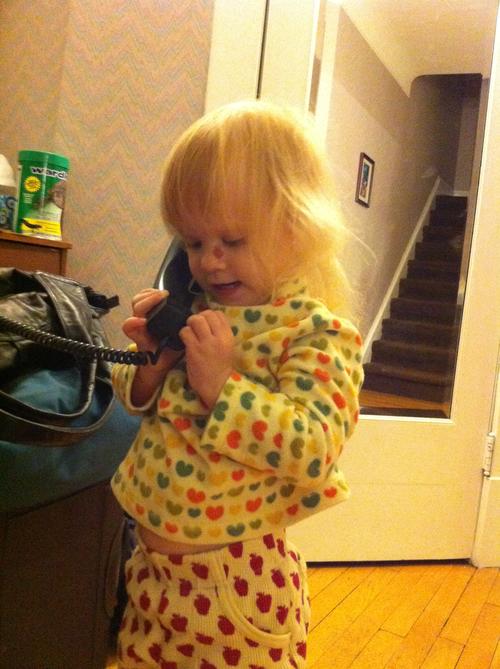 We've reached a new milestone. I answered the phone and the voice at the other end (cousin Erika) asked to speak to Elizabeth. "It's for you", I said, handing my two year old the phone.
Elizabeth calmly took the call and chatted back and forth with Erika and Maria for a few minutes before hanging up. Elizabeth still has a tendency to point to things as she doesn't quite believe that the phone doesn't do video, but otherwise she's suddenly able to have pretty interesting phone conversations. All by herself, though sometimes the other end requests translation services afterwards. The other day she rather matter of factly told me that she's going to make her own phone calls "when she's three". The list of things she's planning to do when she's three is starting to get a bit frightening, but that's probably another blog post.
Grandma and Grandpa H will be pleased to know that she's planning on calling Angola first.
You might also like
- River Oak
(0.36631)
- Weather board
(0.365789)
- Plasma Car
(0.363318)
- Maria is 5
(0.360051)
- Social Distancing: Day 5
(0.357743)
All
October 2, 2011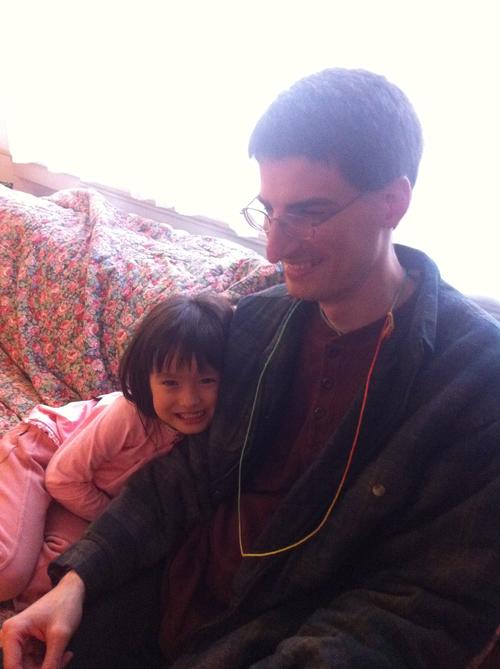 We've been unusually busy this fall with visitors coming and going. When dinner for twelve is considered "scaling back", you know that our sense of a big family dinner is a little warped. In fact, we realized that we haven't had fewer than twelve for dinner at least one night a weekend for the last month, and there are still a couple of weeks of twelve plus dinner plans to go. I suspect we'll take a little break from large gatherings after Thanksgiving, but it's so much fun to get together!
Erika made her "Uncle Power tools" a special necklace, which he dutifully wore.
Tenant Jesse, Great-Aunt Mary, Grandma H, Auntie Janice, Janice's boy Kevin, Uncle Chris, Auntie Yukiko, cousins Erika and Maria all joined Elizabeth and I to help Brendan properly demolish his birthday lasagna. The flourless chocolate cake was also properly appreciated, though Jesse was careful to request a piece that "wasn't covered in wax and baby spit". That's because Elizabeth insisted on "helping" blow out Daddy's candles...
You might also like
- Erika is FIVE
(0.377049)
- Good Friday 2015
(0.37526)
- Just begun
(0.37468)
- Happy Birthday Uncle Chris!
(0.368831)
- Happy Canada Day
(0.364946)
All
October 1, 2011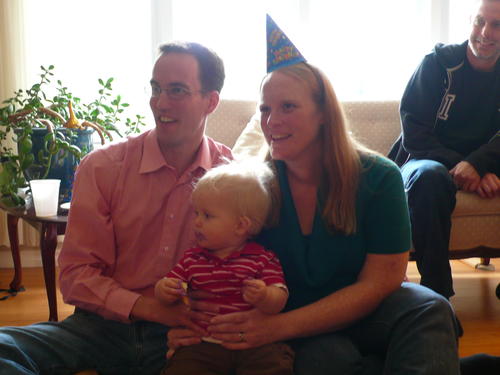 Friend John (of Gingerbread men in peril fame) and Karin's baby Simon just turned one. It's clearly impossible this baby is already that old let alone expecting a sibling in January.
I asked Brendan how to describe the party. "There were many, many, many small children", he replied. "It was frightening." My favourite moment was when one of Simon's parents gave Simon his birthday cupcake and let him loose on the floor. "Seriously?" said the other parent. "But he'll make a big mess!" "That's the point..." Some icing did end up on the floor, to the cat's great delight.
Elizabeth had a wonderful time and didn't want to go home. "I want to go back and play with my cousins again!" she wailed. Apparently all small children are "cousins". We're working on the concept of "friend" versus "family member".
You might also like
- Wedding prep
(0.354745)
- Gingerbread!
(0.349769)
- Spring snow angels
(0.339869)
- Happy Birthday Uncle Chris!
(0.339542)
- These parents aren't interchangeable
(0.338177)
All
September 30, 2011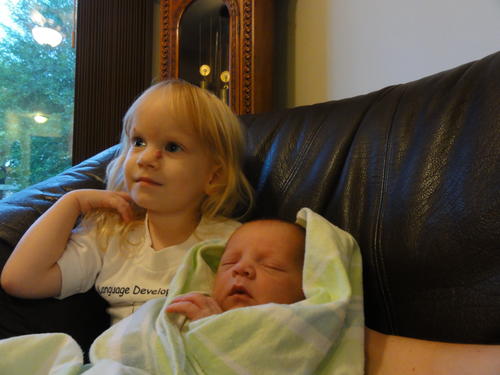 Elizabeth got to hold Xander "by self" for the first time... She's been working up to it for a while. She was a bit nervous but desire won out. Mommy held on to Xander's head just in case!
You might also like
- Standing Unassisted
(0.296703)
- Brownie Halloween
(0.292453)
- Leader Board
(0.292035)
- Optometrist part two
(0.288462)
- Mastering the umbrella
(0.285068)
All