October 11, 2011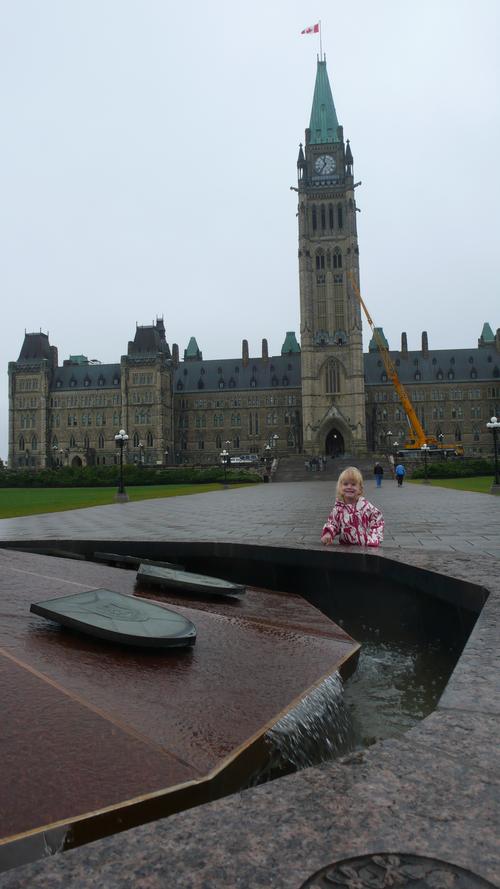 Auntie Janice reporting. Today Mary and Brendan were busy downtown for the morning, so I decided to take Elizabeth for a walk up to Parliament Hill. Of course, the weather did not cooperate at all for us... and in the rush of getting us all ready we forgot the stro-stro... so it ended up being quite the adventure indeed.
We set out from Gloucester and Metcalfe, briefly stopped in at the main library branch to warm up... and then continued our trek. For those of you who haven't walked downtown Ottawa recently, it's about a 6 block walk uphill right in the middle of a lot of traffic, noise, construction, and past an awful lot of very tempting chip stands. With a two and a half year old in tow, we stood out quite brightly amongst the business casuals and the tourists. It did take a little while, but thankfully the parliament buildings are in sight all the way up metcalfe so that's always encouraging to point out when Munchkin is wondering if we're "dere et?"
I've been to Parliament many times before, and rightly suspected that Elizabeth would be fascinated by the large clock at the top of the peace tower. So in we went, got ourselves screened through security, and happily discovered that you don't necessarily have to go on the tour to go up the tower. They even offered a guide to take us up the first elevator so that tired feet (mostly mine) didn't have to walk up to the third floor. We even got lucky in our timing so that we were first in line waiting for the tower's elevator, although Elizabeth was quite taken aback by the realistic lion statues... and the very real tour guides waiting to let us into the elevator. I finally relented and decided that carrying her in the elevator would not kill me completely, and the other passengers were nice enough to let us stand by the window so we could see the bells as we went up. These bells ring every quarter, so we'd heard them from the Centennial Flame outside- and I've been up and down that elevator quite a lot so I knew when to direct her attention to be able to see them.
Once upstairs, I discovered that the Carillon was about to happen just after noon, so we took a moment to look outside. "Where'd the clock go?" Elizabeth wondered, and was very impressed to see that we were right underneath it. We heard the big bells chime the hour first, and then the Carillon began. When I was in the Central Children's Choir, we came and visited the bells especially to learn what a real bell sounded like. We also had the chance to meet Gordon Slater, the Carillonneur at the time. He showed us the organ-like instrument that gets played every day from within the peace tower at noon, and sometimes for a special concert around 2:15 in the summer. It's harder than the organ, because you have to hit the handles with your hand in a fist in order to make the bell sound properly. Elizabeth was very impressed to hear all the little bells playing music, although she had trouble understanding that the bells were underneath us.
By the time the Carillon was over, it was definitely time for some lunch. Thankfully my back was doing well enough to carry my niece, because by this point Elizabeth was so tired she could hardly stand upright. We stopped on the way home for some pizza in the World Exchange Plaza, and Elizabeth was so hungry she ate almost 3/4 of a huge piece. I was glad I'd ordered my own piece, too!
And then I dropped Elizabeth back with her parents, and I went rushing off to my appointment. She slept for hours and hours later, so mission accomplished!
You might also like
- H1N1 Rock Concert
(0.473684)
- Virtual school: Week 2
(0.470242)
- Summer Week 1 - Visiting
(0.468336)
- Home again, home again
(0.46562)
- Airplane and skating
(0.465199)
All