October 23, 2011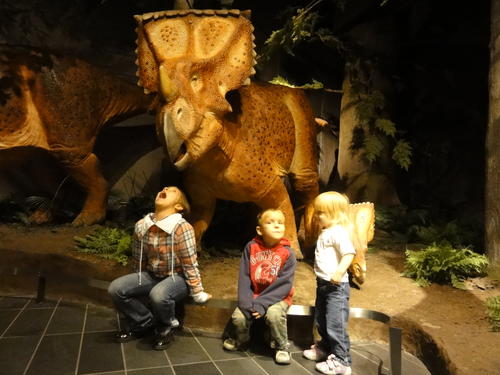 RAWR! Elizabeth saw her second theatre "movie" today - Dinosaurs 3D at the museum of Nature with cousins Daniel and Josie.
Daniel found it pretty scary and insisted on watching most of it without the special glasses. Josie insisted on sitting in the front row in front of the rest of us. Every time something jumped out at us she turned around and whispered "THAT was SCARY". (I nearly got the giggles) Elizabeth was very quiet and snuggled on my lap the whole time, but kept the glasses on and obliged me by counting dinosaurs and pointing to babies and trees everytime I asked her a question to make sure she wasn't being traumatized for life. Afterwards she said that the only scary part was "waiting for the video" and "when they turned off the lights at the beginning". The dinosaurs themselves weren't scary, she said, rather dismissively.
We tried to get a few pictures with the "realistic" looking dinos, but the kids were not feeling cooperative. The resulting grumpy face video amuses me greatly. Daniel and Elizabeth were very into the dinosaurs, but Josie was more interested in the dawn horse display.
You might also like
- History museum; splash park
(0.349133)
- The birds and the bees
(0.347368)
- History Museum
(0.341383)
- Sheep Shearing
(0.340645)
- Petrie Island: Frog Week
(0.340426)
All
October 22, 2011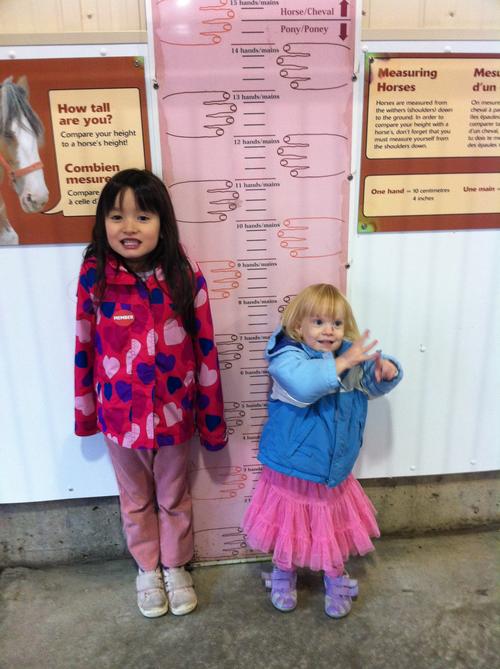 Elizabeth and I took Erika with us on our latest trip to the Agriculture museum. At goat feeding time (2:45pm every day!) Erika actually got to go inside the pen to pat all of the goats. Have I mentioned that now is a great time to visit this museum? It's quiet so the staff have time to go the extra mile. I decided Elizabeth wasn't ready for such an intense experience, especially since I wasn't invited! Good call since some of them like to shake hands by putting their hoofs on your chest. Erika wasn't sure what she thought of that, but rallied to pet all of the goats more than once. Brave girl! Elizabeth reckons she'll be ready to face the goats "when she's three", though she rather wistfully pointed out "I'm pretty big now, Mom!"
Then we went to visit the newest mommy cow, who was still in the process of birthing the placenta. The kids were fascinated, and full of questions, especially this one little boy whose mom seemed rather embarrassed by the whole thing. I personally think it's a bonus that visiting the farm means there are lots of opportunities to talk naturally about "the birds and the bees", but don't think the other mom felt the same way as she repeatedly told her son that they'd "discuss it later". Of course that meant that he just asked every. single. adult he met! Elizabeth has already seen an actual birth (baby pig) but she was still mesmerized. It was really chilly but she cried when I insisted it was time to keep moving. She was also blown away to learn that many of the cows are around her age when they first become moms. "I bet I have a baby in my tummy right now too", she said, pulling up her shirt so we could all pat her tummy. Erika thought it looked rather "ouch-y". "Did it hurt MY mom when she had me?" she demanded. I told her that moms don't mind once they have their babies.
You might also like
- Party Day
(0.428266)
- Flashlight Tour
(0.422222)
- Number 3
(0.418904)
- Elizabeth
(0.409217)
- How many weeks?
(0.408201)
All
October 21, 2011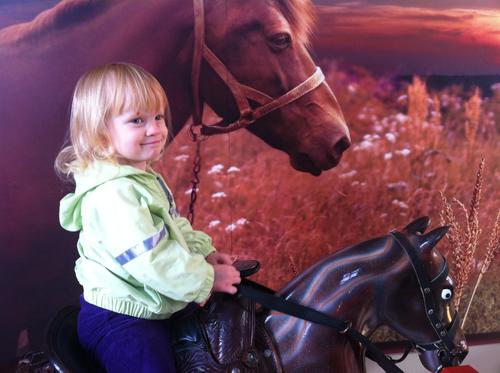 Elizabeth and I visit the Agriculture Museum regularly, though we've cut back from our daily spring schedule. Despite frequent visits, she has never dared sit on the "horse" until friend Aidan did.
Elizabeth was very interested to see what the cows eat. We were able to look at the corn growing in the energy garden and see the bits all chopped up, ready to be put into the silo.
You might also like
- Energy Garden
(0.318267)
- Agriculture Museum
(0.314136)
- Muskrat
(0.298283)
- Josie and Daniel
(0.290837)
- Baby chickens
(0.290618)
All
October 20, 2011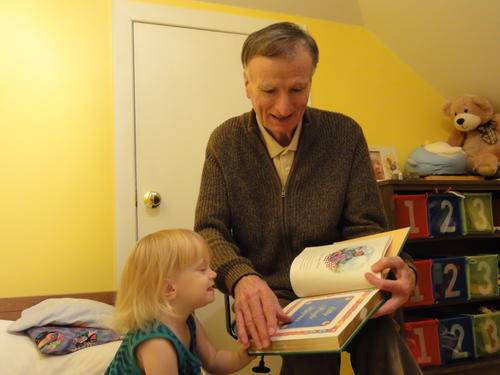 Elizabeth's Grandpa J is affectionately referred to as "silly" Grandpa by his doting grandchildren, something that he encourages. This is not at all surprising given that he delights in recounting about the time that a young Uncle Mark called home. "Is this Floozy?" Mark asked, referring to one of Grandpa's many nicknames. "Do you know what a floozy IS?" the horrified parent demanded Grandpa J.
I think he should be called "Super" Grandpa because he will read a nearly unlimited number of Mother Goose bedtime rhymes...
You might also like
- Scary crickets
(0.309368)
- What's in a name?
(0.299832)
- Cousin Marc
(0.298419)
- Costume deliberations
(0.290076)
- Brendan and Mommy-dear
(0.28884)
All
October 19, 2011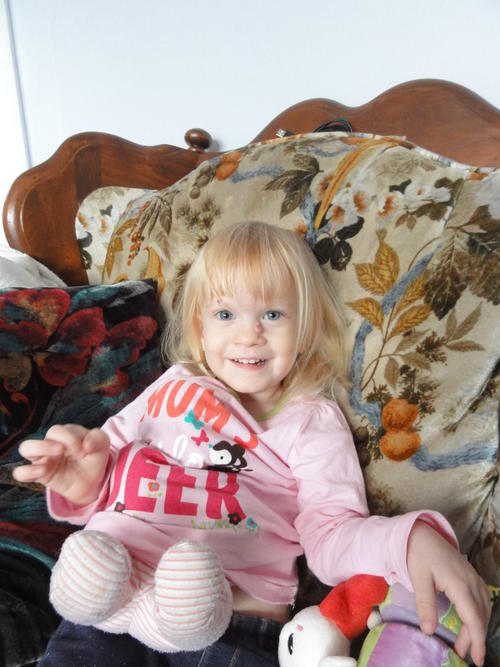 Elizabeth has (mostly) stopped playing that she's a baby. Instead she has adopted the infant car seat stored in the basement for her dolls and spends a significant amount of time begging to go "play in my base-ent". We hear a lot of "maybe when we are done [insert whatever we are doing], we can go play in the basement". There is nothing she'd rather do, except maybe "nap and nurse" (and sometimes that's a toss-up!)
She rocks the baby, gets you to rock the baby, changes the baby (person playing along has to get her a "teen" diaper and throw the dirty one in the "darbage"), puts diaper cream on, gets you to burp baby, gets the baby toys and gives the baby a soother. Then she demonstrates how big a girl she is by dragging the car seat ALL around the basement. Baby sleeps a lot, during which time you are expected to sing lullabies and be shushed. Baby also waahs a lot. If baby is waahing, she'll sigh, grab her shirt and shove baby up to be nursed. I have no idea who she is imitating, but hoping it's not me! Not sure where the soother idea was picked up either.
When baby isn't strapped into the car seat, baby spends a lot of time up Elizabeth's shirt. "I have a baby in tummy", she announces. Then she gets people to pat her tummy. Baby-in-tummy mostly kicks and gets born. "Baby in tummy is coming out pretty soon", she says. "Come see!
You might also like
- Erika is FIVE
(0.349282)
- Eight Months Old
(0.348074)
- Amelia 23 Months
(0.346398)
- Four months
(0.346062)
- Baby Therapy
(0.343885)
All