November 2, 2011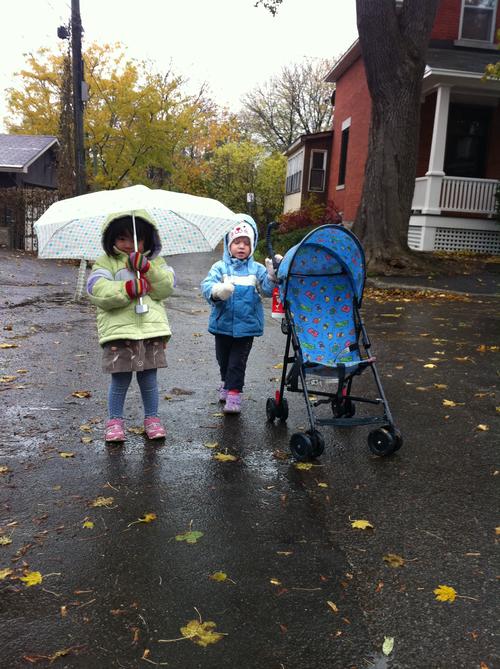 Elizabeth, Maria and I were tasked with picking Erika up from school and since some of my requests were in we thought we'd go by the library first.
The double stroller was out of commission and anyway Elizabeth can walk pretty far so I decided to just bring the little stroller for Maria. It was drizzling a bit so I grabbed an umbrella and off we went.
Right away Elizabeth insisted on sitting in the empty stroller. "No, no, Elizabeth", I said, "Maria needs the stroller". Maria stopped dead and looked at me. "Maya BIG girl", she said. "Maya walk"
And walk she did. In fact, she helped push Elizabeth in the stroller for a bit, but mostly she proudly marched along with the umbrella. After a while Elizabeth decided she wanted to get out. "Now, Maria", she said. "It's your turn to get into the stroller and I will push you." Maria refused and it looked like a spat was brewing so I coaxed Elizabeth into pushing the empty stroller. I didn't quite get a picture though; by the time I had my camera out Elizabeth was agitating to climb back in. "The stroller is getting lonely, Momma", she said.
Now that I know both girls are such good walkers, next time I'm leaving the wheels behind...
You might also like
- The birds and the bees
(0.368356)
- Smiley Face Pancakes
(0.365079)
- First outings: Music, library, karate
(0.358402)
- Rain
(0.358209)
- Butterfly Show
(0.35755)
All
October 30, 2011
We won a free ride on the Agriculture Museum's Tally-Ho wagons and finally used our coupons on the last day of the season.
Merrill (4) and Ted (16) pulled the wagon. Elizabeth was charmed. Most of the crops had been harvested and the cows were in the barn, but the winter wheat was starting to grow. Hordes of Canada geese are consuming it nearly as fast as it can grow. Maybe the Occupy Ottawa protesters should be eating local goose instead sponging off various unions and churches. Clearly the geese need more predators!
The wagon ride was about 20 minutes long, which was much longer than I expected and tours the Central Experimental farm. The farm houses the Eastern Cereal and Oilseed Research Centre, but it looks to me like the guide was incorrect in claiming that ECORC has replaced the Experimental farm (she even pointed out they hadn't updated the signs). Am I alone in fact-checking my tours afterwards?
Anyway, we were quite interested to find out that those small buildings are part of Canada's oldest automated weather station. At least according to the guide.
You might also like
- Guided Tour
(0.3391)
- Bloodwork
(0.336391)
- Skating
(0.331104)
- Vanier Museoparc
(0.331034)
- Tree
(0.330654)
All
October 29, 2011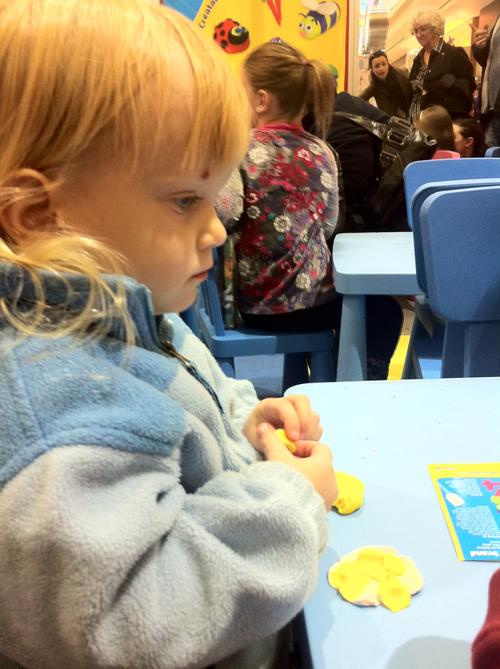 Before having children, I never knew it was "a thing" for shopping malls to put on shows for little kids. In any case, I heard that St Laurent was hosting a free My Little Pony show this weekend and since we drive right past after Elizabeth's swimming class I thought it sounded like fun, if potentially overly merchandised.
It turned out to be surprisingly amusing, if rather unseasonal. I don't think Elizabeth has seen any cartoons yet, and while I had a few toy ponies as a kid I don't think they survived the move from Belgium. So she wasn't exactly singing along with the theme music like the other kids, but she did seem to enjoy the show. The plot was a rather saccharine story about all working together to accomplish your goals (in this case, clearing away the winter clouds to get ready for spring), but I couldn't help but be impressed by the athleticism of the dancers. They certainly could kick their legs up high!
After the show we visited Chuck the Truck. Unfortunately that was a bit of a disappointment since it was an opportunity to take a photo with a giant plush truck. Elizabeth thought they should have let kids climb it. We also visited the Playdoh activity center, where they were handing out free playdoh for kids to play with. Elizabeth really enjoyed that, though she was pretty tired by then. Later she made quite a credible chicken. I would have admired it more and taken oodles of pictures except that she brought it to me for oohing and ahhing during work time. After work she'd already mashed it into about six other different creations. Oh well! The Playdoh people also had a whole bunch of laptops setup with My Little Pony games, and toys still in the plastic on display, but nothing actually for sale. This surprised me, but I guess it's a more subtle branding exercise.
You might also like
- Child Labour
(0.407553)
- Billings Estate
(0.406051)
- Buskerfest
(0.405995)
- Chateau Laurier
(0.405694)
- The Big Clock
(0.401561)
All
October 28, 2011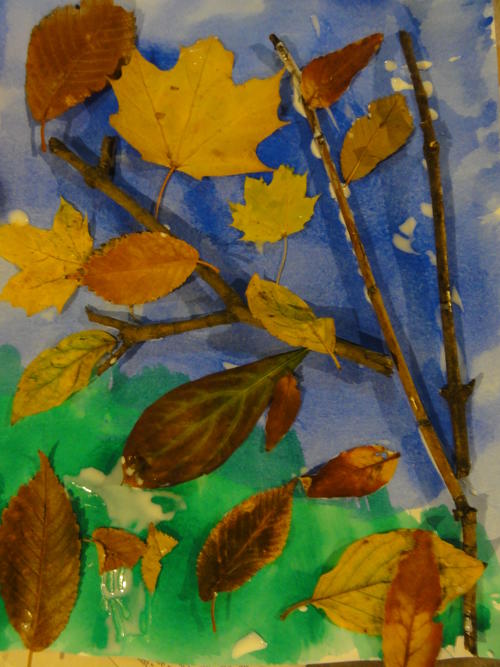 Elizabeth is into collecting fall leaves, glue and painting so I thought I'd put them all together in a fall-themed craft. Auntie Janice showed us how to wax the leaves so that they retain their colour better (and they stay flat!)
It's a bit involved but I think it turned out well and Elizabeth not only really enjoyed herself but she's proud of her leaf "pitcher" too.
Step 1: Collect leaves and sticks.
Step 2: Put the leaves between wax paper (waxed side towards the leaves). Cover with a tea-towel that you don't mind putting iron marks on. Not that we ended up with iron marks, but better safe than sorry! Iron the leaves on low heat. Patience is important, so you don't cook the leaves (they get smelly then). The leaves go shiny and adhere to the wax paper. Elizabeth loves ironing so she didn't mind how long it took!
Step 3: Peel the leaves off the wax paper.
Step 4: Paint half the paper blue (sky) and the other half green (ground)
Step 5: Glue on the branches and leaves
You might also like
- Good Friday
(0.329835)
- Lac des Loups
(0.326807)
- First Steps
(0.313346)
- Ski
(0.313253)
- Race weekend 2017
(0.311167)
All
October 27, 2011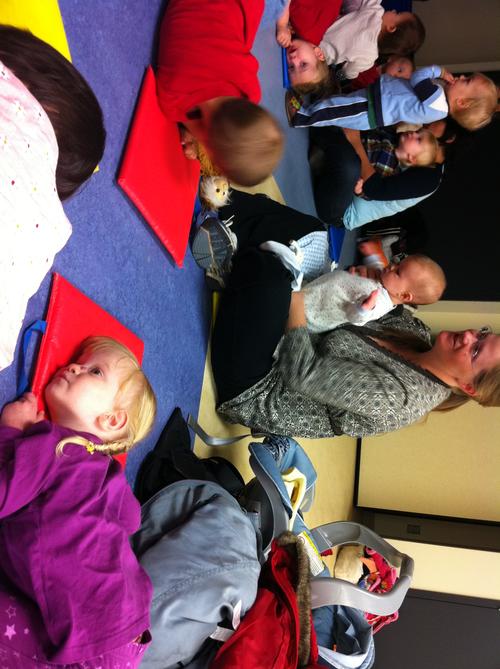 Elizabeth is really enjoying her library program, which she's taking with cousin Maria and friend Aidan.
She's long been a sleeping bunny expert, but it's amusing to see the children starting to really participate. Some of them even sing! Elizabeth is usually too inhibited, I'm afraid. But she does now go up among the throng of children without Mommy to demand her allotted shaker at the appointed time. More significantly, she also goes up with the rest of the kids to "feed" the animals that come out at Old McDonald time with said shaker. Sometimes she gets knocked off her feet in the hustle or decides there are a few too many kids in the way but when she succeeds she always comes back with a huge grin of accomplishment to tell me "tow (or whatever) was weelly hundry Momma".
Susan the librarian is impressed too at how much less shy she's been this term.
You might also like
- Kid Math
(0.347962)
- 2 weeks old
(0.347432)
- Cottage tooth fairy, swim, more fish, ponies
(0.336461)
- Xander
(0.336)
- Ski
(0.331387)
All