November 11, 2011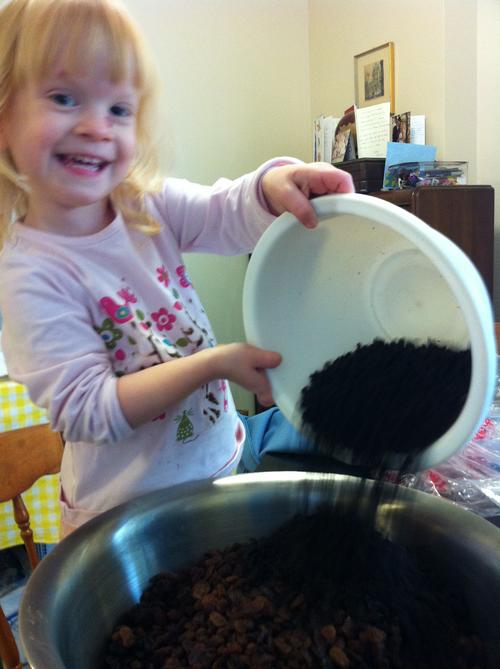 Grandma J and I have been making the traditional J dark fruit cake for Christmas every year on Remembrance day for many, many years.
Elizabeth got to help stir the cake last year, but this year she got to help weigh the various fruits and pour them into the bowl all by herself. She took the increased responsibility very seriously, but was just as happy to go play tinker toys with Grandpa when we needed to stir without flinging ingredients halfway across the room.
You might also like
- Christmas Cake 2012
(0.372277)
- Sunday Dinner
(0.32981)
- Strangers
(0.328407)
- Jesse Tree
(0.326923)
- Washing the Car
(0.324786)
All
November 10, 2011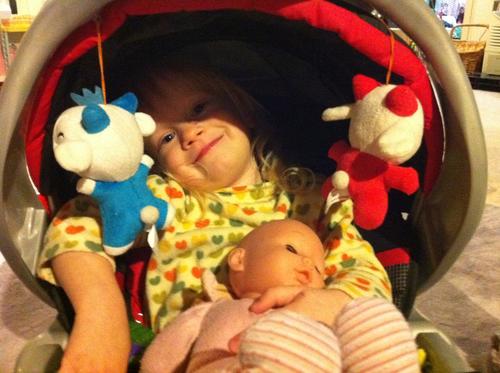 Left to her own devices, Elizabeth mostly wants to play down in "my base-ent". It's been more than a month but at least she doesn't want to just sit in front of the car seat rocking it anymore.
Now Elizabeth takes baby (in carseat) to do things. Our laundry room is the dairy (baby goes to see the milking cows). Our server room is the horse barn (baby goes to see beef cows). Sometimes baby goes shopping. Baby buys oranges, cherry yoghurt, Lizbeth milk and chocolate. Elizabeth drinks homogenized milk instead of the 1% her parents prefer.
Recently she's started to pretend to be baby herself. She loves to climb in and be handed all the "baby" toys. Then she gets "chilly" and asks to have a blanket put over her head like a tent. Sometimes I wonder about where she gets her ideas about how to look after babies...
She's even managed to talk her cousins into playing the part of the baby now.
You might also like
- Strangers
(0.349702)
- Spring
(0.349315)
- Music Recital (reprise)
(0.341033)
- Pregnancy Announcement
(0.334232)
- Matthew
(0.332875)
All
November 6, 2011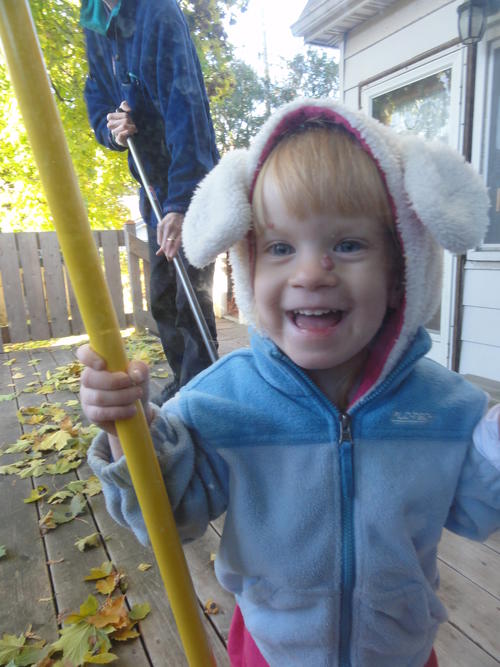 So far, we have filled 13 garbage cans full of leaves. I'm guessing we'll be able to fill that many again as the rest of the leaves lose their grip on our big Norway Maple tree. It was MUCH easier when we just raked the leaves into the flowerbeds as mulch, but "tar spot" means we get to do a lot of raking now.
Supposedly tar spot makes the leaves fall earlier than usual, but this tree is still the last tree on the block to lose its leaves.
Our tree was a lot better looking this year after three years of diligent raking, but since many of our neighbours have maple trees and don't rake, it's a bit of an exercise in futility.
You might also like
- Playdough
(0.312394)
- Chicken Chicken
(0.311042)
- Raking Leaves
(0.31085)
- Trading Post, birthday party
(0.307282)
- Snowphy Trophy
(0.305916)
All
November 4, 2011
It's been abnormally warm and sunny here in the supposed frozen North (aka Ottawa). Not that we are complaining! We thought that the August-like temperatures around Thanksgiving was our "Indian summer" but seems that we're having an Indian fall instead! We had our frost, temperatures dipped to a chilly minus six (that's 21.2 fahrenheit for those non-metric readers) and I started my annual discussion of about whether or not it is time to turn the heat up just a little bit because it's COLD donchaknowhusbanddear? We turned the heat on, put the warm down duvet on the bed, got out the long sleeved pjs and braced for winter.
So of course it's been 14 degrees outside (that's 57.2 fahrenheit) and we're practically still in shorts and t-shirts.
The downside is that the red leaves are therefore a bit muted this year. One of the many things I've learned since having a small child is why the leaves change colour in the fall. Also, one of the most adorable things in the world is Elizabeth trying to pronounce chlorophyll and photosynthesis.
Did you know that all leaves are yellow or orange underneath? When photosynthesis slows down due to lower light levels and cooler temperatures, the green chlorophyll stops covering it up. Glucose gets trapped in some leaves (eg maples) and the cold turns it red. The waste products in other leaves (eg oaks) turn brown.
You might also like
- Hemangioma update
(0.353922)
- River Oak
(0.351594)
- Sheep Shearing Fest
(0.348264)
- Cumberland Heritage Museum
(0.347788)
- Cows
(0.347073)
All
November 2, 2011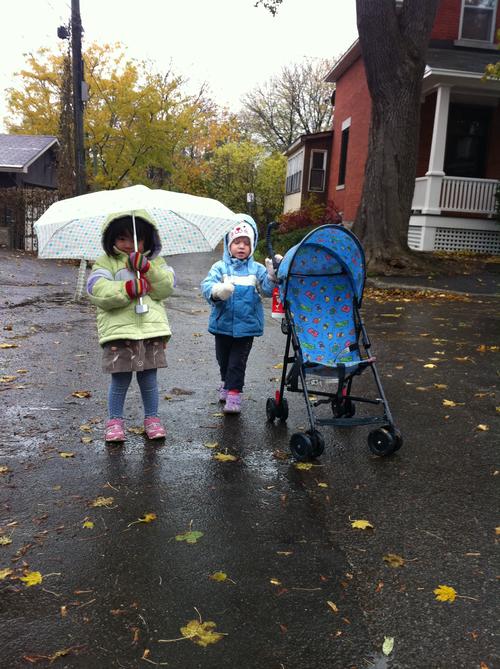 Elizabeth, Maria and I were tasked with picking Erika up from school and since some of my requests were in we thought we'd go by the library first.
The double stroller was out of commission and anyway Elizabeth can walk pretty far so I decided to just bring the little stroller for Maria. It was drizzling a bit so I grabbed an umbrella and off we went.
Right away Elizabeth insisted on sitting in the empty stroller. "No, no, Elizabeth", I said, "Maria needs the stroller". Maria stopped dead and looked at me. "Maya BIG girl", she said. "Maya walk"
And walk she did. In fact, she helped push Elizabeth in the stroller for a bit, but mostly she proudly marched along with the umbrella. After a while Elizabeth decided she wanted to get out. "Now, Maria", she said. "It's your turn to get into the stroller and I will push you." Maria refused and it looked like a spat was brewing so I coaxed Elizabeth into pushing the empty stroller. I didn't quite get a picture though; by the time I had my camera out Elizabeth was agitating to climb back in. "The stroller is getting lonely, Momma", she said.
Now that I know both girls are such good walkers, next time I'm leaving the wheels behind...
You might also like
- The birds and the bees
(0.368356)
- Smiley Face Pancakes
(0.365079)
- First outings: Music, library, karate
(0.358402)
- Rain
(0.358209)
- Butterfly Show
(0.35755)
All