November 28, 2011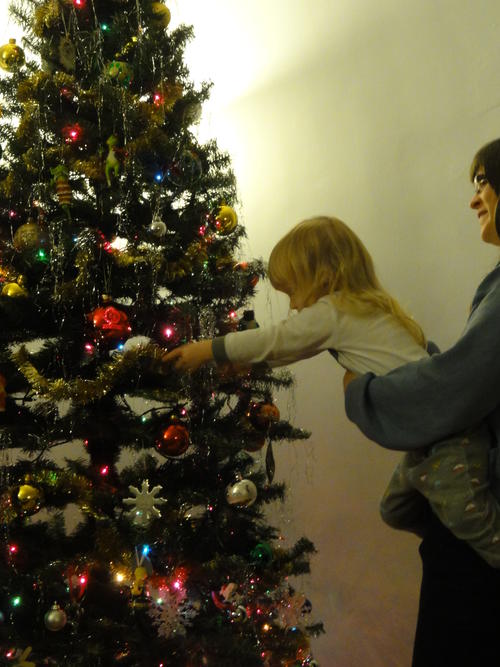 O Tannenbaum, o Tannenbaum!
Du kannst mir sehr gefallen!
Wie oft hat nicht zur Weihnachtszeit
Ein Baum von dir mich hoch erfreut!
O Tannenbaum, o Tannenbaum!
Du kannst mir sehr gefallen!

Ernst Anschütz
You might also like
- Pumpkin Carving
(0.135889)
- Father's Day
(0.135458)
- Lorianne
(0.133333)
- Spa Day
(0.133166)
- Bruce Pit
(0.132565)
All
November 27, 2011
Not only did Elizabeth and I teach Xander how to play patty cake, we showed Uncle Dave too!
Then I held my baby (Elizabeth) while she held "hers" (Xander).
Xander cried when he had to go home. Since Elizabeth spends hours rocking dolls in car seat in "her base-ent", you won't be surprised to find out she's an expert car seat rocker, even under the noisiest of circumstances. She would have been sad to see Uncle Dave, Auntie "Taren" and "Yander" go home, except that it meant that she got to go outside in the dark to see the "Tissmass lights".
She did duly bless them all at prayers that night and then demand to know why they couldn't just stay and sleep in the basement. The guest room is apparently reserved for Josie and Daniel, who are probably coming for breakfast. If not tomorrow, then the next day. Or yesterday.
Elizabeth often talks about things that happened "yesterday", which is defined as sometime in the past and possibly as recently as fifteen minutes ago.
You might also like
- First Sleepover
(0.368539)
- Freak Snowstorm
(0.348659)
- Crachel
(0.348485)
- Decision making study
(0.346764)
- Doors Open Ottawa: Wild bird rescue
(0.34626)
All
November 26, 2011
We made our annual Jesse tree in preparation for advent by tracing Elizabeth in a vague tree shape onto paper and then painting it. "Oh yay, yay, yay!" said Elizabeth "Painting's my faborit"
The magnets are a little less magnetic than last year - I blame baby version Elizabeth crumpling them. Come to think of it - toddler version Elizabeth doesn't exactly hold them flat either. Maybe we should use stickers next year.
I wasn't organized enough to get all the stories in advance, but we wrapped the ones we do have and Elizabeth is taking great glee in unwrapping a present almost every day. It helps her resist the real presents already sitting under the tree, though she still counts them and makes sure the ones for her are all accounted for!
Elizabeth lights our advent candles every morning at breakfast, almost entirely by herself (we operate the lighter!). Mommy is strongly reminded of Great Grandpa H's crooked mouth story when Elizabeth blows out the candles. Daddy has been working on teaching her "proper mouth formation" and actually she's improved enormously.
You might also like
- Big Baby Bed
(0.375415)
- Water Baby
(0.366279)
- Christmas Eve
(0.365629)
- Pregnancy Announcement
(0.355975)
- Great Glebe Garage Sale
(0.355619)
All
November 25, 2011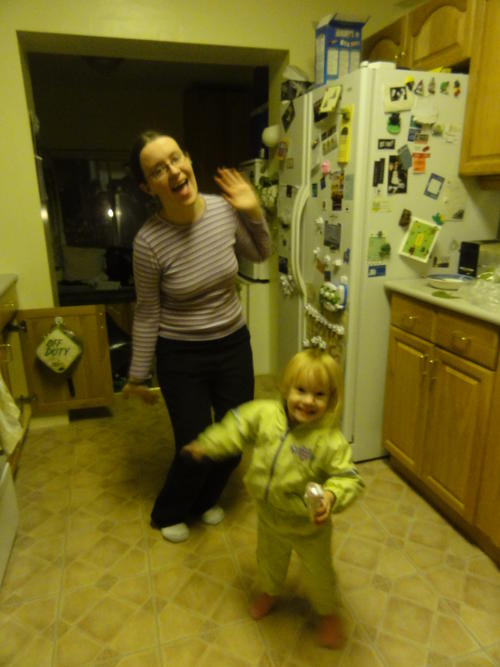 This is Auntie Janice dancing with Elizabeth upon discovery that Auntie Janice had made her first Etsy sale. To Australia!!!
Talented Auntie Janice...
PS Need cute earrings or necklaces? I can totally hook you up...
You might also like
- Christmas Cake 2013
(0.266026)
- Orphan Photos
(0.261745)
- 30 Hour Famine
(0.261236)
- Too Berry Blueberry
(0.259016)
- Sand Delivery
(0.257009)
All
November 24, 2011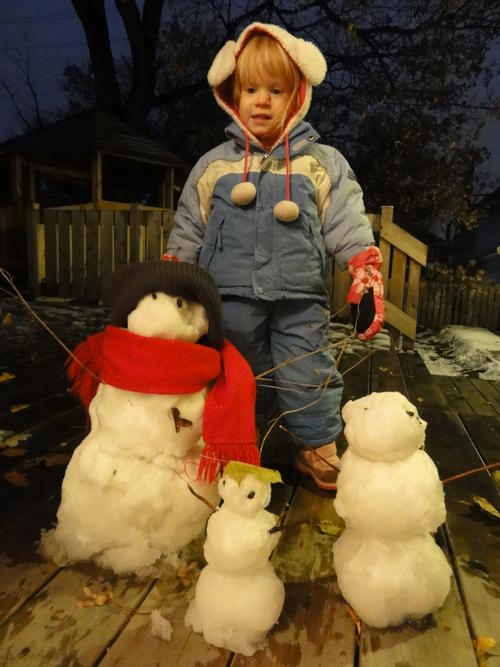 The forecast told us that we'd be saying goodbye to winter and hello again to fall. So when Elizabeth decided she wanted to make snowmen, we seized the moment. It was getting dark and the snow was so wet that it instantly soaked through our mittens but soaring temperatures meant the wet hardly mattered.
By morning baby and mommy snowman went "on a trip" while the Daddy decided to take a nap. The temperature rose to nearly twelve degrees! At the end of November! In Ottawa!!!
Elizabeth was a bit sad to see the snow go.
Very odd to have mosquitoes buzzing around while putting up Christmas lights, so while we've been enjoying the mild weather this family is ready for a really cold snap now. Besides, we need the canal to freeze so we can skate...
You might also like
- Boxing Day
(0.365031)
- First Snow
(0.34488)
- First Canal Skate 2013
(0.339434)
- Easter Sunday
(0.334842)
- Elizabeth's first cold
(0.33165)
All