December 24, 2011
We forgot our reserved and rather clingy child at home this Christmas Eve. Instead we brought one who was wild, giddy and practically vibrating with excitement. Luckily others thought she was being cute, despite shrieks of laughter and running up and down the aisle between Grandma and Grandpa J and Godmother Rachel.
Our church gets the children to populate the empty manger scene with porcelain figures during the Christmas Eve service. Elizabeth stood in line, received a very fragile-looking sheep and marched it up the aisle with all the other kids while Mommy prayed fervently for sheep's continued survival. I think we were all rather surprised and impressed that Elizabeth just waltzed down the aisle without even a backwards look for Mommy.
Then Elizabeth and Mommy went out with the other kids for Sunday school where we mutilated oranges, trampled candies and sang many, many Christmas carols. (We made Christingles. Elizabeth was more or less able to explain the various parts to Daddy, though less successful at explaining to Grandma H the next morning!)
Time for the Candle Song, which we sing by candlelight and is one of my favourite parts of the entire church year. Elizabeth helped light the candles. Mommy spent several anxious moments redirecting hair (mine and hers) away from the flame. Someone else wasn't so lucky but the service ended with a very strong smell of singed hair, leading to a general patting of hairdos for many people around us, myself included. We never found out what happened, but since no one appeared to be actively flaming we're hoping it smelled worse than it actually was.
You might also like
- 52 cm of Snow
(0.391975)
- At Mary's
(0.389787)
- Missed the bus, Concussion, Matthew gets a stripe
(0.387619)
- Hawaii
(0.386986)
- Camping!
(0.385849)
All
December 23, 2011
We went to watch Josie and Daniel's dance recital in Kemptville today. It was two hours long and Elizabeth sat quietly for most of it. She was completely captivated watching the dancers, squeezing my hands very hard periodically and tossing me a quick grin, especially whenever the really tiny dancers came on stage. Towards the end she just couldn't stay still anymore, standing up to dance on my lap (luckily we were sitting right at the back of the auditorium with no one behind us!) "Mummy" said Elizabeth. "Mummy! When I'm a bigger girl I'm going to be a ballerina!"
Hopefully she's a ballerina with good moisturizer because dancing in the basement in our dry winter air does pretty funny things to her hair!
You might also like
- Wizard of Oz
(0.317557)
- Picture with the Bear
(0.312874)
- Lac des Loups
(0.312121)
- Life with two kids
(0.3104)
- Amelia is 2
(0.309305)
All
December 22, 2011
Without my parents to organize us all, we had a bit of a learning curve on how much and what to bring for our annual Raclette dinner. Here's what we learned, recorded for posterity and/or next year.
1) A half round of cheese is sufficient, but if you get the whole round there's gonna be a lot of cheese on the menu for the next couple of weeks. Also, Brendan doesn't like raclette cheese for breakfast.
2) Four or five pounds of cold cuts would have been more than enough.
3) Karen should always buy the pickles.
4) The special wine is available in Gatineau.
5) Ten pounds of potatoes, not twenty. But if you get twenty, at least you can use the extras for Christmas dinner...
6) House of Cheese in the Byward Market is the place to buy the cheese. They answer their phone on the first ring and provide a price (by kilo, as well as the estimated total amount). They are located close to us. Contrast this with Serious Cheese who made me select options from an automated menu and then put me on hold for nearly ten minutes. They then told me that I didn't want to buy their cheese because "it probably costs too much for you" and offered to sell me a quarter round. I explained that we needed at least a half round in order to use our machine, so the woman hemmed and hawed and finally said I should "come into the store to look at the various cheeses and see if any of them would work". I wanted a price. She did not want to give me one. I finally convinced her that I needed a price in order to justify driving way the way out to the outskirts of Ottawa. The kicker was that after wasting nearly fifteen minutes of my time she finally gave me a ballpark price - $40 higher than the estimate from House of Cheese. My brother said I should watch Monty Python's Cheese Shop sketch after hearing about my experience. He was so right!
You might also like
- Plasma Car
(0.391691)
- Children's Museum
(0.38861)
- Flying Squirrel
(0.384753)
- Garden
(0.384038)
- Fred
(0.381166)
All
December 16, 2011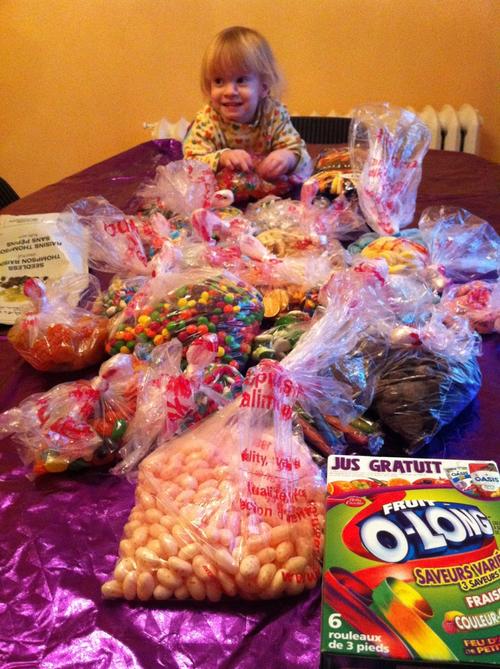 I got into making gingerbread structures with my friends in high school.
Sixteen (!!!) years later there are enough little kids coming that we decided to create a kids table. We always use gluten free dough and although I liked last year's cookies better, the dough this year was fabulous to work with. It rolled well and you could even pick it up. It baked a bit hard and had a tendency to bubble, so I guess we need to experiment further, but the lack of gluten is becoming less and less of an issue. If they'd just come out with a gluten free string licorice for wires and string I wouldn't miss it at all!
I added a new challenge this year with a sugar-free, gluten-free, dairy-free and molasses free gingerbread for a friend. The candy was replaced by non-sugared dried fruit, seeds and nuts, but replacing the icing was a big problem. Eventually we settled on peanut butter and honey but it was really too runny to hold multiple pieces together. It made a nice iced cookie though. Next year I'll have to experiment some more.
We got everything ready two days before the actual party, including baking pieces for Elizabeth's creation. She wanted to make a plain old house, so aside from insisting on stain glass candy windows I went along with it. She nearly took out the camera with the rolling pin while showing me how to crush the candy.
Elizabeth's eyes nearly fell out of her head when she saw the table full of candy. "I like eese and eese and eese and dere's cok-o-late mummy" Interestingly, she did not demand to eat it even though we had a mountain of yummy treats as our table centerpiece for two days worth of meals. We'd explained everything was for the party so I guess she understood that she had to wait.
You might also like
- 17th Annual Gingerbread Party
(0.405631)
- Je d'école
(0.405588)
- Flying Squirrel
(0.405303)
- 19th Annual Gingerbread Party
(0.40411)
- Michael's birthday
(0.400853)
All
December 15, 2011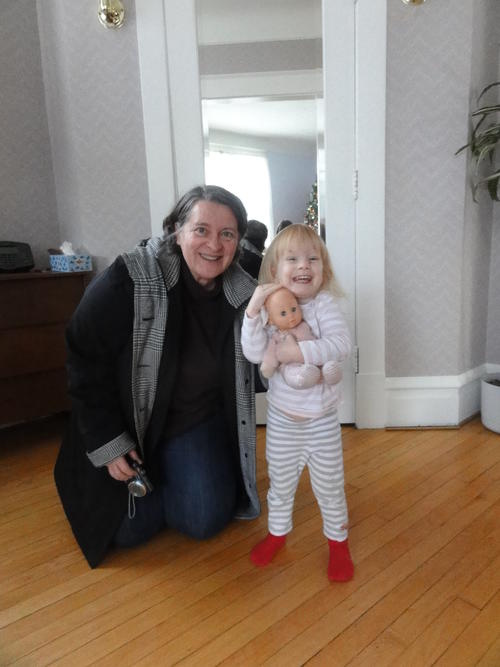 This is MY Aunt Mary, who also happens to be a Great Aunt, in both senses of the word.
You might also like
- Auntie Mary
(0.203704)
- Orange belt two stripes Matthew
(0.20155)
- Rainy day
(0.2)
- Three stripes orange green Matthew
(0.191358)
- Erika has 2nd stripe brown belt
(0.1875)
All