February 7, 2012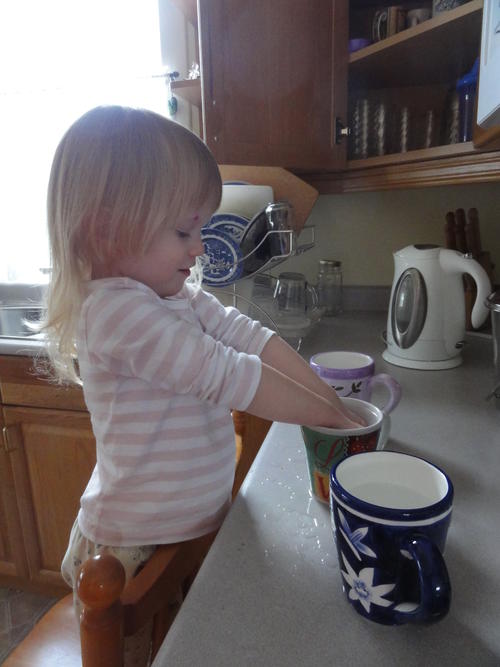 One of this month's themes is "skin". I have yet to come up with a fancy dessert, though I've been frightening my husband with suggestions for hair follicles and sweat glands...
Instead I contented myself with the most successful science experiment we've ever done. A bit too successful, really, as Elizabeth wants to do this .every .single. day. One of Elizabeth's books talks about hot and cold temperature receptors, so the experiment in question is the classic "put one hand in hot water, put the other in cold, wait thirty seconds and then confuse your brain as you plunge both into lukewarm water".
You might also like
- Clean vs Dirty
(0.337302)
- Polar Vortex
(0.325142)
- Rainy day
(0.324281)
- Cousins move in
(0.313636)
- Three at a time
(0.312178)
All
February 6, 2012
Elizabeth's quasi-imaginary friends Beeta and Maka are apparently extraordinary storytellers who like to tell Elizabeth story after story. Unfortunately, she usually can't hear them unless someone is helping them to talk. Since Elizabeth is a story monster, that means Mommy has had to come up with a lot of stories. Elizabeth wants you to know that a story monster just means that she likes stories a whole lot. But even if she was a real monster, she would be a "fwendwee" one, not a scary one. Sometimes Elizabeth demands a (pre)"tend" story, and sometimes she wants a "weel" one. The following is "weel":
Once upon a time, there was a little girl named Elizabeth. Elizabeth's mommy heard that other little girls liked to write their letters using tinfoil lined containers covered in flour. "That sounds like a fun pre-writing exercise", said Elizabeth's mommy. So Elizabeth helped her cover a baking tin with tinfoil and Mommy sprinkled a generous layer of flour on the bottom. When Elizabeth saw the tin, she took her hand and smacked it hard into the flour. Poof! went the flour. Elizabeth was VERY surprised. She did enjoy writing E for Elizabeth, M for Mommy and a few other letters, before spending quite a long time drawing. It was kind of like a low tech etch-a-sketch with bonus sensory play thrown in. After a while, there wasn't enough flour left in the tin and so Elizabeth went to have lunch instead.
Mommy wondered how kids made ginormous messes pre-Internet...
You might also like
- Wedding prep
(0.380336)
- Roses and Thorns
(0.377049)
- PD Day
(0.375148)
- Skating
(0.374854)
- Baby!
(0.374659)
All
February 5, 2012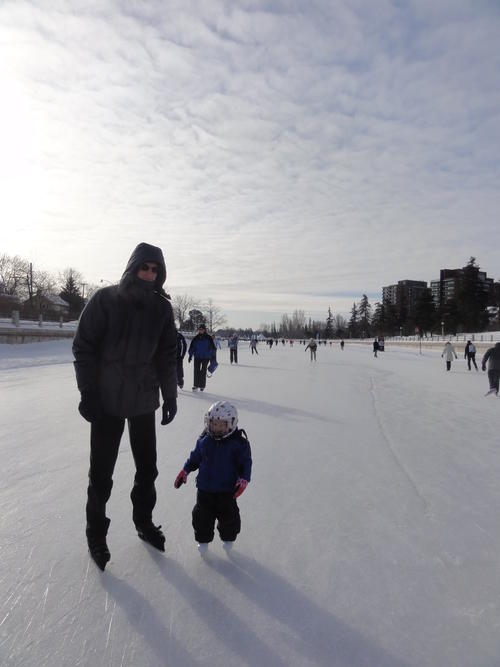 One of the best parts about living in Ottawa in the winter is that we can skate to church.
So we did! We even got to see some of the army of trucks they use to groom the ice.
You might also like
- Baby shower and Canal
(0.276753)
- Handwashing
(0.253788)
- Fruit!
(0.253275)
- Wedding
(0.252396)
- Skating with Angie
(0.25)
All
February 3, 2012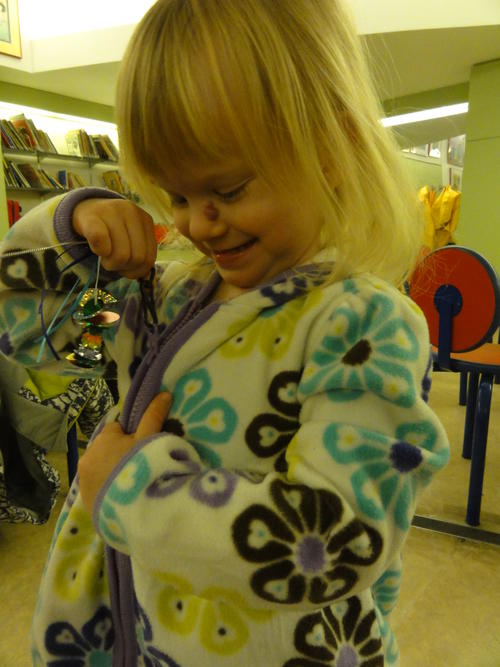 We went to the museum of Civilization for the Winterlude opening activities, but alas not the fabulous fireworks as Elizabeth was falling asleep by the time they started. We decided we'd better put her to bed after all the excitement of so many visitors and activities. Next year we're finding babysitting though!
Elizabeth made a zipper pull with great concentration. Mom and Dad were very impressed with her fine motor control skills.
You might also like
- Family Day 2011
(0.301397)
- Toddler camp
(0.289593)
- Cottage Days: Arrival
(0.28733)
- Sheep Tipping
(0.286408)
- Matthew and Elizabeth spectacle
(0.286008)
All
February 2, 2012
My cousin Phil and wife Merilee visited Ottawa with their two girls Kaitlyn and Lily (aka as "that dirl" and Lauren, for some reason).
We visited the Aviation Museum, skated on the canal and ate "moose" (chocolate mousse) for dessert and "beaver" (beavertails) for snack. Elizabeth insisted on bringing both toy strollers to push around the museum so that her cousins could have one and she could have one. There was a lot of playing in the basement. Most of it nicely.
Elizabeth was sad when they left. She's taken to pointing to the Twister game and telling Mommy: "Remember when my cousins came and we played Twister? <sigh> That was fun!"
You might also like
- Second Cousins
(0.316129)
- Lauren and Donna's visit
(0.314885)
- Fun with Kaitlyn and Lily
(0.31348)
- Vera, Astra and Magnus
(0.31283)
- Mommy denial
(0.312789)
All