March 15, 2012
We went to Billings Bridge again for their March Break activities. Elizabeth watched the Radical Science show while waiting patiently in line for face painting. The science show was all about low pressure and high pressure - blowing up balloons inside bottles, blowing up giant balloons, balancing balls on a hair dryer and leaf blower, leaf blower powered hovercraft and "airzooka" full of some kind of fog so that we could see little smoke rings of air being shot across the mall.
Elizabeth was pretty excited by her loot bag - long lasting bubbles, glow in the dark stars, two different kinds of sticky animal things that you put on the wall... The ladybug one "walks" down the wall (or I should say walkED, since it's now so dirty that it doesn't stick to anything anymore)
Last year Elizabeth was a butterfly (along with her cousins). This year she decided she wanted to be a kitty. I could write reams about the bad behaviour of the other kids in line (and their completely absent parents) but unlike the full contact sport that doubled as standing in line for free cotton candy, at least we weren't in danger of being crushed.
Elizabeth waited for more than two hours for her kitty face (!), then calmly walked up to the clown, demanded "a titty" (Mommy translated!), sat down on the chair by herself, closed her eyes and held completely still for the four minutes or so that was needed. We had explained she could only have it on her face until bedtime, so while there was quite a lot of discussion about whether or not she might be able to keep it after all "because I REALLY LIKE my titty face, Momma", she actually started scrubbing it off by herself at the appropriate time.
You might also like
- Fall summer
(0.398747)
- Family Day
(0.396839)
- Sledding
(0.392324)
- Airplane and skating
(0.392308)
- Farm Camp
(0.390224)
All
March 14, 2012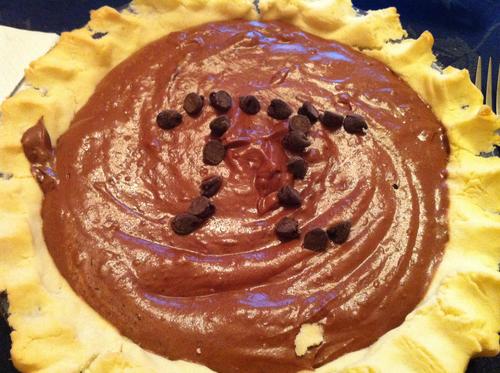 Happy Pi Day! This year's model used a chocolate mousse filling
You might also like
- Elizabeth party
(0.241135)
- Pi Day 2019
(0.186567)
- Erika is old
(0.179856)
- Mike meets Michael
(0.178571)
- Finally cake
(0.177515)
All
March 13, 2012
We had a "wondy" (wonderful) day playing at the unseasonably warm and very windy Agriculture Museum, before going swimming at Grandma's with cousins. Best part of melting snow is that Elizabeth can climb on the concrete barriers on way into museum.
Mommy forgot Elizabeth's life jacket. Figures this would be the day that Elizabeth ramps up the cousin rivalry and decides she can swim "by myself, Momma. That means ALONE!". She insisted she didn't need a noodle or Mommy to hold her. There was a lot of "Ook at Mee Erika" followed by serious attempts to wiggle out of my grasp. I briefly contemplated letting her realize that she can't actually float by herself, let alone swim, but decided that a dunking would probably be counterproductive.
The trouble is that when her ears get wet she tries to sit up and panics. And did I mention that she kind of hates getting her face wet?
Needless to say I didn't find swimming particularly relaxing that day!
You might also like
- Cottage Days: Support boat
(0.352041)
- Mommy denial
(0.339779)
- Bogonning
(0.336504)
- The birds and the bees
(0.335766)
- Old fashioned family day
(0.335435)
All
March 10, 2012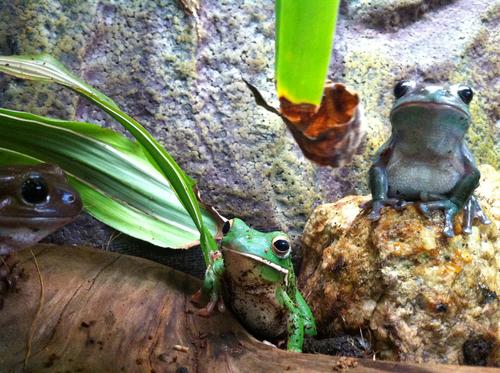 Elizabeth and I got to "frogsit" our friend Iain's 30-odd frogs and one gecko.
Aside from an extremely embarrassing and guilt-inducing incident where I accidentally set fire to their floor, we had a lot of fun oogling all the different kinds of frogs. I thought I took a picture or ten of the red-eyed treefrogs but can't find them now. No picture of the totally cool Pixie, because it was sadly hibernating.
It turns out that Elizabeth has developed an extreme fear of crickets since our last frogsitting gig. But she also likes babies, and pinhead crickets ARE babies. So once she came around to my point of view that baby crickets are cute, she was at least willing to help feed the "scary" bigger crickets to the animals. From a safe distance. She did deign to mix the gecko's fruit powder...
You might also like
- First day of Maternelle
(0.320182)
- First post pandemic museum
(0.313972)
- Farm Camp 2014
(0.311844)
- Bug Day
(0.310966)
- Where does all the laundry come from?
(0.310719)
All
March 9, 2012
I can't remember whether I vented about the surprising difficulty that I had finding a non-drop off program of some kind for Elizabeth and I to do in French, open to non-francophone households, not consisting of skating or swimming, not consisting of activities that aren't recommended by the Canadian Pediatric Association for Elizabeth's age group (ahem trampoline) and not conflicting with church. Apparently that qualifies as impossibly picky. Anyway, there was exactly one option that met my criteria: a music class which was promptly cancelled due to lack of registration. Apparently most Ottawan non-francophone households are waiting for school age before introducing French.
Have you tried the library? Someone asked. The "bilingual" toddlertime program at our library consisted of singing a single song in French. I tried a couple of other libraries, but it turned out they had boosted their attendance by converting to a storytime aimed primarily at older children. I gave up after one started playing a video (!) in lieu of reading actual books. The video was not in French, either.
I was invited to a "francophone" families only playgroup after a rather nerve-wracking oral quiz, but I quit going as soon as Elizabeth started talking. Many of the other kids were only talking in English too, but coupled with my tendency to freeze up and forget all my grammar and pronunciation I found that I was just not comfortable going.
So you can imagine how delighted I was to find the groupe de jeux at Marius Barbeau. It's a bit more structured than the Mothercraft version, which works better for Elizabeth. Lots of things to play with. A slide. An optional craft. Snacktime. More playing. Circle time where the kids have to say their own name (it only took Elizabeth two visits to start talking!) We've been going once or twice a week for a couple of months now and we've really noticed a difference in Elizabeth's comprehension. Plus she's started to use a few words here and there - even when she's playing. Some of her babies seem to be francophone, which Mommy and Daddy think is quite interesting.
And she's named her white rabbit puppet "Sandy", after her "French class teacher".
You might also like
- 18 Months
(0.412637)
- Summer School Summer
(0.411592)
- Summer school
(0.411141)
- Winter Wonderland
(0.409362)
- Rainbow party
(0.408299)
All