April 3, 2012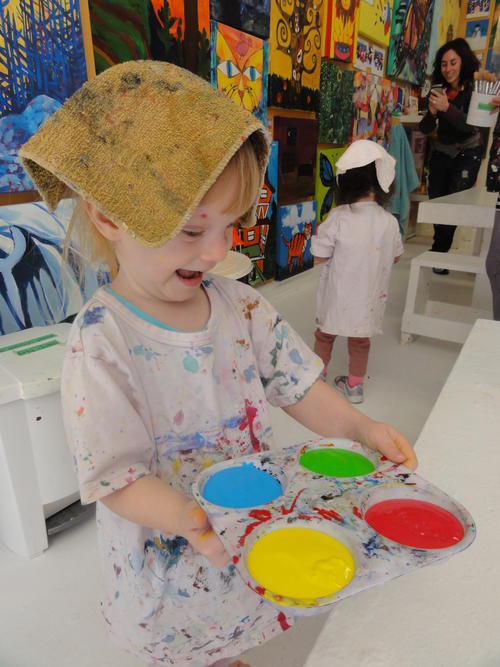 Elizabeth's been taking a weekly mixed media art class for the last few months, and while we're pausing classes for the summer Elizabeth will definitely be taking another class in the fall.
Every class started with oil pastel drawing while waiting for all members to arrive. This was popular (and meant that we had extra incentive to be on time!) Then they said hello to the fish and went to the paint splatter room to do their "exercises". At first Elizabeth wanted a parent to go to the back with her (as did many of her classmates), but soon they were all trooping to the back with Emaly while the parents hung out at the front of the shop.
After exercises, they worked on one of the many projects Emaly had organized for them throughout the session. One week Elizabeth made a self-portrait out of Sculpey. She made a clay pot. The last week she learned how to throw paint at the wall, which the kids actually found surprisingly tricky. Elizabeth kept wanting to touch her brush to the paper. They worked with many different kinds of clay, they painted in many ways, they made puppets, they silk screened and made a mobile. They used many types of tools - paint brushes, plastic spreaders, fingers, scissors... I was surprised by how well many of the projects turned out. Did I mention Emaly is a bit of a genius with small kids? She really broke down the steps for each project. At the same time she wasn't too fussed about how it ended up - after all, at this age it's the process that matters most!
So yeah - if you are looking for art classes, check out 4Cats...
You might also like:
-
Music
-
Skating
-
Homeschool wk june 15-18
-
Buskerfest
-
Decision making study
April 2, 2012
Elizabeth made her first shaped pancake :)
You might also like:
-
Black Belt Stripe Test
-
Green Belt, one stripe
-
Love
-
Helping Mommy
-
Orange Stripe
March 31, 2012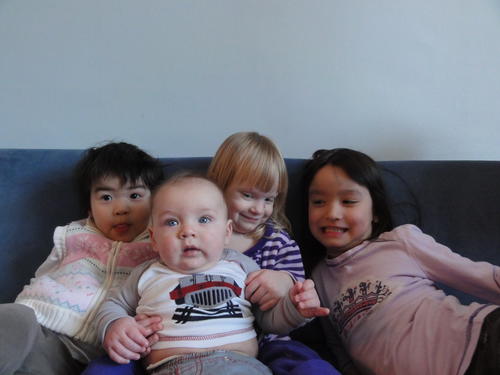 Uncle Chris (my hero) looked after five cousins while I was at my dance class and Brendan was building his TV antenna.
Uncle Dave and Auntie Karen dropped Xander off while they had a hot date at Home Depot. We got all the cousins to make faces at the camera for next year's calendar, and generally had a good time.
Josie and Daniel even got to Skype with their mom and dad in Simcoe, even though they were still busy playing outside. Technology is pretty amazing!
I was very amused by the dynamics between the kids, especially once Xander arrived. Maria started crawling around pretending to be a baby. Normally that would be Elizabeth's response, but since Maria took that role, Elizabeth grabbed a doll and started "mothering" it. I was just as happy not to deal with the play-crying, since toddlers seem to need to "cry" a lot more than the real babies I know! Josie was looking after Xander, giving him truck and bouncy horse rides. Daniel and Erika (the five year olds) weren't interested in babies (yech!) and so took off somewhere for a wild game of something or other upstairs.
You might also like:
-
Roses and Thorns
-
Happy Birthday Auntie Karen
-
Good Friday
-
Berry picking, birthday and a date
-
Family Reunion
March 30, 2012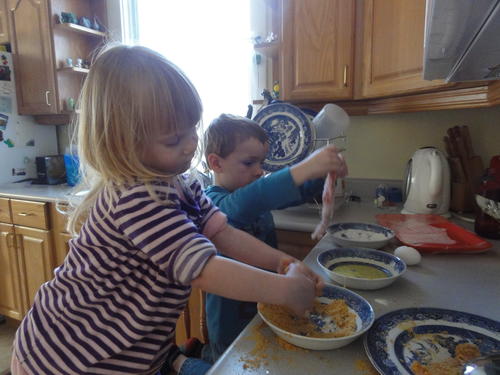 We had Josie and Daniel for the weekend, and they happened to come for schnitzel night (we've been planning out our meals a month in advance recently).
So Elizabeth and Daniel were tasked with making the schnitzel while Josie chopped many vegetables for the next day's lunch. No one even nibbled at the raw pork, though we had some near misses.
The next morning they cleaned bathrooms, scrubbed mirrors, washed dishes and generally tidied.
You might also like:
-
Waiting...
-
Great Aunt Joanne
-
Second Cousins
-
Rent-a-Sibling
-
Baby Therapy
March 25, 2012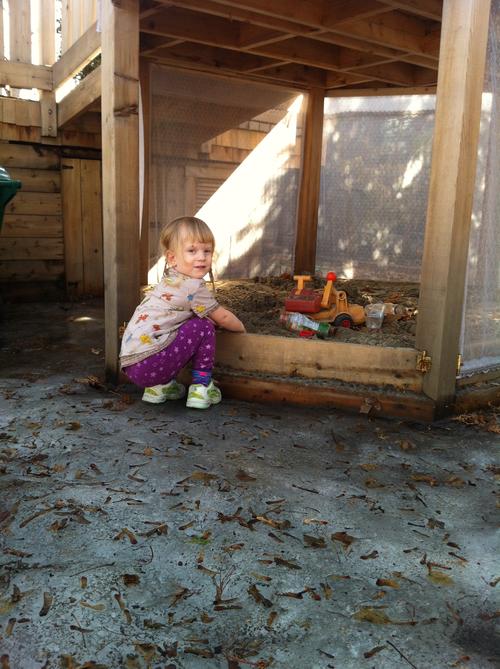 I can't remember if I posted pictures of Elizabeth's finished sandbox, but we replaced our ugly blue tarp with curtains last fall and it is now D.O.N.E.
Except that apparently the "brass" fasteners we purchased are actually steel with brass coating, and therefore are rusting. Sigh...
The idea was that a vertical piece of fabric would dry quickly and not gather spiders, ants and wood lice underneath. This is working. A cover is necessary to avoid our lovely neighbourhood cats from treating it as their personal litterbox, and although the fabric does have gaps on the side, we figured that most cats prefer not to feel trapped.
This also seemed to be working, until a couple of weeks ago when Brendan noticed one of the curtains flapping loose in the wind. Have I mentioned we have raccoons? Apparently one or more opened a curtain, then couldn't get out, panicked and ripped a curtain right off on the other side. Luckily it was easily reattached, but now my lovely curtains have claw snags and raccoon prints as "extra" decoration.
I was thrilled to discover that they did not use the opportunity to use the facilities. Apparently they save that for the car hood roof of our garage, which is infinitely preferable to the sandbox. The 'coons haven't returned, so hopefully they were just curious and got a scare.
A couple of days later at breakfast Elizabeth and I actually saw two of them heading for bed. One walked along our fence, and the other tightrope walked along the cable TV line!
You might also like:
-
Racoon proofing
-
Train!
-
Dovercourt
-
16 Months
-
Butterfly Adventure