April 8, 2012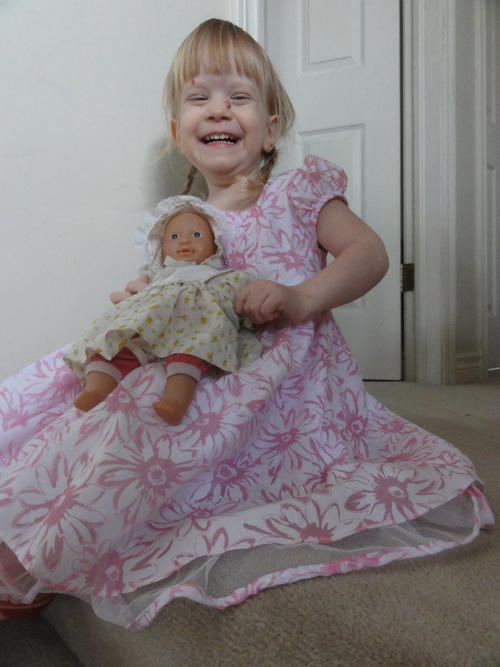 On Easter morning we went to church in Crosshill. Elizabeth was very well behaved and even went forward to be with the other kids for the children's time. She was a little uncertain at first but then went right up without either Mommy or Daddy. After the service Elizabeth again demonstrated that she has an exceptional memory by immediately asking to go play in the nursery. Once we pried her loose from the nursery we manged to get her home for a quick nap while we waited for people to arrive. She was so tired that she actually had a very long nap and only woke long after everyone had arrived for Easter lunch / supper / general lounging about and enjoying each others company. We had a great afternoon with a good number of the extended family and a very friendly puppy being looked after by Mike. Elizabeth was very interested in the puppy in theory but made very sure to cling to Mommy or Daddy and kept VERY close tabs on Dangle's location. After supper Elizabeth biked all the way over to the local park despite the strong wind against her. She enjoyed the attention of not one but two doting great aunts. After some time playing at the park she even biked most of the way back home. Needless to say she slept well...
You might also like:
-
Broken nose
-
Apple Picking Reprise
-
Mochi Making
-
Messiah rehearsal, Santa parade
-
Monkey See, Monkey Do
April 7, 2012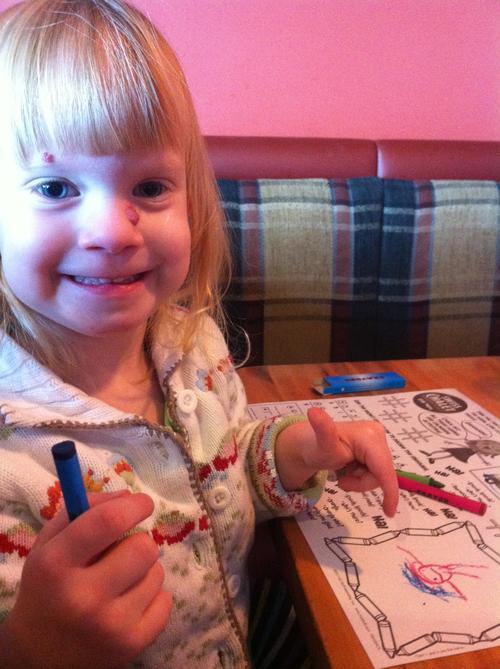 We stopped for supper at Elizabeth's "favourite" restaurant en route to Wellesley. She likes it because of the chocolate milk and M&M packets for "yert", and she can order by herself by pointing to the various pictorial menu options.
The provided placemat suggested she draw a self-portrait, so she did. At first I thought she drew herself upside-down, but her strenuous objection made us realize she'd actually drawn herself as she was as opposed to the traditional mirror view. Fascinating!
You might also like:
-
Packing snow! Sort of...
-
Family Day 2011
-
Sitting unassisted?
-
Red Stripe Test
-
Matthew on the canal
April 6, 2012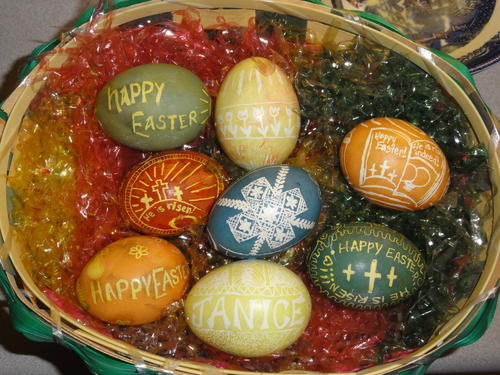 We attended the footwashing service Thursday evening. We didn't leave the house until bedtime but Elizabeth was exceptionally well-behaved, sitting in near silence for the better part of two hours. She was interested by the footwashing, but absolutely spellbound by the stripping of the altar in the dark.
We'd asked her to be "quiet like a mouse" until we got out of church. Everyone was very amused when she burst out with "Mommy can I talk NOW?" the second she put one foot out of the church proper (Daddy made her wait until we got onto the sidewalk outside). We didn't get to bed until 10pm.
Friday we were back at church at 10am. Elizabeth was maybe a touch less attentive than usual, but surprisingly chipper given the late night the day before. She drew a very elaborate (and secret) picture of "something she's been naughty about" on flash paper and was very surprised by the impressive fireball generated by the whole pile of written sins.
After the service Erika, Maria, Kira, Sosuke, Josie, Daniel and respective parents all joined Elizabeth in egg decorating. The kids used food colouring and made googley-eyed chicken eggs. The adults drew wax patterns and used our normal cabbage/tumeric/onion skin dyes. We experimented with a few new techniques, covering the eggs with lace and silk dye transfer. Unfortunately our silk didn't make much of a pattern on the egg (it apparently depends on the ink used). I even tried Chinese tea eggs with some of the cracked eggs. They were delicious, though not quite as pretty as promised. We usually make empty tomb cookies on Good Friday to open on Saturday, but we opted for Resurrection Rolls instead so that the other kids could see the end result.
Then we went to Grandma and Grandpa J's for palatschinken. Bed at 10pm again!
You might also like:
-
Good Friday 2015
-
Good Friday
-
Happy Easter!
-
Sad bunny story
-
Dying our countertop
April 5, 2012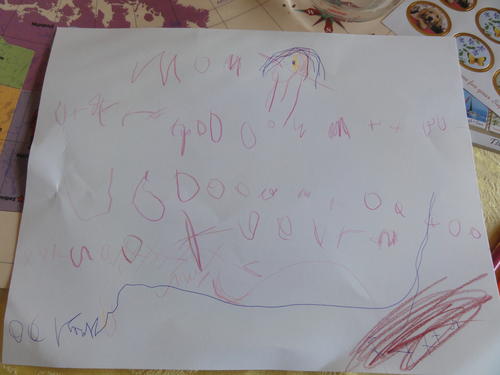 Last time we went away on a trip, Elizabeth packed her own suitcase using her own packing list.
She's clearly my child, because as soon as we mentioned that we were going on another trip she wanted to make a new list. My folks like to tell people that my lists used to contain items such as "Bug David" (my long-suffering brother). I'm happy to report that this sort of thing didn't occur to Elizabeth, though she did decide that I should write her list and she should write mine.
Throughout the whole week leading up to our departure, she'd ask me what I wanted to bring and then very professionally "write" down my answer. This was a bit tricky after a while as I didn't want to get creative lest she decide she needed to pack those things too! By the end of the week I probably had about six pairs of pjs and eighteen shirts on the list! She was worried we'd mix up the lists, so I titled hers and she titled mine. "Mom" is her second legible word, though she does have a tendency to write it as OMM if left to her own devices.
You might also like:
-
Strawberry picking
-
Decision making study
-
Water Baby
-
Tree
-
Pregnancy Announcement
April 4, 2012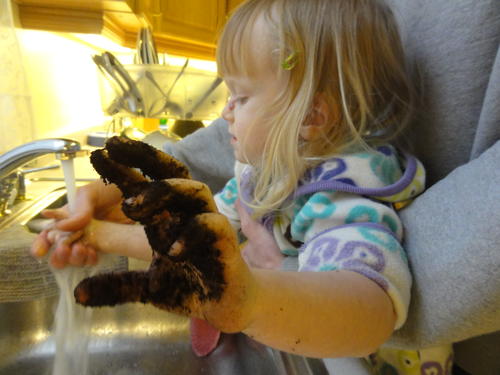 I usually garden by neglect, so some of you might be wondering how it is that we're actually growing tomatoes from seed this year.
You see, we get my parents' mail. Elizabeth is OBSESSED with getting mail, but we hardly ever receive any. So getting my parents' mail has saved me from having to generate fake mail for Elizabeth. Their mail is often pretty cool from a toddler perspective as they've apparently signed up for a lifetime supply of stickers, greeting cards, matching envelopes, gift bags, gift boxes and cheap pens from dozens and dozens of well-meaning charities that I'm now never going to give money to since they are apparently wasting it all on stickers and greeting cards (ahem).
Probably I should mention that my parents have no idea how they got on all these lists - I was particularly amused to receive the one from PETA (an organization that I'm pretty sure Dad doesn't support financially!)
Anyway, getting their mail is good. But sometimes it is very, very dangerous. For instance, my dad signed up for gardening catalogues last year...
You might also like:
-
Chicken Chicken
-
Shark!
-
Incredibles 2
-
Kindergarten Report
-
Decision making study