May 11, 2012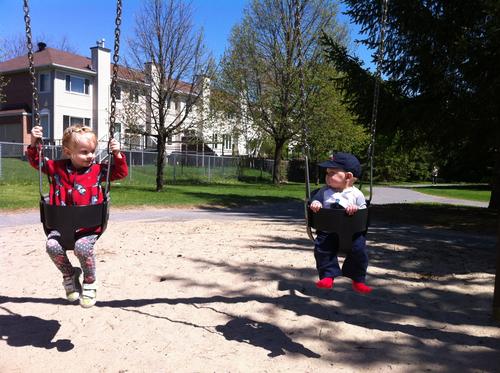 Elizabeth and I biked to the park while visiting Auntie Karen and Xander. Elizabeth's started to ask who she can give her stroller to, "now that she doesn't need it anymore". Three is apparently an age of whiplash between baby Elizabeth and Big Girl Elizabeth. Actually, we usually have two "children", just one is invisible. Big Girl "Lizabef" can buckle herself into the carseat, but often morphs into baby "Eliani Jake" who needs a baby toy and soother (pretend ones are acceptable). After all, big Elizabeth is obviously sitting on the booster seat. Pointing out that six year old neighbour Noemi still uses the exact same carseat we do has had no effect. When we reach our destination, the baby stays in the car, but the Big Girl climbs out. Babies don't ride bikes...
Xander and Elizabeth rode on the teeter-totter together and the swings. It was apparently Xander's first time on the teeter-totter. Elizabeth was pretty tired because napping doesn't always fit into her busy schedule. Sometimes she completely refuses to take one, and other times she is begging to be "'llowed to nap wite, wite NOW Momma!" It got harder to ride the bike when she had to stop to rub her eyes, but she managed to make it all the way back to Xander's without mishap.
You might also like:
-
About the boy
-
Kid Math
-
French Class
-
Happy Hearts: Clothes
-
The unsuspecting sleeping baby...
May 9, 2012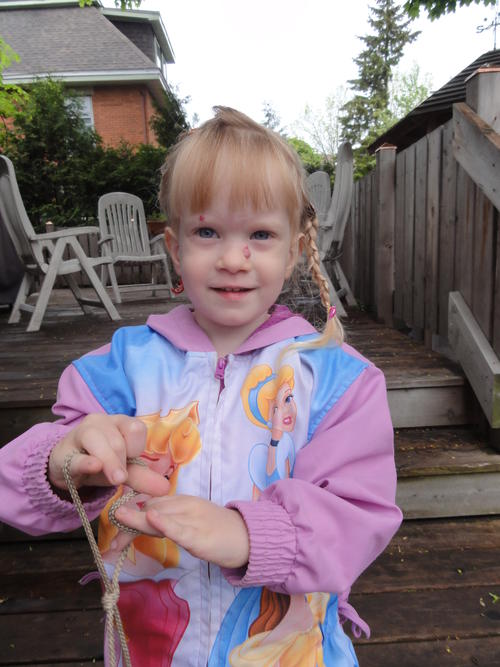 Elizabeth had a follow-up appointment at CHEO today.

We now have a tentative date Summer 2013 to remove the hemangioma on her nose, to be firmly decided next April. The doctor now believes that none of the remaining marks are likely to resolve on their own.
Interestingly, Elizabeth gets far fewer comments now than when she was a baby (when we routinely got chased by complete strangers wanting to know "what happened", and sometimes asking about her life expectancy!). Since removal is cosmetic, we've decided that we're going to let Elizabeth have a fair amount of input into the timing.
At first Elizabeth was determined that she wasn't even going to go to the doctor, let alone let the doctor touch her nose. "I want to keep my birthmark!" she said. I told her that we'd see what the doctor had to say, but that she could help Mommy and Daddy decide what to do after that. Apparently she is afraid that removal might hurt! Dr. Duncan is really great with kids though and Elizabeth submitted to being poked and prodded without any protest. Later Elizabeth confided that we'll have matching faces after she turns four.
You might also like:
-
Hemangioma update
-
The birds and the bees
-
Broken nose
-
Number 3
-
Shark!
May 7, 2012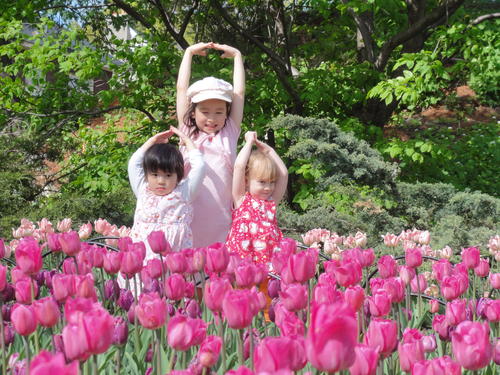 Elizabeth biked 1.3 km to Bronson and Queen Elizabeth Drive. Then she mostly ran back with cousins Erika and Maria.
The girls demanded to have their photos taken in front of every other bed of tulips, so it took us a while to walk home. Then they discovered a number of "tree forts" and Erika announced she wanted to sleep there. Thank goodness we had some snacks available for distraction purposes!
When I'm taking pictures I usually ask them lots of silly questions in a vain attempt to get some more natural expressions. Elizabeth almost always says whatever Erika does, as does Maria. Yukiko and I had trouble keeping a straight face with all the echoing going on!
You might also like:
-
Kid Math
-
Bikes
-
Dying our countertop
-
Tulips
-
Farewells
May 6, 2012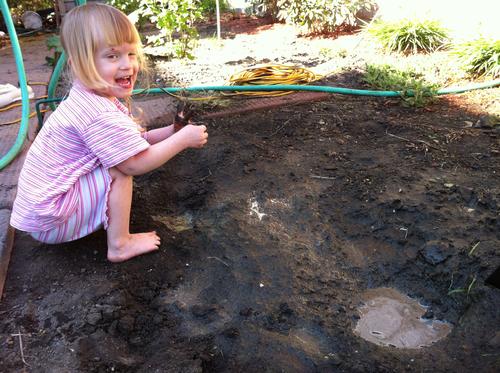 Proving that she's all better now, Elizabeth spent much of the day outside helping Mommy and Daddy build new raised garden beds.
She quickly got distracted by the hose and dirt. I neglected to get a photo of the finished product - these are relatively early in the process. She made a "sink", frying pan, muffins and many, many mud pies before settling down to "paint" her arms. "These are my new sleeves", she said.
I ended up hosing her off, clothes and all. Then I stood her in the sunshine to dry off a bit.
You might also like:
-
A visit from Godmother Rachel
-
Lil helpers
-
Spring
-
I'm not sleepy
-
Splash pad
May 5, 2012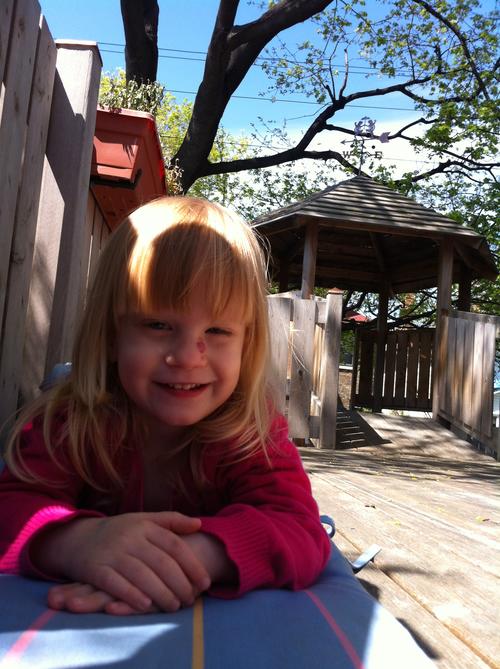 I've hardly had time to take pictures, let alone update the blog recently. It's been a rather busy couple of weeks at work, complete with inconvenient hardware problems and quite a number of large software updates being rolled out. But at least we missed our annual spring "Pukefest" celebration, right?
Apparently better late than never. Elizabeth took me to the Museum of Nature on Thursday. Then she only ate half her snack. Cue the ominous music while oblivious Mom and happy child waltz across the lobby. Elizabeth didn't want to see the dinosaurs but insisted we head to the parking lot to wait for Daddy. The music gets a little more insistent. But Elizabeth yelled for the echo in the entranceway, ran around "across the bridges" (ie along various curbs and different colours of pavement), stacked rocks and generally acted completely normal while waiting. Then she was quiet in the car. I'm not entirely sure what prompted me to ask her whether her tummy hurt while opening the door but she opened her mouth to answer and out came breakfast, lunch and snack everywhere. Sidenote: I've been mourning my recent lack of ability to eat bananas (they cause severe itchiness and my throat gets swollen), but I think I'm over that now.
Anyway, Elizabeth threw up from about 5:30pm until 2am. Then once more at 4am, to bring her total to fifteen and way under last year's record. I moved a Thermarest into her room so Daddy could get some sleep, but it's pretty hard to sleep if you have to rinse the bucket every twenty minutes.
They talk about important developmental milestones that make a big difference to parental quality of life such as sleeping through the night and potty training. Those are indeed amazing milestones. But the ability to throw up into a receptacle rather than all over your sheets, yourself and your mother might be my favourite yet. Last year she was still pushing bucket away on the theory it might make the throwing up stop. Nearly every episode needed a new set of sheets, pjs and a rinse in the tub.
So this year was SO much better. Of course, it helps that neither Brendan nor I have succumbed to the bug. Hopefully it stays that way!
You might also like:
-
Umbilical hernia repair
-
Cousin sleepover
-
Hawaii
-
Home again, home again
-
Nationals