May 21, 2012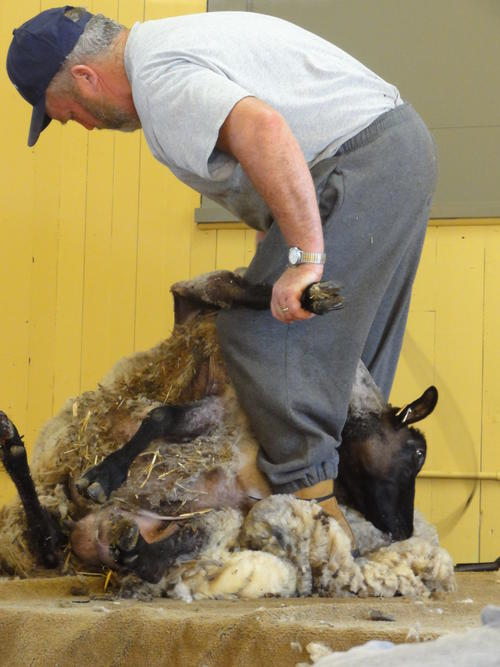 I read somewhere that the Agriculture Museum's "Sheep Shearing Fest" is proof that there really is a festival for everything here in Ottawa.
Elizabeth's seen a sheep being shorn before with Daddy, but this was the first time we made it to the festival. I thought the sheep were remarkably well behaved during their haircuts. It looks very uncomfortable. Elizabeth helped card and felt wool into a bracelet. We also got to watch the sheep dogs in action. Some were much better than others (age, training), which I thought added a level of interest and amusement. My favourite was the brown dog that brought her toy around the course and then splooshed into the wading pool at the end. Did I mention it was pretty hot? After watching the sheep dogs, Elizabeth immediately declared her intent to set up an obstacle course in the backyard. She's spent many hours since happily woofing her way around the backyard. Through the playhouse window, 'round the sandbox, under the slide, over the teeter totter, through the pylons, up the stairs and down the slide...
The sheep herding was also really interesting. The shepherd had three dogs of varying levels of competence and demonstrated how they train them. Younger dogs need the shepherd to guide them with flags, while staying in front of the sheep. Trained dogs can just herd the sheep without the shepherd with only the sound of whisles. The shepherd was rather apologetic because the sheep were tired of being herded over and over again and therefore not as cooperative as normal. I would have gotten frustrated too, but the dogs guided the sheep rather impressively around the paddock to my inexpert eye!
You might also like:
-
Matthew's first skating class
-
Fancy hotel
-
Sheep Shearing
-
Earth Day
-
Spartan Race
May 19, 2012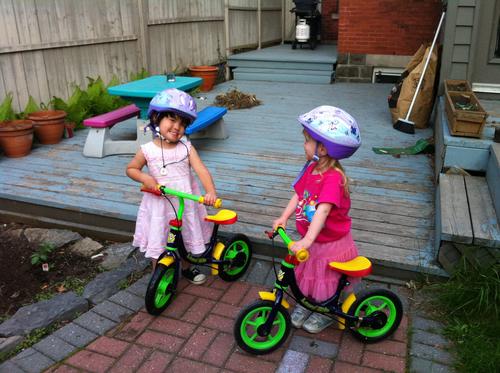 We had a weekend full of family as Maria turned THREE and Xander was presented for dedication at church. The observant will notice that somehow Erika never turned six last month. I didn't have my camera, but the event definitely happened. Elizabeth declared birthday parties lots of fun, though somewhat wistfully observed that she likes it best when she gets to blow out the candles.
At Maria's party:
All the kids (except Josie and Xander) had a turn climbing into the balance bike box.
Xander was picking through Uncle Dave's hair like a monkey.
Maria hid under the table at picture time (but I caught her anyway)
Maria blew out her candles as soon as the cake came within range (we weren't even done singing Happy Birthday yet!). This was AFTER she had to be persuaded to come out of hiding under the table...
Elizabeth and Maria now have matching bikes and helmets. I believe Elizabeth even refrained from spilling the surprise, though it was very "twicky". Look out world!
You might also like:
-
Wedding prep
-
Buskerfest and cousins
-
Thanksgiving
-
A zoo party
-
Christmas
May 17, 2012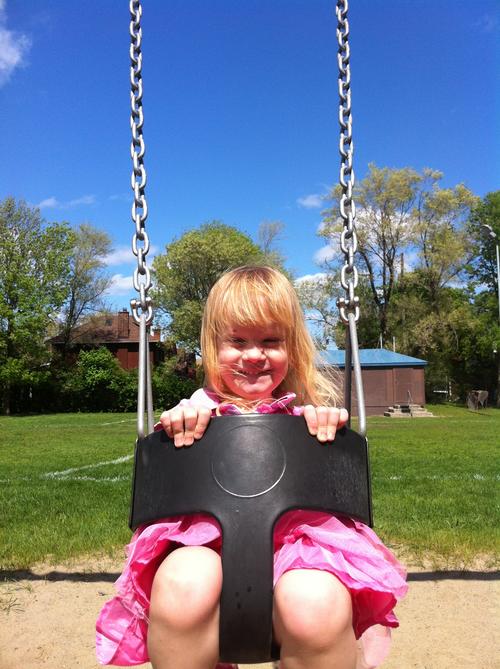 These pictures are unusual in that they do not feature bloodied hands and knees.
Apparently we've reached the age of minor scrapes as our formerly cautious child has thrown caution to the wind. She gets a new "boo boo" nearly every day, which must be covered by a band aid unless hidden by clothing. Mom tries to avoid the highly coveted band aids because if the band aid restricts her movement in any way it reminds her continuously of her grievous battle wounds. This results in extreme babying of the affected part. Last week she rubbed a microscopic piece of skin off her palm and held the bandaged appendage with such care and attention during French class that numerous adults wondered if she'd sprained her wrist. Luckily she forgot about the scrape the morning after the band aid came off (with much protesting!)
She also hates getting her scrapes wet, which makes bath time rather acrobatic. Hopefully this phase passes quickly.
You might also like:
-
Skating
-
Music for Young Children
-
Jaundice
-
Frogsitting and ring pops
-
Skating
May 15, 2012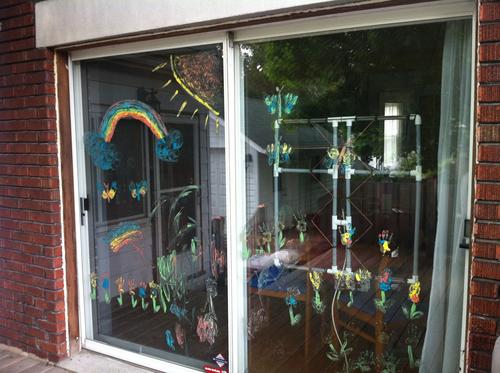 Ever since we cleaned off Elizabeth's rainbow window, she's been lobbying to paint the window again. She's pretty persistent. If you tell her "maybe tomorrow", she will check again tomorrow. In the case of the window, we said "maybe sometime in the Spring", so she's been checking whether it's time approximately once a week ever since.
She's also taken to asking us "What's the next plan?" whenever she isn't sure what's happening next. It's adorable, except when she's suggesting the next plan. For instance, "Momma, the next plan is to eat ice cweam WIF cockolate kips!!!".
You will notice that we did finally give in and paint the window again. This time we painted the outside. We'll see if we regret this once it rains!
You might also like:
-
Like riding a bike
-
Spring
-
Capital of extremes
-
Dentist
-
Ballet
May 13, 2012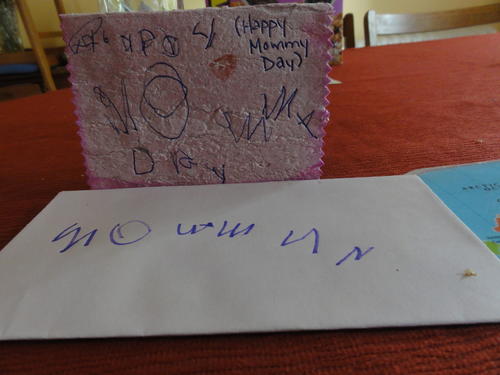 The first legible mother's day card.
You might also like:
-
Crazy Hair Day
-
First snow
-
-
Visit from Michael
-
Kate Baby Shower