May 27, 2012
Elizabeth begged to wear this to church today for Pentecost. I had told her that she should wear something the colour of fire...
You might also like:
-
The Moon
-
Foolish Chicken
-
Back to school
-
Erika gets her brown belt
-
End of an era
May 26, 2012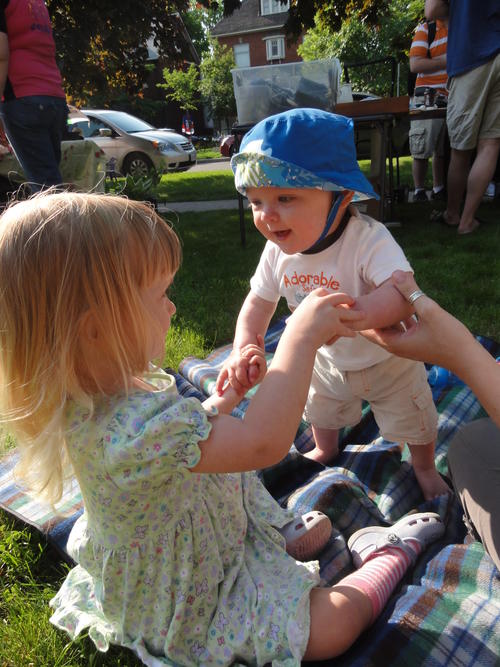 It was Xander's first Great Glebe Garage sale (and his mom's too!)
The "pink ladies" came as usual bearing many baked goods, books and plants. Auntie Janice manned a table full of the random bits and bobs we wanted to part with ourselves, and did a roaring business in adorable (custom) earrings.
Elizabeth took some of her work time earnings and bought a glass of lemonade from the little girl (and her brother) next door. I foresee competing lemonade stands in our future, but maybe they can be convinced to have a joint enterprise!
Elizabeth also bought a cupcake from the pink ladies. She very carefully weighed her options before selecting the perfect cupcake. Then we walked around the neighbourhood admiring the wide variety of items for sale. Bouncy horses super popular this year for some reason... Elizabeth wanted a "trottinette" aka scooter just like Crocolou (a wolf / crocodile hybrid in a book that she's recently taken a shine too) and also like Erika. Auntie Heather found one. I was dismayed to discover that the bike extensions I've been coveting are too way tall for Elizabeth. These are the things that turn a bike into a tandem with the second rider being a child - sadly I am sure she will be riding on her own bike long before she's able to reach the pedals on those.
Later that evening Elizabeth wondered where all the "gwage salers" went. "I want them to come back tomorrow!"
You might also like:
-
At Mary's
-
Great Glebe Garage Sale
-
5th Birthday Party
-
Garden
-
Halloween
May 25, 2012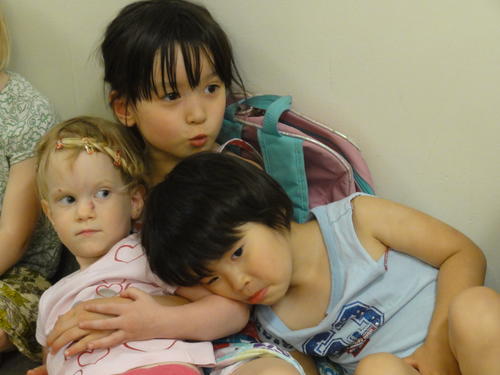 Elizabeth and I went to Erika's kindergarten concert, along with Uncle Chris, Auntie Yukiko, Maria and Grandpa.
We were treated to a gym class demo before the concert. The adults found it quite interesting and a good demonstration of the teacher's ability to maintain discipline of the class, but the little kids were increasingly put out about not getting a turn. "Where's the line, Momma?" asked Elizabeth. "I want to stand in it!"
The concert was less formal than last year's but very cute. Erika was especially proud of being chosen as one of three to remind her peers of the appropriate actions. The little girls both followed along too in the audience. It was adorable. I, of course, captured the entire thing on video and it will be duly inflicted on those who were unable to attend...
You might also like:
-
Science is fun
-
Christmas Village
-
Farewells
-
A celebratory day
-
A zoo party
May 24, 2012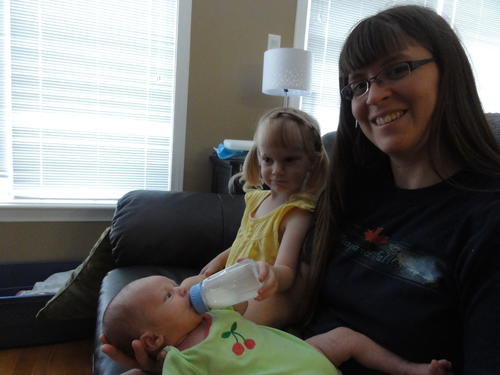 Elizabeth and I went to visit adorable baby Clara for the first time. Clara didn't want her meal interrupted for pictures (can't imagine why!) but her Mom knew how to remedy that problem :)
Elizabeth got to help feed Clara and she was captivated. She's spent a lot of time expertly burping her dollies ever since.
You might also like:
-
Skating with Angie
-
Introducing Evelyn
-
First Swing
-
Berry Picking
-
Baby shower and Canal
May 23, 2012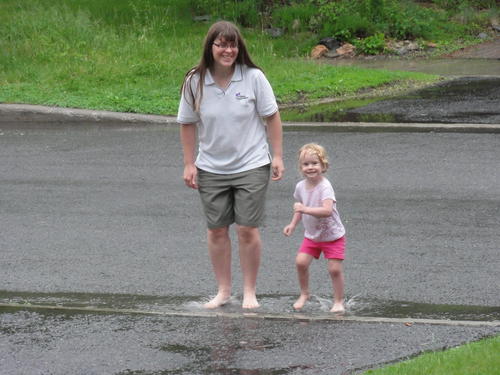 "I went dancing in the rain and my feet got wetted. I jumped and jumped until the puddle was all gone. Momma, I want to dance in the rain a-den. Wight, wight NOW. Pweease?"
You might also like:
-
Auntie Yukiko rides a pony
-
Visit to Auntie Janice
-
Auntie Mary
-
Cousins
-
Green Belt