June 13, 2012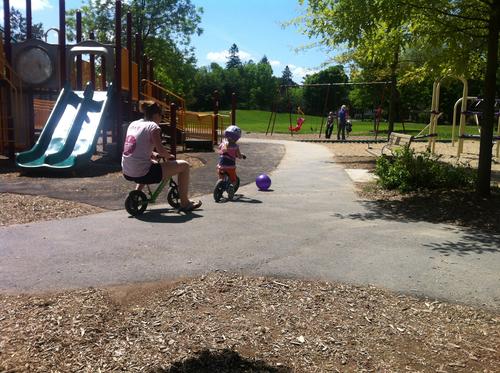 We've been taking Elizabeth to Dovercourt for their preschool dropoff programs recently. Three months of unlimited access for $50 sounded like a pretty sweet deal to us.
We were most interested in their swimming program; a drop-off where Elizabeth could play in the water while Mommy watched. In theory they have other classes for adults but Elizabeth doesn't think she's quite ready for that degree of separation yet. Even when she's way across the room she's still checking periodically to make sure that Mommy is "watching for a really long, long time".
We tried out a number of the other classes: biking, cooking, crafting, storytime and sports. These I was not required to watch; Elizabeth went happily with her "teacher" while I used the public computers to actually get some work done (I know!)
The sports unfortunately featured the kids pretending to be alligators. If you spend any significant amount of time with our daughter, you'll quickly realize that Elizabeth has a love / hate relationship with alligators. She loves to pretend she's an alligator (especially a baby alligator being carried in her Mommy's teeth). Being chased by others pretending to be alligators is also thrilling, but the line between good fun and SUPER SCARY is very thin. Sports class apparently crossed the line and about half way through the class they had to bring hysterical child out to public area for comforting. The staff member had no idea why Elizabeth got upset, but once Elizabeth had calmed down she was able to tell me that it was the "alligators" that were going to "bite her head right off". After that Elizabeth checked before every class to verify that no alligators were involved. Just in case.
The biking and cooking classes were Elizabeth's favourite by far. She made friends with another little girl ("Beth") and between swimming and cooking class they spent quite a bit of time playing together. The number of kids at the drop-ins varied considerably. Frequently she was the only child at the biking, possibly because other parents didn't realize that it was outdoors on nice days? When that happened, Elizabeth insisted on that the Dovercourt staff member join her on the bikes. Elizabeth is pretty fast, so the adult would scoot along on the bike. Elizabeth would zoom way past. Adult would stand up, run with bike between legs and then quick sit down again. It was hilarious to watch, especially because Elizabeth didn't think this was proper technique, so the adult would try to avoid being "caught" cheating... They set up all kinds of obstacle courses and let Elizabeth push giant balls around with the bike, so I'm guessing that's why she liked going even though she rides her similar bike at home practically every day.
You might also like
- Amelia 23 Months
(0.453712)
- Double Digits
(0.4531)
- Child Labour
(0.449309)
- Gingerbread the 20th
(0.44876)
- Seven
(0.440292)
All
June 12, 2012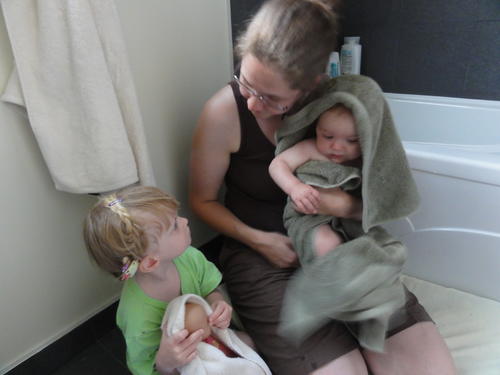 Xander invited Elizabeth over to paddle in his wading pool yesterday while Daddy helped Uncle Dave fish electrical wires into the kitchen. There was much splashing and a very tiny amount of actually sitting in the pool.
Elizabeth likes the idea of paddling in the pool but not the getting wet part! She is now campaigning for a swing in our backyard "like Xander".
Auntie Karen invited Elizabeth to help bathe Xander. Elizabeth brought along Nora and they bathed their babies together. Xander wanted to help Elizabeth bathe Nora, but Elizabeth did not appreciate his technique. There were appeals to the other moms in the room to "please make Xander stop eating my baby!!!"
Elizabeth fell asleep in the car on the way home. She was surprised to wake up in bed the next morning still wearing her clothes and braids. She was so tickled with not having to get dressed that I actually let her wear the same clothes for 48 hours, chocolate stains and all.
You might also like
- A visit from Godmother Rachel
(0.361281)
- Smiley Face Pancakes
(0.352941)
- Cousins
(0.347084)
- Wedding prep
(0.345938)
- 2 weeks old
(0.345697)
All
June 11, 2012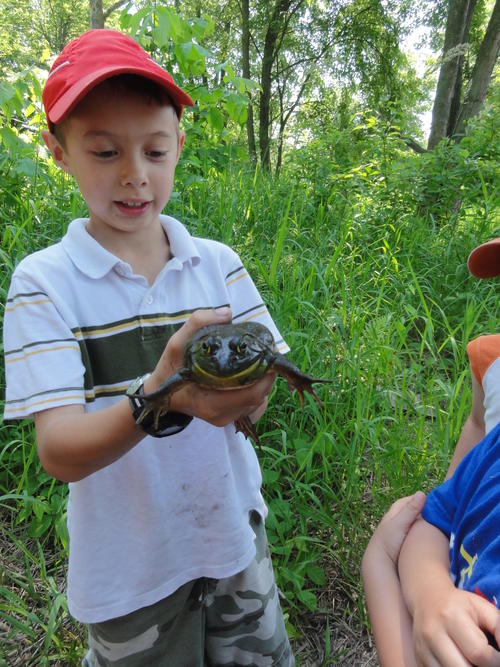 Despite the lack of turtles, "turtle week" was a such big hit with Elizabeth that she asked whether it was time for "frog week" several times a day.
We invited Maria along. This was not as successful an outing as I hoped, as Maria got about a dozen steps onto the trail and then decided she needed to be carried. I mostly don't even carry Elizabeth anymore (a good 10lbs lighter), so this was a non-starter, particularly since I was suspicious that carrying one girl would lead to demands from the other. Maria looked at me. I looked at her. She crossed her arms, sat down deliberately and started to scream. Of course this set off Elizabeth, who was crying because she wouldn't be able hear the frogs singing and that Maria was going to chase them all AWAY...
Sigh. I tried to get Elizabeth to go ahead with her friend Julia, but Elizabeth was having none of it. So we sat down and I told Maria that when she was ready to come and look at the frogs we would keep going. Eventually she decided that screaming wasn't having the desired effect and cut it out. Then we had a nice time. We heard and saw many frogs. The girls declined the opportunity to touch the real ones captured by the more enthusiastic older members of the group, but they were clearly interested in the frogs. I did need to get them to use grass to encourage the frogs to jump instead of rocks. I'm sure the frogs didn't enjoy the outing as much as the kids did!
The hike was pretty long and very hot, but despite that initial resistance the girls did very well. The tree with the giant leaves apparently was cut down by a beaver (a coppice). Normally that tree has smaller leaves, but getting munched by a beaver causes mega-sized leaves.
After the hike they cut out, glued and labeled the life cycle of a frog. Elizabeth insisted on writing her own labels (and actually did a credible, if not entirely legible, job). Maria insisted on decapitating a number of her frog parts with the scissors. They were both extremely proud of the end results. I think they even had fun.
You might also like
- MYC
(0.402999)
- Healthy Girl
(0.398485)
- Virtual School: Week 37
(0.397706)
- Je d'école
(0.394545)
- Sportball
(0.394291)
All
June 10, 2012
We mark Elizabeth's baptism every year with cake and ceremonial lighting of baptism candle. I rather incautiously told Elizabeth we'd have a barbecue and cake when her godparents came for her party. Being barbecue season, we had barbecue for dinner one night. Elizabeth promptly burst into tears when the cake and godparents failed to appear. Brendan and I had a horrible time trying to figure out what was wrong. Whoops!
Elizabeth got to pick her own cake but since she wanted a carrot cake with almonds there was chocolate too. Auntie Janice helped decorate, because Elizabeth felt a party needed "decowations". Godmother Rachel read some scripture about baptism and Mommy lit the baptism candle. Elizabeth held the candle for the first time, but managed not set fire to her hair. Then Elizabeth and Rachel played outside in Elizabeth's playhouse while Uncle Dave dangled his son upside-down.
You might also like
- Sleepover with Auntie Janice
(0.346591)
- Happy Birthday Aidan
(0.346575)
- Washing the Car
(0.33985)
- A zoo party
(0.337748)
- Easter
(0.337607)
All
June 5, 2012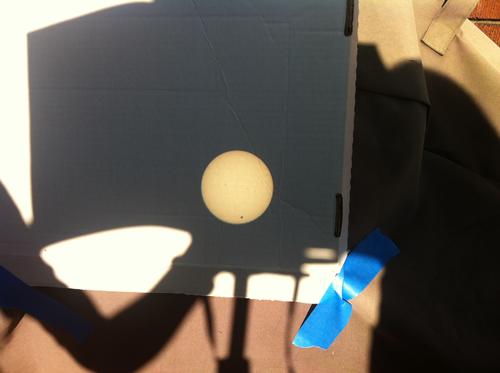 Auntie Janice borrowed our binoculars and set up our own Venus transit projection, so my plan to watch online suddenly morphed into obsessively following the sun with Elizabeth's painting easel. The entire household spent the evening watching a dot move across our bbq, so clearly I wasn't the only excited one.
We don't think that Elizabeth quite "gets" the solar system yet but she did understand that something was in the way of Mr. Sun and everyone was quite enthused about it. As the sun set and the trees / houses began to obstruct our view, we moved from back to front to neighbour's yard.
Passersby thought our pajama party was a little odd until they were close enough to see what we were looking at.
You might also like
- Canada Day
(0.317722)
- Berry picking
(0.317487)
- Race Weekend (Children's Marathon)
(0.314504)
- Cottage Days: Support boat
(0.314136)
- Chicken Chicken
(0.313522)
All