June 23, 2012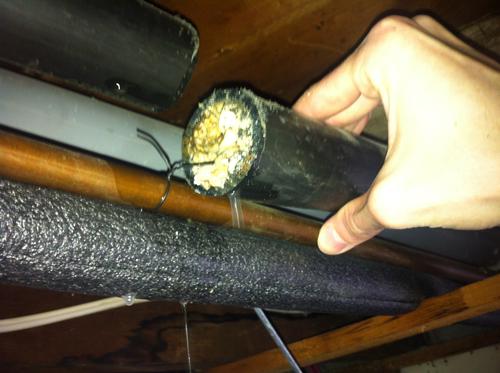 We had planned to go to CHEO's Teddy Bear picnic today, and maybe even cheer Grandma J on at the Dragon boat festival.
Unfortunately our plumbing had other ideas. Six feet of total blockage meant that our kitchen sinks went from slow-draining to no-draining. Luckily, Daddy is an extremely competent plumber, albeit a sometimes reluctant one. The root cause of the blockage was a Y-junction accidentally installed backwards (whoops!) connected to a pipe with a slight low spot, which he'd been hemming and hawing about fixing for a number of years. With the proper incentive it took no time at all to whip out the hacksaw and remove the offending pieces of pipe. We spent the rest of the afternoon flushing out debris with very hot water. Mommy got to unplug many sinks, burning her hand every time. Daddy caught the goopy water in a garbage can, while avoiding as much spray as possible. Then he had to carefully take the contents all the way across the basement for disposal down the toilet. It's his favourite kind of exercise program: renovation-style. It didn't take long for the whole basement to reek of rotting vegetables and turtle poo.
Elizabeth was pretty happy because we got to visit her favourite orange hardware store. But she refused to give hero Daddy a hug or kiss until AFTER he showered, and I can't say that I blamed her one bit.
You might also like
- 22 months: Little Helper
(0.373574)
- Racoon proofing
(0.364522)
- Homeschool wk may 19-22
(0.363289)
- Niagara (aka water falling on Bapa's nose)
(0.362637)
- CHEO Anniversary
(0.361598)
All
June 22, 2012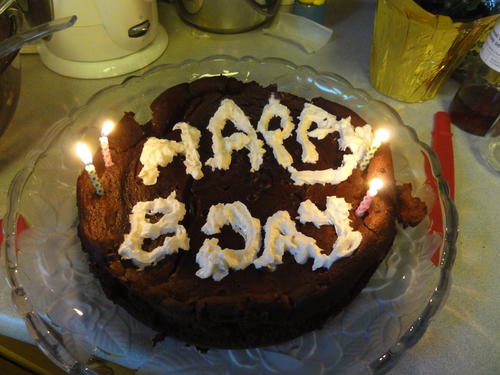 We celebrated Auntie Heather's birthday with a flourless chocolate cake, because she's a big fan of these. I couldn't remember which recipe I'd used before, so naturally I picked a recipe that required eight eggs and a large food processor. This is a piece of kitchen equipment that I don't own, so I had to "pulse" everything in batches. By the end I was wondering why on earth I hadn't purchased a cake from Loblaws!
The end result was quite delicious, however, I'm told that if I want to try other recipes there's no shortage of volunteers to sample the results...
You might also like
- Quilt Show
(0.305322)
- Flying Piggy's
(0.298578)
- Snowphy Trophy
(0.296143)
- We three Kings
(0.294574)
- Pregnancy Announcement
(0.286096)
All
June 19, 2012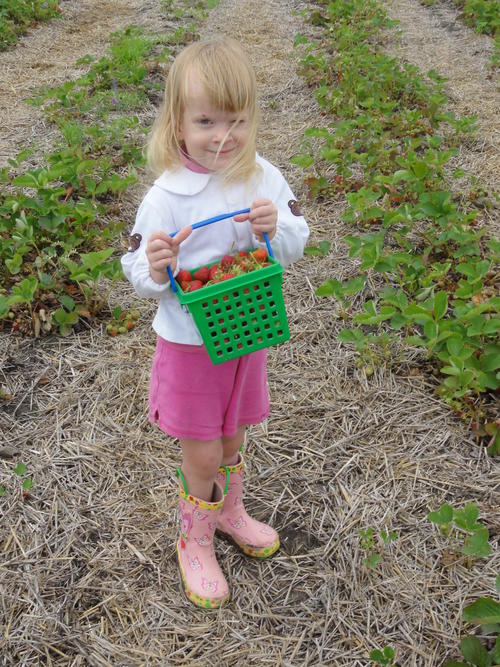 First strawberry picking of the season. Elizabeth is an old pro and actually able to pick ripe berries.
She's also started to EAT berries. Mostly in milkshakes, but she'll eat one or two with her cereal!
I'm declaring her no longer a picky eater. After all, as she says herself - she's a GOOD eater now!
Later we went to visit baby Clara again. Sleepy baby contrasted quite vividly against toddler in motion.
You might also like
- Strawberry Picking!
(0.307155)
- Two stripes
(0.302013)
- Terry Fox Day
(0.300885)
- Cousin Marc
(0.300207)
- Strawberry picking
(0.29765)
All
June 18, 2012
The theme this week was birds. A local expert birder took us on a listening walk. We saw a few birds as well, though there were more dragon flies than anything else. Not counting geese.
I was amazed to learn that wood ducks nest in tree cavities that really don't look much bigger than the ducks... The City of Ottawa has a fairly aggressive tree cutting policy - in fact the woodcutters were busy chopping down many branches and the odd leaning tree all three weeks that we were there. Apparently the desire to keep Petrie Island "safe" means that the animals that need hollow trees can't live there anymore; the wood ducks have all been given man-made nesting boxes as substitutes.
Elizabeth was a bit put out that there was no craft. Have I mentioned she likes routine? They had a scavenger hunt but it was declared not the same. So I distracted her with the newly opened beach.
Elizabeth likes beaches. She wanted to stay in the water "forever and ever", until I pointed out that she probably had wrinkly fingers. "Winkley fingers" are horrifying, so she hopped right out. But not before extracting a promise to come back to the beach "someday".
You might also like
- Bogonning
(0.351259)
- The birds and the bees
(0.350877)
- Sheep Shearing Fest
(0.350728)
- Cousinless camp: Kites and Mooney's bay
(0.350515)
- Trading Post
(0.347509)
All
June 16, 2012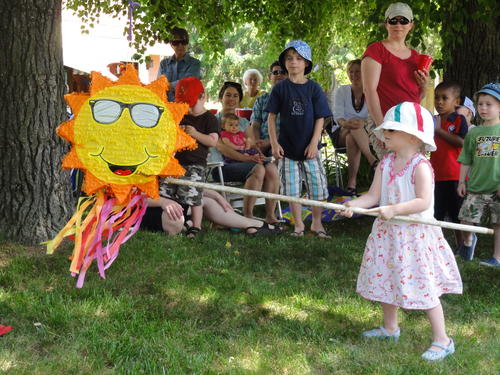 Elizabeth was very excited about going to Aidan's birthday party. Cake! Candles! Yay! There was also a neat hose-powered rocket launcher that provided much entertainment for big and small.
Last year Elizabeth swung at the pinata with great vim and was greatly distraught when it broke. This time Elizabeth remembered what would happen, so she refused to swing the stick at all. Mommy insisted that only kids who hit the pinata get the candies inside, but the lure of chocolate almost wasn't enough. She took the stick with great reluctance and gently tapped the pinata. There was no such reluctance when it came to scooping up the goods. Nor when it came to eating birthday cake.
You might also like
- Daddy's birthday
(0.330275)
- A visit from Godmother Rachel
(0.329489)
- Douvris Christmas Potluck
(0.325626)
- First day of Maternelle
(0.325243)
- Pirate Pinata
(0.324561)
All