July 2, 2012
Elizabeth had her first "offroad" biking experience. She would have preferred less sand but otherwise seemed to enjoy the activity. Afterwards she got to play with Xander and teach him how to sing grace (which was a big hit).
You might also like
- Matthew on the canal
(0.283854)
- A rather unusual play-by-play
(0.275964)
- GNAG Halloween Party
(0.274194)
- New favourite way to get home from the bus stop
(0.267176)
- Elizabeth gets to hold Xander
(0.262295)
All
July 1, 2012
It was my birthday, and although we couldn't figure out a way to watch the fireworks without compromising bedtime it was still a wonderful day.
After church we headed to the sailing club for our annual family "fun" race with Mike, generous owner of Kokopelli! It was Xander's first time on the boat. He strenously objected to his lifejacket but eventually got over it. Both Xander and Elizabeth got to "drive" the boat.
The race itself is rather silly because the race committee gets all the boats to do ridiculous things. We had to do a 360 and Uncle Dave lent his shirt to use as a flag. Unfortunately we kind of neglected to get to the start line on time, so we were late crossing the line. This meant the race committee allowed us to take a shortcut in the hopes that we might catch up (this is a very unusual race!). But I misunderstood the instructions and instead sailed halfway across the lake. We had fun even if we did come in last. Elizabeth is a natural sailor, holding herself onto the boat with a grin despite fairly significant heeling. I got her to hold the odd lazy line. She evidently felt very grown up! I got to drive Koko into the harbour and park the boat for the first time. I was super nervous as it was kind of windy, especially near the narrow harbour entrance but apparently I've learned something from Mike as I managed without any problem.
After Auntie Janice got home from work, we had jello and two cakes for the second year in a row. Apparently Janice thought her cake might not turn out so she asked Grandma J to bring a backup cake. We weren't complaining... The red currants are from my garden!
You might also like
- Mary Day
(0.415596)
- End of an Era
(0.396552)
- Niagara (aka water falling on Bapa's nose)
(0.393154)
- Carp Fair
(0.390909)
- Race weekend 2017
(0.390658)
All
June 25, 2012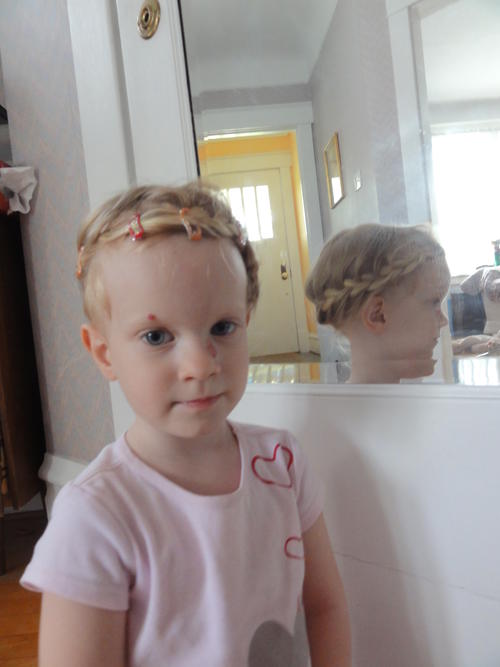 It started at French class. Emmanuelle had rainbows in her hair and Elizabeth wanted some too. It looked easy enough. Elizabeth sat still! She loved the results. Then Elizabeth started demanding more and more elaborate hairdos. We may have been slightly willing to indulge.
She wanted a necklace on her head, so I learned to french braid all around her head. I saw a picture of a heart on Pinterest and tried to replicate it. Then Janice got interested. She'd seen a few interesting things on youtube. Like how to curl hair without a curling iron using the magic of socks! Or how to make a pancake braid. Flowers! Waterfalls! English braids!
Be afraid... Be very very afraid...
You might also like
- Fort Magic
(0.321357)
- Elizabeth cuts her hair
(0.319018)
- Melting
(0.317684)
- Wedding prep
(0.311278)
- First day of Maternelle
(0.309791)
All
June 23, 2012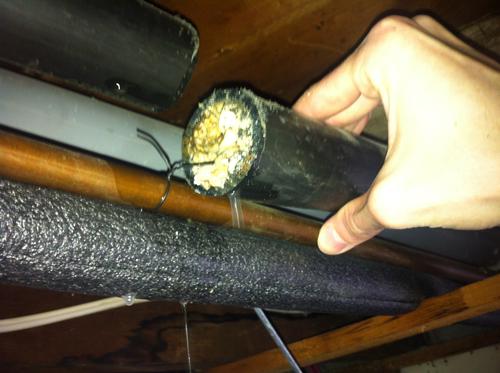 We had planned to go to CHEO's Teddy Bear picnic today, and maybe even cheer Grandma J on at the Dragon boat festival.
Unfortunately our plumbing had other ideas. Six feet of total blockage meant that our kitchen sinks went from slow-draining to no-draining. Luckily, Daddy is an extremely competent plumber, albeit a sometimes reluctant one. The root cause of the blockage was a Y-junction accidentally installed backwards (whoops!) connected to a pipe with a slight low spot, which he'd been hemming and hawing about fixing for a number of years. With the proper incentive it took no time at all to whip out the hacksaw and remove the offending pieces of pipe. We spent the rest of the afternoon flushing out debris with very hot water. Mommy got to unplug many sinks, burning her hand every time. Daddy caught the goopy water in a garbage can, while avoiding as much spray as possible. Then he had to carefully take the contents all the way across the basement for disposal down the toilet. It's his favourite kind of exercise program: renovation-style. It didn't take long for the whole basement to reek of rotting vegetables and turtle poo.
Elizabeth was pretty happy because we got to visit her favourite orange hardware store. But she refused to give hero Daddy a hug or kiss until AFTER he showered, and I can't say that I blamed her one bit.
You might also like
- 22 months: Little Helper
(0.373574)
- Virtual School: Week 34
(0.366502)
- Racoon proofing
(0.364522)
- Homeschool wk may 19-22
(0.363289)
- Niagara (aka water falling on Bapa's nose)
(0.362637)
All
June 22, 2012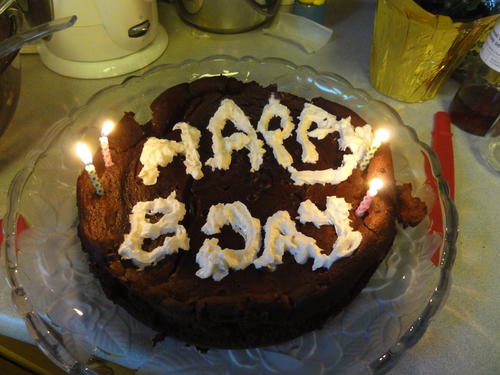 We celebrated Auntie Heather's birthday with a flourless chocolate cake, because she's a big fan of these. I couldn't remember which recipe I'd used before, so naturally I picked a recipe that required eight eggs and a large food processor. This is a piece of kitchen equipment that I don't own, so I had to "pulse" everything in batches. By the end I was wondering why on earth I hadn't purchased a cake from Loblaws!
The end result was quite delicious, however, I'm told that if I want to try other recipes there's no shortage of volunteers to sample the results...
You might also like
- Quilt Show
(0.305322)
- Flying Piggy's
(0.298578)
- Snowphy Trophy
(0.296143)
- We three Kings
(0.294574)
- Pi day
(0.287253)
All