July 8, 2012
When I was pregnant with Elizabeth, I felt very tired and nauseous for much of the first trimester. Many smells and too much bending made me retch violently, but I was fortunate to avoid much in the way of actual throwing up. This pregnancy has been rather different. The nausea comes unexpectedly and with great violence. Last week I totally traumatized Elizabeth when I had to pull over on the side of the highway. I was just lucky I happened to have a bag handy, and very thankful when I discovered it was waterproof. I managed to drive shakily home and then sat in the driveway a while before calling Brendan to come and rescue us. Elizabeth was totally unresponsive by then, pretending to be asleep in the back and obviously greatly upset. Brendan calmed her down and I went to lie down for a while.
Since being so sick is not particularly fun, I went to my family doctor today in the hopes of getting an earlier ultrasound to actually confirm the pregnancy. When I was first pregnant with Elizabeth, my previous family doctor was very surprised that we weren't particularly excited by the positive pregnancy test he administered. It wasn't until we'd had the first ultrasound that we were convinced there was actually a baby. Quite aside from having had positive pregnancy tests followed by miscarriage in the past, we know a couple of people who've had positive pregnancy tests followed by an empty ultrasound, and we also know from the fertility testing we did pre-Elizabeth that my risk of this happening is much higher than normal.
I quite like my current family doctor, but I admit I was quite frustrated when she flatly refused to give me an ultrasound requisition on the grounds that it was "unnecessary". She basically told me that I was worrying too much about unusual complications. It was only later that I realized that she doesn't actually know any of my fertility history.
0 comments
You might also like
- Matthew's first skating class
(0.383149)
- 18w 5d
(0.382896)
- Last OB appointment
(0.376786)
- Currency Museum
(0.373194)
- Downhill skiing
(0.370044)
All
July 4, 2012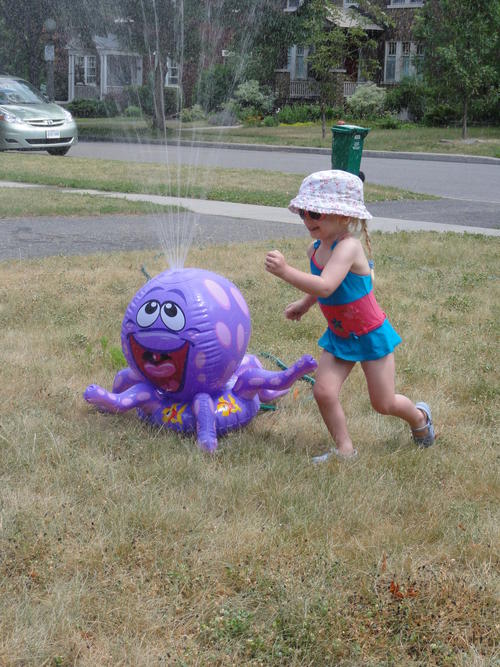 Auntie Yukiko bought Mr Octopus as a prop for calendar pictures. We dragged him out for Elizabeth on a hot day before drought and voluntary water restrictions.
She took him everywhere, even the dinner table where he sits at a place of honour.
You might also like
- Dy(e)ing Carnations
(0.291925)
- Karen's birthday
(0.28877)
- My doll is made of baby
(0.275449)
- Aviation Museum: 50th Anniversary
(0.273273)
- Isabelle's dedication
(0.269122)
All
July 2, 2012
Elizabeth had her first "offroad" biking experience. She would have preferred less sand but otherwise seemed to enjoy the activity. Afterwards she got to play with Xander and teach him how to sing grace (which was a big hit).
You might also like
- Matthew on the canal
(0.283854)
- A rather unusual play-by-play
(0.275964)
- GNAG Halloween Party
(0.274194)
- New favourite way to get home from the bus stop
(0.267176)
- Elizabeth gets to hold Xander
(0.262295)
All
July 1, 2012
It was my birthday, and although we couldn't figure out a way to watch the fireworks without compromising bedtime it was still a wonderful day.
After church we headed to the sailing club for our annual family "fun" race with Mike, generous owner of Kokopelli! It was Xander's first time on the boat. He strenously objected to his lifejacket but eventually got over it. Both Xander and Elizabeth got to "drive" the boat.
The race itself is rather silly because the race committee gets all the boats to do ridiculous things. We had to do a 360 and Uncle Dave lent his shirt to use as a flag. Unfortunately we kind of neglected to get to the start line on time, so we were late crossing the line. This meant the race committee allowed us to take a shortcut in the hopes that we might catch up (this is a very unusual race!). But I misunderstood the instructions and instead sailed halfway across the lake. We had fun even if we did come in last. Elizabeth is a natural sailor, holding herself onto the boat with a grin despite fairly significant heeling. I got her to hold the odd lazy line. She evidently felt very grown up! I got to drive Koko into the harbour and park the boat for the first time. I was super nervous as it was kind of windy, especially near the narrow harbour entrance but apparently I've learned something from Mike as I managed without any problem.
After Auntie Janice got home from work, we had jello and two cakes for the second year in a row. Apparently Janice thought her cake might not turn out so she asked Grandma J to bring a backup cake. We weren't complaining... The red currants are from my garden!
You might also like
- Mary Day
(0.415596)
- End of an Era
(0.396552)
- Niagara (aka water falling on Bapa's nose)
(0.393154)
- Carp Fair
(0.390909)
- Race weekend 2017
(0.390658)
All
June 25, 2012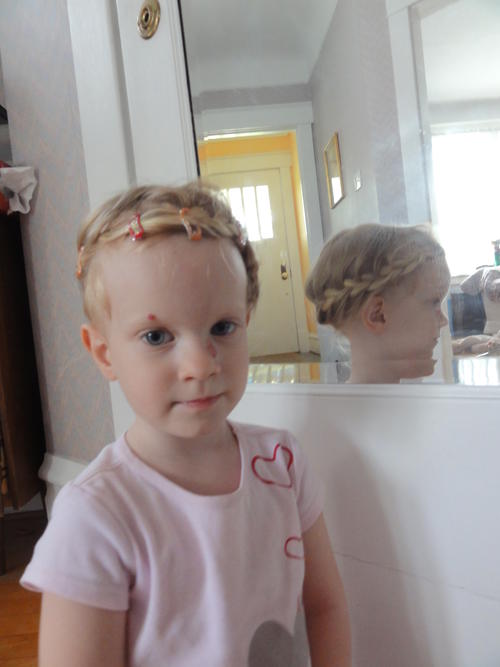 It started at French class. Emmanuelle had rainbows in her hair and Elizabeth wanted some too. It looked easy enough. Elizabeth sat still! She loved the results. Then Elizabeth started demanding more and more elaborate hairdos. We may have been slightly willing to indulge.
She wanted a necklace on her head, so I learned to french braid all around her head. I saw a picture of a heart on Pinterest and tried to replicate it. Then Janice got interested. She'd seen a few interesting things on youtube. Like how to curl hair without a curling iron using the magic of socks! Or how to make a pancake braid. Flowers! Waterfalls! English braids!
Be afraid... Be very very afraid...
You might also like
- Fort Magic
(0.321357)
- Elizabeth cuts her hair
(0.319018)
- Melting
(0.317684)
- Wedding prep
(0.311278)
- First day of Maternelle
(0.309791)
All