July 23, 2012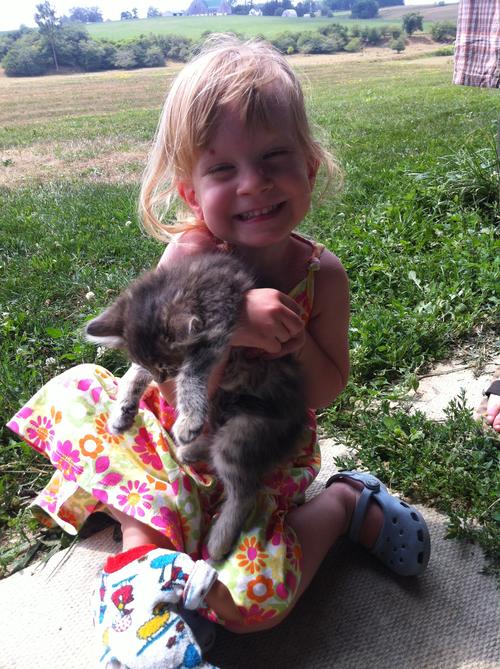 Elizabeth and I drove down to Wellesley Ontario with Auntie Mary. I needed frequent stops on the way, so Elizabeth got to eat many healthy treats like a chocolate sundae and M&Ms.
We stopped at Swiss Chalet for supper, where Elizabeth startled the waitress by very decisively and professionally ordering her meal before said waitress was even able to say hello.
We stayed at Uncle Carl and Aunt Judy's house overnight. Later the girls went shopping. I hope I have as much energy when I reach the age of reason because my aunts made me feel positively sloth-like! There were nine (NINE!) separate stops made in the course of only a few hours. That's a lot of buckling and unbuckling car seats! By the second last store I was totally exhausted, so I let Elizabeth and the aunts go shopping for Xander at a kids clothing store unsupervised. Apparently Elizabeth loves to shop and tried on half the store. I was impressed to hear that she decided against buying shoes and a swimsuit as she "already had them at home". She did come out with two dresses, a hoodie and a small stuffed lamb (in a "bass-ick" aka basket) to better sing "Mary had a little lamb". They didn't forget to buy Xander clothes either. When Elizabeth was telling Daddy about it later, she said that they "bought many stuffs from the shopping store while Mommy was sleeping. Then Mommy was amused."
The next day was "a quiet day" - we went to the park, moved to Mary's, moved furniture, went to the splash park and then to Great Grandma and Grandpa's for dinner and a walk. I was hoping to sleep in but Elizabeth uncharacteristically and flatly refused to go to the park with Uncle Carl unless I came. She was quite willing to play with him once there though. The splash park was kind of funny - some obviously not quite toilet trained kid left a "present" behind while we were there. Although there were many adults ostensibly supervising, those that noticed just asked their kids to move to a different area (!) I thought that was disgusting, so I borrowed a sand toy from one of the most likely culprits and disposed of the offending deposit. All the same I was glad that it was time to get going to our next destination!
We visited all the aunts and uncles in turn, and saw Great Grandma and Grandpa pretty much every day. There were a lot of late nights, which may have been the reason that Elizabeth got abnormally clingy during our visit. Elizabeth loved the wooden birds Great Grandpa whittled, but her favourite "toy" was the pick stick they have to facilitate picking objects off the floor! She was also pretty excited by Uncle Rob and Aunt Val's many kittens and the hippo foot rest at Auntie Mary's.
One day we went to Stratford for a picnic. Auntie Mary and I thought maybe Elizabeth would enjoy a boat ride, but she politely requested going to find a play structure instead. So we did!
Leaving Wellesley we took a big detour to see the Wellesley bear and the extra traveling induced some rather serious motion sickness which required a few quick stops and a "present" on some random person's lawn (sorry).
On the way home we stopped at Auntie Muriel's to admire her kitchen renovation. We stayed rather longer than we should have, but managed to innocently jump the queue onto the ferry. (Otherwise we would have certainly missed our airplane). In our defense, the security guard clearly waved us past the lineup masquerading as a taxi stand. Then a second security guard waved us to the front of the line. Once on Toronto island we were very confused about where to go or park. I was very glad to have Mary there because carrying luggage + carseat was beyond awkward, especially since Elizabeth totally melted down in the parking lot; I guess she was worried I was going to leave her behind!
It was Elizabeth's first airplane ride, and she was very, very excited. She was very surprised to see that the "clouds fell down onto the ground" and even more surprised when I told her that no, we were just high above the clouds.
You might also like
- Family Day
(0.465032)
- At Mary's
(0.459499)
- Child Labour
(0.457476)
- Crazy Pickles
(0.454668)
- Homeschool wk may 4-may 8
(0.454545)
All