August 7, 2012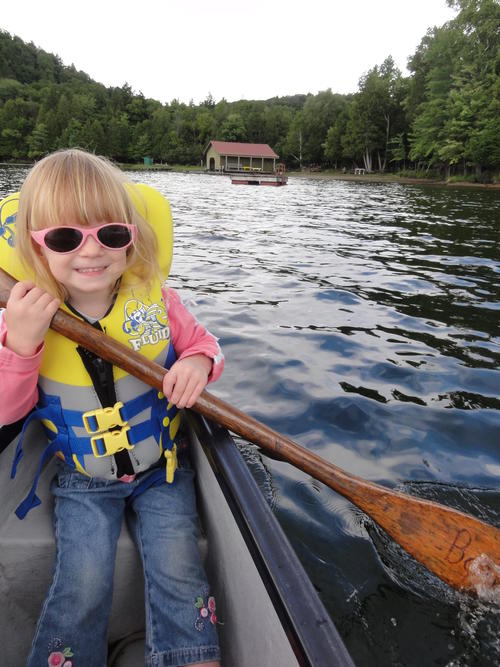 We went to the cottage at Bondi Village with the whole J family again, except Uncle Mark (who stayed in China) and Auntie Yukiko (who had to work!)
There was paddling. There was swimming. There was biking. There was playing of "pink ball" (ping pong). There was shuffleboard. There was teeter-tottering. There was lots of wildlife, other than the young savages that populated our abode. (Deer! Herons! Loons! A merlin!) The blue jays harassed the poor chipmunks and red squirrels constantly. We learned that Woody Woodpecker's distinctive laughter is actually based on the REAL call of a pileated woodpecker!
There were also chickens, as usual. We didn't gather eggs this year, but Elizabeth scattered food and actually managed to catch her own chickens to cuddle.
We went to Robinson's and climbed the Dorset Fire Tower. Mommy has a good head for heights but coming down STEEP stairs with overexcited preschooler made me think I might sort of understand the feelings of those of you that don't. Spectacular view though!
We went to Huntsville library for Sister Dorothy. Elizabeth got overexcited during the performance of the five frogs on the speckled log, somersaulted off her chair and thunked her head hard into the concrete. We went to Swiss Chalet because the "gluten-free friendly" restaurant we tried first had a sign letting us know that their gluten free menu was only for those making a "lifestyle choice" and not people who might get sick with the inevitable cross-contamination from their kitchen setup. Let's just say that I was displeased that they had advertised on celiac.com.
Nancy from Bondi let the kids have a little ride on Squeegee the pony. Last year Elizabeth wasn't too happy about even petting him, but this year she actually had a ride! She had a chance to go again week two but opted to just pat him. I wasn't sure if it was the lack of cousinly peer pressure or what, but she insisted that she was just feeling "wobbly" because she was "too tired".
We let her stay up until past ten o'clock several times, so it wasn't surprising that she got tired! One night we went stargazing and saw shooting stars. Another night a couple dozen of us were treated to a private wolf howl with Algonquin Park's chief naturalist (coincidentally on sabbatical). Elizabeth was deeply impressed. We walked in dead silence to a clearing in the woods. There was howling, and the wolf pack answered TWICE! It was really eerie and totally cool. The only drawback is that now Elizabeth likes to play wolf howl...
There were a lot of crafts, especially while all three cousins were together. Elizabeth was particularly thrilled by the glitter (not allowed at home). Strangely the adults were less thrilled by the resulting cleanup required. It's going to be a glitter-filled Christmas (We made the Christmas crackers!)
There was scavenger hunting and dinosaur bone excavation. There was sand castle building and many little girls covered from head to foot in sand (except Maria who insisted that her arms remain free!).
Elizabeth improved her "watermelon" (aka corn kernel) spitting technique. Last year she barely managed to dribble the seed from lip to ground. This year she spat it quite vigorously into the ground. By the second week she'd figured out that she needed to aim straight ahead and tripled her distance. Her record is 3'5". Mommy, Daddy and Elizabeth all came first in their age categories the second week!
You might also like
- Great Grandma Funeral
(0.450311)
- London
(0.446292)
- Homeschool wk apr 20-24
(0.443151)
- Homeschool wk may 11-15
(0.441624)
- Birthday five
(0.44055)
All