September 5, 2012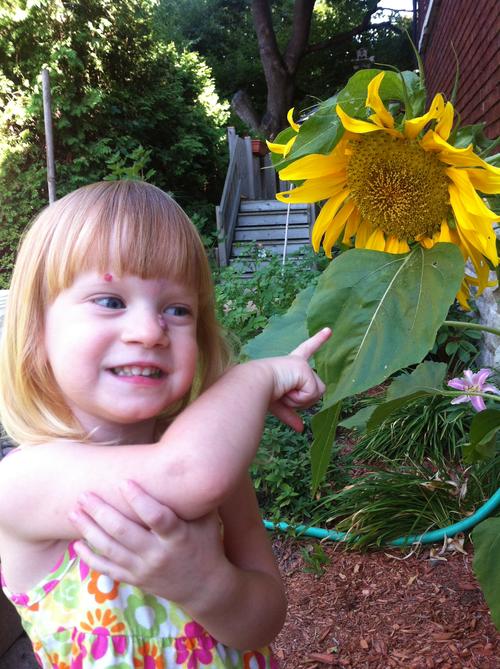 I got slightly overexcited about my garden this year, planning things out in advance and ordering seeds online. Elizabeth had a garden unit as part of the "school" stuff we've been doing, so we thought that it would be educational to see many different sizes of seeds actually growing into plants.
One thing led to another. We needed a grow light so the tomato seedlings wouldn't be so spindly and sickly looking. Then I decided I needed pretty raised beds and new dirt. Eventually I did get things planted in the garden and not much later than you are "supposed" to around here because the tomato plants growing too big for their starting pots gave me the extra sense of urgency I apparently need.
I planted peas, onions, potatoes, sweet potatoes, cucumbers, beans, basil, peppermint, sweet peppers, hot peppers, pumpkin and maybe sixteen tomato plants (I couldn't bear to throw any of the seedlings away!). We also planted flowers - marigolds, begonias, geraniums, celosia, sunflowers, summer icicles and a few other flowers from seed that sprouted and were promptly gobbled up by some spoilsport who didn't wait to see how beautiful they looked.
It was a hot, dry summer, so the peas were not very successful. Our lawn died (it's partly recovered but we need to buy new grass seed that wasn't cooked!) I didn't know about planting the onions in loose soil, so they grew from tiny into barely big enough to be worth peeling. I suspect the potatoes and sweet potatoes are on the small side for the same reason, but haven't actually harvested them yet - so we'll have to wait and see. The pumpkins produced dozens of flowers and no pumpkins. The hot peppers produced many many green peppers and two ripe ones. I'm not sure if the season will be long enough to let them ripen, but then again we don't really eat THAT many hot peppers! The cucumbers started out wildly successful and we did get quite a lot of them to eat. But sadly for my hopes of pickles we were invaded by nasty cucumber bugs and that was the end of the cucumbers and the vines. Next year I'm going to try protecting the cucumbers with radish plants. It's supposed to help...
Does that sound like garden disaster? It wasn't really. That pile of tomatoes on the counter? One day's worth. I filled at least four buckets full, then canned more than 18 pints (I think about a 1/3 of my jars were quarts). We had bags of beans too. Elizabeth is old enough to help pick beans, though she does have a tendency to eat them rather than putting them into the pot. She's also old enough to help with the canning. Her favourite part was peeling the skins.
You might also like
- Hawaii
(0.455686)
- Garden
(0.440771)
- Garden
(0.436941)
- Harvest
(0.435428)
- How my garden grew
(0.425819)
All