October 7, 2012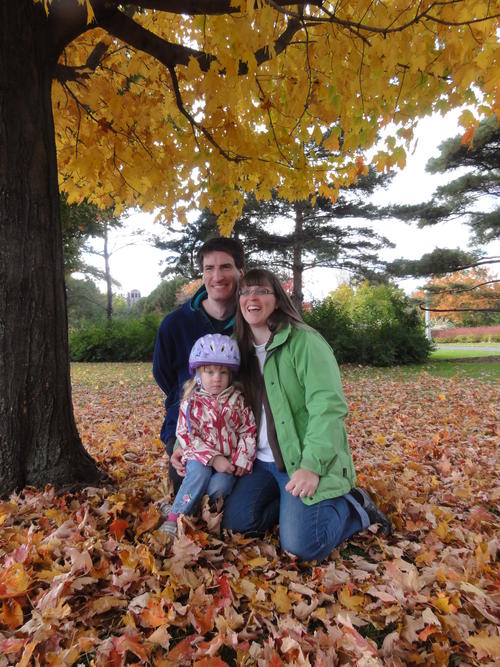 Thanksgiving was filled with food and many walks in the fall leaves.
Elizabeth, Dan and Erika went for a bike ride together. Despite not having pedals, Elizabeth kept up - all three of them were riding circles around the rest of us!
There was a lot of playing in the leaves - so much that we never made it to our intended destination. So Elizabeth, Brendan and I went back the next day. Have I mentioned that Elizabeth loves biking? It's a good thing that she's a fan of skating and sledding too, or winter would be a bit of a trial...
You might also like
- Thanksgiving Walk
(0.319149)
- Kid Math
(0.316667)
- Sugar Bush
(0.313199)
- Cottage Tubing part 2
(0.313152)
- Sheeple
(0.312883)
All
October 3, 2012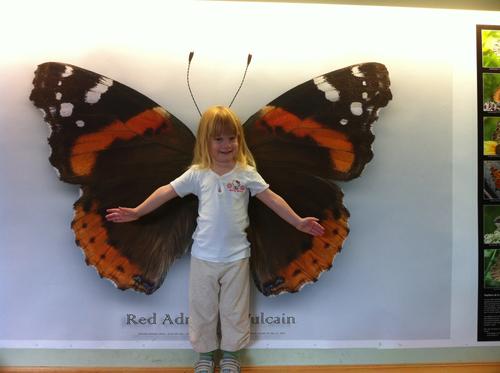 We went to see Carleton's annual butterfly show, but chose a weekday in the vain hopes of avoiding standing in line for several hours.
It more or less worked, although it was still pretty crowded in the actual greenhouse, mostly due to a school trip. It could have been worse though - we managed to arrive just after a large daycare left and left as another two bus loads of students arrived!
Auntie Karen had never seen the butterflies before and was duly impressed. Elizabeth was okay for the first thirty seconds. Then a large butterfly landed on her leg. She didn't notice and kept walking, crushing one part of a wing slightly between her legs. I of course begged her to stop moving right away. She *freaked*. I ended up getting it off her without too much further damage to the butterfly but Elizabeth was hysterical. There were crowds of young teens around us that clearly did not care about much other than getting to hold a butterfly, so no sooner than I got the poor thing off Elizabeth and into a safe place than they grabbed it. In the ensuing tug of war between two of the tweens, the butterfly ended up on the floor, under a large piece of orange. It did survive but it was all rather horrible and intense. I think those butterflies lead a short, brutal life...
Anyway, Elizabeth did calm down and we managed to enjoy our visit in the end.
You might also like
- Butterflies 2013
(0.392435)
- Senior Kindergarden
(0.385836)
- Camp Otonabee
(0.38191)
- Butterflies 2017
(0.379974)
- End of an Era
(0.375862)
All
September 30, 2012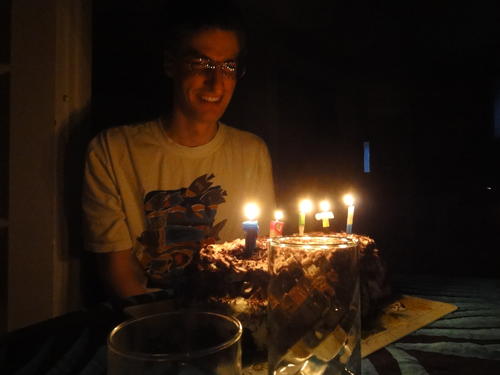 Josie and Dan were staying for Brendan's birthday weekend, so there was lots of cousinly fun. Hours alone were spent jumping on Elizabeth's "sheepdog teeter-totter", in order to launch a stick (and later a ball) as high in the air as possible. There was much discussion of what exactly caused an improvement in height. Size and shape of item being launched? Pivot point? We gave a few suggestions here and there but mostly let them figure it out. Josie managed to launch the stick clear into the tree and all were very impressed.
For dinner, Brendan requested lasagna and a Black Forest cake. Elizabeth decided he *had* to have a Cars cake just like Daniel. Once Daddy ascertained that I thought I could accommodate both requests, he was very indulgent. We used raspberries instead of cherries though, for family allergy reasons. Working around all the fruit, nut and flour restrictions is getting complicated!
We got him a huge slab of wood for a present, cleverly disguised as a beaver (it's going to be his new workshop bench).
You might also like
- Garden
(0.344148)
- Good Friday 2015
(0.342536)
- Rube Goldberg
(0.3425)
- Great Glebe Garage Sale
(0.342342)
- First Trip to the Dentist
(0.341727)
All
September 22, 2012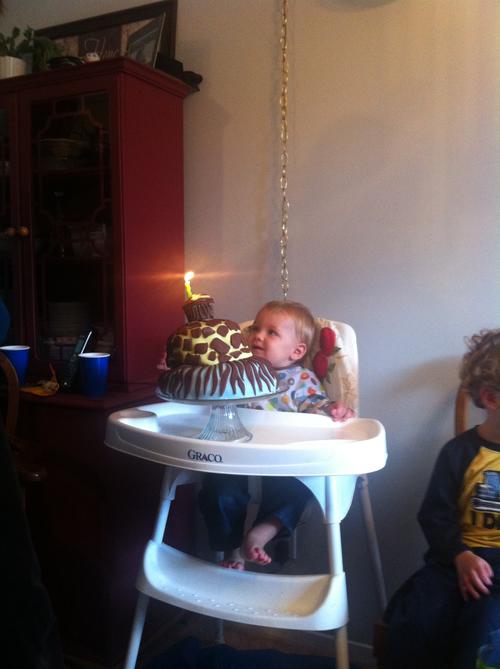 Xander turned one and all of a sudden he is totally not a baby anymore.
He's walking all over and starting to talk and everything. Crazy how that happens!
Elizabeth enjoyed his party very much, although she was rather confused about why he didn't want to eat his cake instead of smooshing it and throwing it on the floor. He was totally overwhelmed by the rather sudden intense focus of the crowd and many flash cameras going off!
You might also like
- Last sail of the season
(0.29902)
- Xander is TWO
(0.298925)
- Horseback riding
(0.297778)
- Scary crickets
(0.294118)
- A Massacre
(0.293103)
All