October 29, 2012
Elizabeth and I went to the park with Xander and Auntie Karen. Xander is still getting the hang of walking in boots. It reminded me so much of when Elizabeth was very small and we put her into her snowsuit and boots for the first time after she learned to walk. She kind of stood there tentatively looking for all the world like the Michelin man, legs wide apart and arms stuck straight out in the air.
Xander had the same kind of "I just learned to walk and you are totally changing the parameters on me" look in his eyes :)
You might also like
- Xander washes the dishes
(0.319512)
- Ski Club 3
(0.311547)
- Canal
(0.311031)
- Spring!
(0.310843)
- Switch witch and eating out
(0.309677)
All
October 26, 2012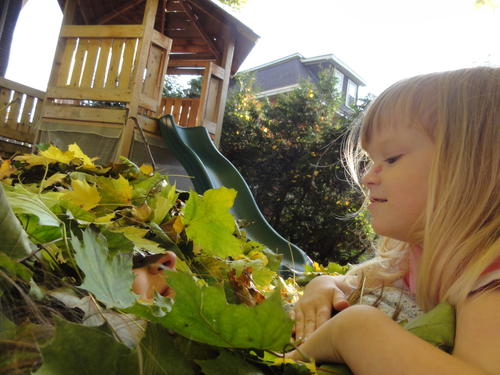 We only have three trees on our property, but they drop many, many, many leaves in the fall. We collected between 35 and 40 extremely compressed cans / bags full this year, with the large Norwegian maple in the corner of our backyard is responsible for most of them. I filled about 20 cans and bags as part of the first raking session, but as Elizabeth pointed out, by the next day you really couldn't tell that anyone had done ANY raking at all because so many new leaves had fallen down.
The truly frightening part is that the tree canopy is rather mutilated. Between Ottawa Hydro trimming it away from the power lines and our neighbours removing the parts overhanging their property, there's probably about two thirds of the canopy missing!
In any event, it turns out that Elizabeth really enjoys raking (or "braking", as she puts it). She also enjoyed jumping, burrowing and hiding in the leaves in between being useful. The neighbours helped us rake our front yard so that their kids could jump in a leaf pile too - they asked permission to help us rake first - I think everyone should be blessed with awesome neighbours like ours!
Alex showed Elizabeth how to climb from can to can to better compress the leaves and leave space for more - it was great fun! Now that the leaves are down, Elizabeth is anxiously waiting for snow. Mom and Dad DID say that snow comes after the leaves have fallen, and she can't understand why it is taking soooo long to come....
You might also like
- Mooney's Bay
(0.382449)
- Climbing dome
(0.380668)
- Halloween
(0.378499)
- Elizabeth's 9th birthday party
(0.376768)
- Erika, teenage edition
(0.375431)
All
October 21, 2012
We got to stay with cousins Lindsay and Anna on our way home from the wedding. Elizabeth was thrilled to sleep in a basement. As you may recall, basements are her favourite places in the universe. The best part was playing with Lindsay's "tunnel" (a large box).
Elizabeth was also pretty excited to visit Lindsay's church, but wanted to know how soon Lindsay would come to her church (she wants to show it off!)
You might also like
- Graduation Day
(0.311475)
- Rain rain go away
(0.310433)
- Cousins
(0.308057)
- RAida2017
(0.303462)
- New favourite way to get home from the bus stop
(0.301639)
All
October 20, 2012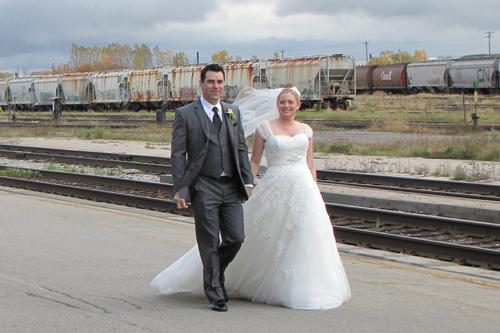 My cousin got MARRIED! We took Elizabeth to see, and brought my parents through the receiving line via Skype.
Now every time Elizabeth sees any woman dressed in white she says "that person looks like Andrea!"
Since we don't like to take photographs during church, we somehow managed not to get any nice photos of the bride and groom. Luckily my aunt sent me one which hopefully they won't mind us posting here.
You might also like
- Rain rain go away
(0.308434)
- Visitors
(0.30042)
- Orange Belt
(0.298597)
- Wedding prep
(0.296236)
- Cousin Marc
(0.290061)
All
October 17, 2012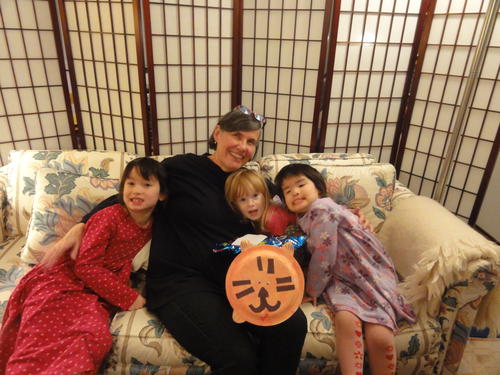 Grandmas love tiggers. Everyone knows this. Tiggers probably love Grandmas too but that's not really the point. You may be sensing a theme here. First an elephant. Then a beaver. Now a tigger. What will be next? You'll just have to wait and see. Elizabeth has so far even managed to keep the lid on things despite all the fun she's been having making them.
You might also like
- What's yours is mine and what's mine is yours
(0.336957)
- Epiphany
(0.306329)
- Poodle Bear
(0.303665)
- Second Stripe
(0.303226)
- Eight Month Teddy
(0.302395)
All