December 30, 2012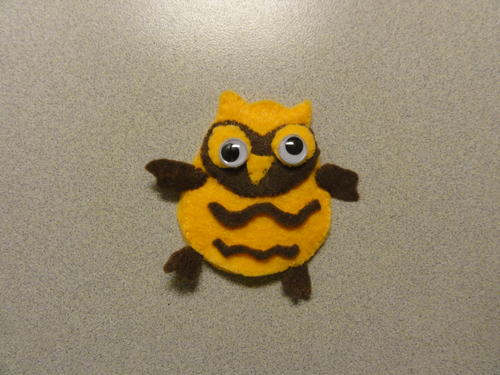 Auntie Janice and I usually make homemade Christmas crackers. I'm not sure how it started, but this year I got the girls to decorate the crackers at the cottage in August so we felt very organized.
Brendan suggested that I make finger puppets as the main favour. One thing led to another and I soon found myself having way too much fun with felt, glue, googly eyes and a bit of thread (I opted to sew in the vain hope that the puppets will last a bit better). Every time I finished a new puppet, Elizabeth and Janice declared that they wanted to keep it. Brendan thinks I should make some extras and perhaps I might get inspired to do so at some point....
I posted a few pictures of Elizabeth playing with many of the puppets on Christmas Day, but here are pictures of the complete set!
You might also like
- Happy New Year!
(0.346912)
-
(0.34507)
- Sheep Shearing
(0.344477)
- Happy Birthday Janice!
(0.343977)
- Quilt Show
(0.342446)
All
December 29, 2012
The following is an important Public Service Announcement:
A while back a friend sent Mary a link to a frightening tale on the dangers of seatbelts and the importance of having a seatbelt cutter in the car. Brendan read it too and coupled with the echoes of a mythbusters episode extolling the virtues of having a glass breaker in your car he decided that he had the perfect stocking stuffer for me. All that to say that I hope none of us ever have to use this nifty little device for either of its intended purposes, but it does seem like a good idea to have one!
We will now return to our regularly scheduled discussions on the dangers of Pinterest and cute kidlets.
You might also like
- Wedding prep
(0.293223)
- Epiphany
(0.290831)
- Tulips
(0.289773)
- Butterfly Show
(0.288984)
- Ice balloons
(0.287841)
All
December 28, 2012
My friend Iain lets us take care of his "zoo" when he and Renée are away.
Elizabeth doesn't enjoy this as much as Mommy does - something about crickets really wigs her out. She apparently saw one on the floor and totally freaked out. I've discovered that she is now able to climb up my legs to my back without any help, given sufficient motivation! I was holding a full container of crickets at the time and nearly tipped right into the closest tank. The chameleon would have been very surprised...
You might also like
- Frustrating Toy
(0.329939)
- Insectarium
(0.327619)
- Helping Hands
(0.325714)
- Le Patinoire
(0.324324)
- Chicken Chicken
(0.319079)
All
December 27, 2012
Brendan had been grumbling that we didn't have enough snow. Apparently the Farmer's Almanac had forecast a "snowy winter" and he didn't think the winter was living up to expectations.
Some places in Ottawa received nearly 30cm, though that was nothing compared to Montreal's record 54cm. Elizabeth's baby snow man nearly got buried (don't worry - she rescued him!). Brendan got to use his snowblower (again) and is finally happy.
You might also like
- Spring snow angels
(0.331395)
- Frustrating Toy
(0.299145)
- Heidi and Tante Elfi
(0.298354)
- Lac des Loups
(0.29682)
- Sleepover
(0.294756)
All
December 26, 2012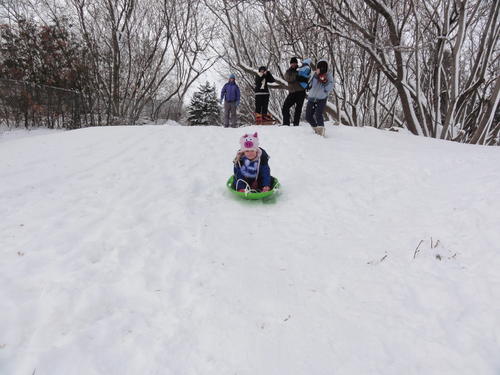 Elizabeth and Xander celebrated Boxing Day by going sledding. Auntie Janice came too and at one point we had a train of Daddy pulling Elizabeth pulling Auntie Janice pulling Xander!
Mommy celebrated by making yet another Pinterest-inspired food craft. Brendan says he's debating blocking my access to the site, but I AM having fun.
Unlike a certain fruit tree, the hardest part about this food craft was locating fresh strawberries in Ottawa in the dead of winter that look edible! I was pleasantly surprised by how easy it was to generate an army of strawberry "Père Noëls". Elizabeth is still having none of this "Santa" stuff - it's Père Noël or St Nicholas...
You might also like
- Making friends with Grandma
(0.315498)
- Nora has a bath
(0.311148)
- Epiphany
(0.309148)
- Finger puppet crackers
(0.302448)
- Karen's birthday
(0.3)
All