March 11, 2013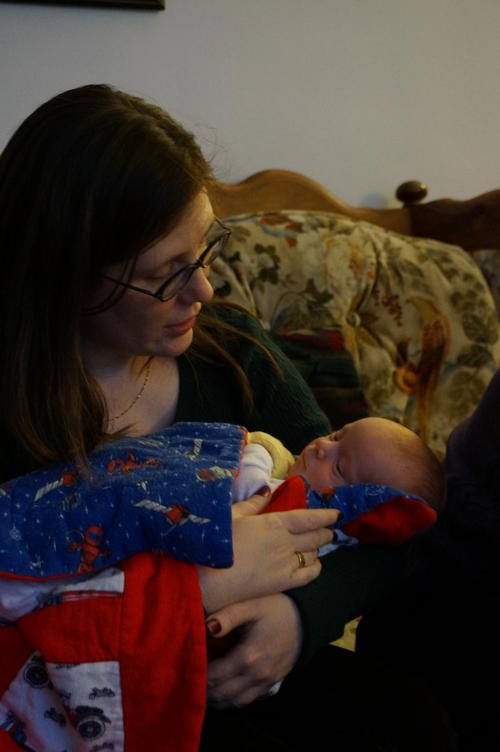 Janice came to visit Matthew today for the first time. Elizabeth was very excited to see her and promptly kidnapped Janice to play with while I put the last finishing touches on supper.
You might also like
- Shirley
(0.307317)
- Let it Snow!
(0.298578)
- First day of kindergarten
(0.292776)
- Finally cake
(0.288288)
- Black Leader
(0.286307)
All
March 10, 2013
We went to church for the second time today. Matthew slept through the entire service. He was apparently ravenous when he woke up. He nursed from about 1pm to 11:30pm with hardly a break in between. Even a visit from Thomas and his mom didn't distract...
You might also like
- Strawberry picking
(0.261128)
- Joanne
(0.257732)
- Decorating the tree at church
(0.257396)
- Chocolate
(0.25122)
- First Sleepover
(0.248276)
All
March 9, 2013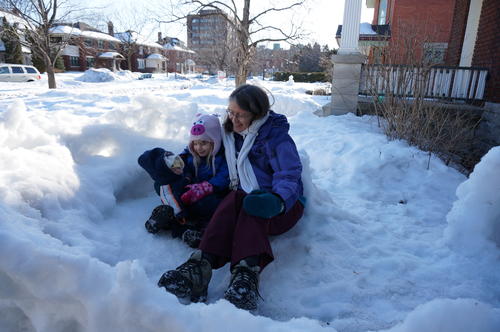 First calendar pictures with Matthew were easy because he seems to like being outside. We joke that if we need him to stop crying we can take him outside for a walk or a car ride (unlike Elizabeth, he seems to like being in the car!)
The girls all wanted to be the one holding Matthew, so they took turns. I haven't quite got the hang of the new camera, but the kids were patient. Afterwards they played and played in the snow - Maria mainly doing her own things as usual and Elizabeth tagging along after Erika and doing whatever she suggested. There was a lot of sliding down snow mountains...
You might also like
- Matthew with the Bear
(0.359127)
- Snow Day
(0.330454)
- Tulips
(0.329843)
- Apple picking
(0.327619)
- Smiley Face Pancakes
(0.324503)
All
March 7, 2013
Matthew is three weeks old and his sister already gave him his first cold. He's got a nasty sounding cough and stuffy nose full of green yuck. Yesterday midwife Laurence asked us to take him to his doctor if he was still coughing tomorrow, but when he started running a mild fever on top of everything we decided we'd better go today. Our pediatrician Dr Lynn took one look at his age and temperature and decided that 37.8 was close enough to febrile and sent us to CHEO. She wasn't quite sure what they would do; apparently in the States they would take blood, perform a lumbar puncture and probably admit to give drugs by IV. Turns out that CHEO's policies are similar but child must reach magic temperature of 38C. Phew! We had to wait about 3.5 hours before we saw a doctor. I was relieved as longer waits mean that the triage nurses think you aren't dying... Once we got into an isolation room a nurse suctioned his nose out quite thoroughly. There were great protests but afterwards he was obviously feeling much better.
You might also like
- Home
(0.35012)
- Tree
(0.344164)
- First day of "preschool"
(0.341657)
- Jaundice
(0.341202)
- Family Day
(0.337617)
All
March 2, 2013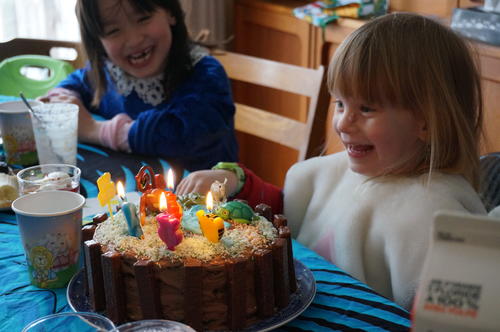 Elizabeth was very excited to finally have her party.
Both sets of grandparents, Auntie Yukiko, Uncle Chris, Erika, Maria, Uncle Dave, Auntie Karen, Xander and Auntie Janice were all present, along with special guest Rachel. Elizabeth checked and double-checked whether I had remembered to invite "godmother Rachel", so I was quite relieved that Rachel was able to come.
Elizabeth declared that she wants to invite all the same people for her fifth birthday party too, although she rather wistfully wondered whether Nora could come next time.
Auntie Janice made a super treasure hunt for each of Elizabeth's presents, continuing a tradition we started last year. It helps occupy the guests who at this age aren't otherwise that fond of watching someone else receive gifts and reduces "present fatigue". The actual treasure hunt clues were very clever (and it was so nice to hear Erika effortlessly reading them out - last year she could hardly read; this year she's turned into an avid book worm!)
We played "pin the trunk on the elephant". Elizabeth was quite amused by the game, but less amused when Erika pinned her trunk much closer than she did. Elizabeth's trunk was closer to bum than nose... She wanted to play again until she won, but I managed to convince her that she should play "What time is it Mrs Crocodile?" instead. She let them get closer, closer and closer until the last question, at which point she yelled "Cake time!" with great delight and we all headed upstairs for munchies and cake.
You might also like
- Happy Birthday
(0.397691)
- Happy Birthday Uncle Chris!
(0.391195)
- Elizabeth's 9th birthday party
(0.388496)
- Party Van
(0.38706)
- Christmas
(0.380202)
All