May 16, 2013
Cold spring day plus sale on hot dogs = time for a fireside wiener roast
You might also like
- Elizabeth gets to hold Xander
(0.208333)
- Happy Birthday friend Janice
(0.204545)
- Guy Fawkes
(0.176471)
- Good Friday
(0.173653)
- Mike meets Michael
(0.170068)
All
May 12, 2013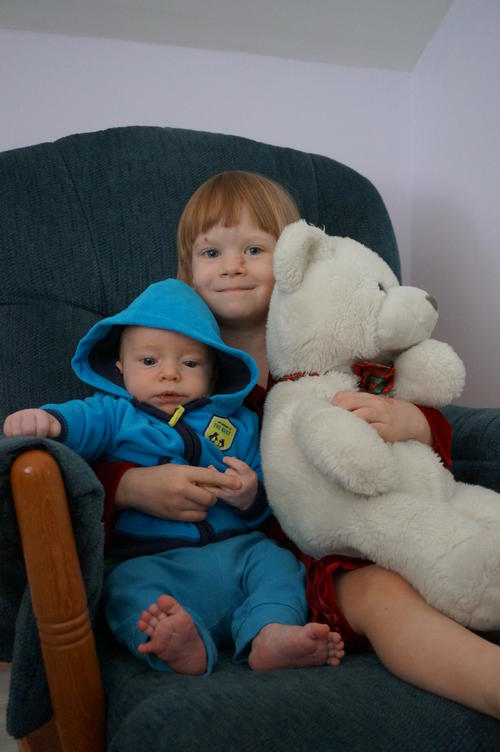 At three months, Matthew is noticeably heavier, but don't ask me how much he weighs or anything like that because we haven't managed to locate a scale under all the baby spitup. It's the curse of the second child. The lack of milestone observations, I mean...
Matthew does "spit" quite a lot more than Elizabeth ever did. He is also a LOT grabbier. He sucks on everything but especially likes his fist, thumb or Mom's hair. My scalp quite often tingles at the end of the day from all the hair pulling, and no matter how often I disentangle he always seems to have a fistful in his grubby little paw. And grubby is an understatement - for some reason the cracks in his hands are almost always BLACK with some kind of lint by the end of the day. It's really gross.
Matthew's very alert and loves to watch the world around him, especially his big sister. She doesn't like when he watches her getting dressed though! He can roll back to front, but doesn't that often because he'd really rather stand up. He usually sits in the Bumbo while we eat, staring very intensely at our food. Elizabeth constantly lectures him about not being old enough to eat yet. When he turns five months she's planning to feed him mashed bananas and pizza. Matthew can wiggle clear across the bed and is clearly frustrated by his lack of body control - he epecially wants to be able to crawl already. He likes to bat at toys. It's even better if he can eat them...
Naps generally happen four times a day. At 6 or so he wakes up and plays for an hour or so. Then he sleeps for an hour. He naps again mid morning (10:30ish) and midafternoon (3ish). By 6:30 he's ready for his last nap. He always wakes up just as I'm trying to get Elizabeth ready for bed. It's like he has sensors. Brendan thinks he has Mommy sensors too. If I leave the house during a nap, he'll wake within a few minutes. If I'm away too long he allegedly screams "like he's practicing for a career as an opera singer" (as our tenant Jesse puts it). Daddy sends increasingly dire sounding texts about Matthew's wellbeing, but by the time I get home Matthew is always sleeping quietly!
He's a very content and giggly baby. So far, he doesn't seem to mind strangers holding him. I mentioned before that he has three baby signs "milk", "diaper" and "change". We usually use diaper and change together but interestingly he seems to sometimes use "change" and sometimes "diaper". They only happen together when he feels very ignored. "Diaper" always means he's wet, but "change" sometimes gets signed a minute or so before he actually wets himself. Not that we've done much in the way of natural infant hygiene stuff - Mom finds boys more complicated to sit on the toilet! "Change" also seems to mean "I'm done, pick me up" - someone has figured out how to get our attention anyway...
You might also like
- Virtual school: Week 2
(0.450965)
- 21 Months
(0.449573)
- 19 months
(0.443059)
- Michael turns 2.5
(0.441537)
- One!
(0.441367)
All
May 11, 2013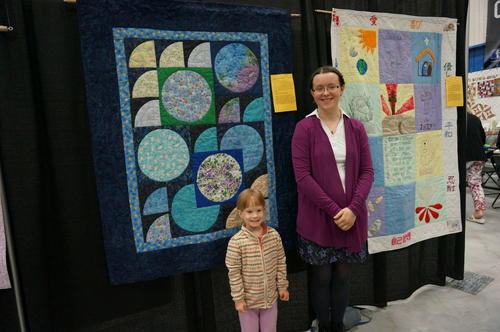 I had another quilt in this year's quilt show - but only because Auntie Janice entered the quilt we made for Erika seven (SEVEN??) years ago. Auntie Janice entered three quilts this time - she and Elizabeth are standing in front of two of them (the third is the Christmas banner). Auntie Janice treated mom, Elizabeth and I to the entrance fee and we spent a very happy couple of hours admiring many, many quilts. We got to vote on our favourites and try out a really fancy quilting machine. I wish I had a large room to dedicate to it; as the vendor commented, it's not the price tag (12000) that deters people as much as the requirement for space. It doesn't fold! But even Elizabeth was able to make fancy stitching - it's totally cheating! The hard part is apparently keeping the stitches even.
Elizabeth's favourite quilt was the "one with all the tractors". I liked the red and black fireworks one, although I was quite impressed by the white quilt that took 18 years to complete (that's dedication). I also want a quilted jacket like the one with the lighthouse and pelican on it!
After looking at all the beautiful quilts at the show, I feel inspired to start another project (or maybe finish something!)
Elizabeth came right home and made her own "quilt" show. She drew her quilt front and back on a piece of paper, taped it to a chair and then carefully showed us both sides wearing gloves.
You might also like
- 19th Annual Gingerbread Party
(0.389173)
- Spartan Race
(0.376168)
- Christmas
(0.375144)
- Party
(0.374337)
- A shower and the Great Glebe Garage Sale!
(0.373887)
All
May 10, 2013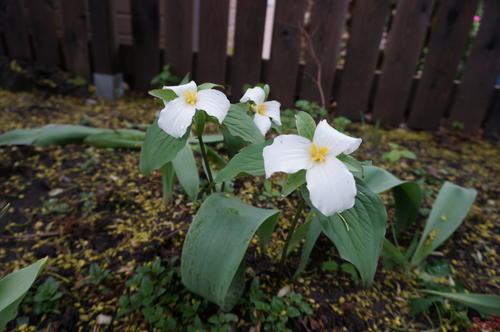 It might be mostly a big mud pit, but my backyard has trilliums and bleeding hearts and that's enough to make me happy.
You might also like
- Cottage over for another year
(0.201493)
- Helpers
(0.20082)
- Homemade pool
(0.2)
- Bike sledding
(0.198758)
- Erika is old
(0.196429)
All
May 7, 2013
These are the outtakes and extras from our cousinly calendar photo shoot (May!) The girls took pictures while Daddy and Grandpa played in the basement.
Poor Erika was suffering mightily with her allergies, Matthew just wanted to sleep and Xander and Elizabeth wanted to run around. So for once Maria was my photo star - smiling in every single photo (and we may have taken just a few...)
After tulip pictures we played in the park for a while until it got so late that we called Daddy for a ride home. Have I mentioned that our next car needs to have more than five seats? It was vegetable day, so the partying continued while we sorted them out. The girls were having so much fun playing that we ended up hosting an impromptu dinner party. The girls sat at their own little table in the gazebo (they are getting to be so big!!!). Matthew sat at the adult table cooing and showing off his three word baby sign vocabulary.
You might also like
- Happy Birthday Janice!
(0.358726)
- Little red wagon
(0.356928)
- Xander
(0.355346)
- Vera, Astra and Magnus
(0.354331)
- Angie 2015
(0.354196)
All