June 22, 2013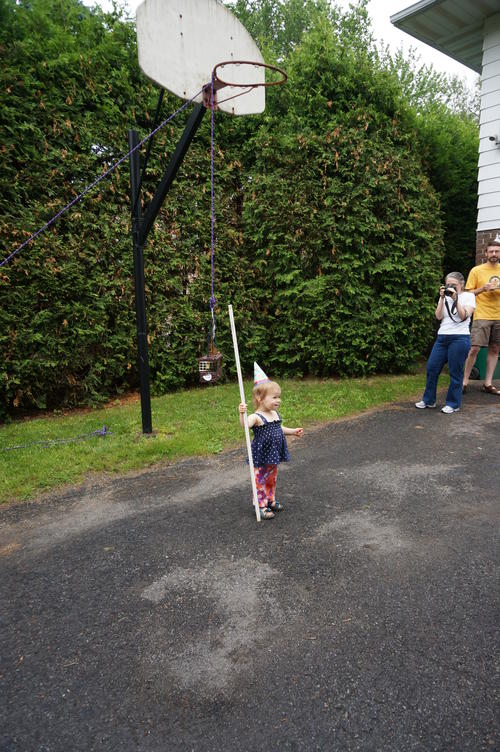 Elizabeth looks forward to Aidan and Caitlin's birthday party all year because there will be a pinata. She would dearly like to have one of her own, but as I've explained, a pinata in the dead of winter is just not the same as one in June!
This year there was a pirate theme! Aidan was very excited! It was very amusing watching the kids take their whacks at the pinata. The first year Elizabeth participated the older kids were given many extra hits in order to try and speed up the process. This year some were a little worried that it would break before everyone got a turn - the kids are so much more enthusiastic and have much better aim!

She is also completely over the broken pinata trauma - there was NO hesitation on trying to bust the pirate ship open...
You might also like
- Caitlyn's birthday
(0.379906)
- Washing the Car
(0.36725)
- Aidan is TWO
(0.359073)
- Capital of extremes
(0.349436)
- Like riding a bike
(0.349254)
All
June 21, 2013
At four months, Matthew can roll all directions... but doesn't most of the time. He's much more interested in locomoting. He's particularly good at scooting backwards while lying on his back. It makes changing diapers rather interesting. He launches himself right off the table with vim and vigour (I often use his bed now instead)
He loves to jump. He loves to play with his toys. He has INTENSE focus. Mostly used to figure out how to bring the closest object to his mouth. He puts everything in his mouth, especially his thumb and Mom's hair. He likes to suck on hair (gross!) and usually manages to have a fistful.
I can let others hold him and unlike his sister, he hangs out with anyone, cooing and laughing. No screaming! Such a flirt! He even plays by himself. As long as he can see people and babble at them he is happy, so we often get to have meals without a baby on our laps.
He weighs just over 14lbs (took Elizabeth six months to get to this weight). This means he's just outgrowing his diaper covers. Eep - that was fast! Good thing we have a larger size already, though I noticed Elizabeth was still using the smaller size in October. Not a chance Matthew will be in the smaller size by then. Not. A. Chance.
Imagine how huge he'd be if he wasn't such a "spitty" baby.
You might also like
- 3 months
(0.400207)
- Amelia 20 Months
(0.377183)
- 13 Months
(0.374735)
- 13 months
(0.373508)
- Four months
(0.372437)
All
June 16, 2013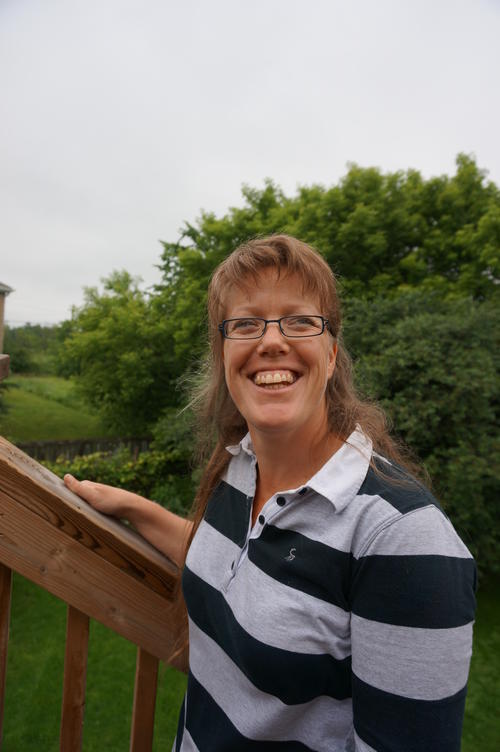 Father's day opened with breakfast in bed (Daddy got to sleep in!)
After church we headed to Grandma and Grandpa J's for palatschinken and marillenknoedel. Elizabeth made the chocolate ones (I think for the first time)
Then we headed to Auntie Heather's to celebrate her birthday. There were many games "I have never", "People to People", "Bok bok BeKaak" and much running around. Doesn't Auntie Karen look cute? I made Dave and Karen pose for me like they did with Xander-in-tummy.
I've been unable to decide which flourless chocolate cake recipe I preferred, so I decided to make both and then we could do a side by side comparison. Many folks actually preferred the less decadent version. I'm still kind of partial to the death by chocolate version. Because c'mon - how can you go wrong with 18 ounces of chocolate?! Final ingredient tally for both cakes? 9 eggs, 1.5c butter, 1/2 c cocoa, 1.5 c sugar, 1/2 c water and 22 oz chocolate. Heather found a marshmallow chocolate ice cream to go with it!
We put the Erika and Elizabeth down to sleep in Auntie Heather's room. There was a slight "incident" involving perfume. Let's just say that the scent(s) in the car on the way home were rather overpowering...
You might also like
- A celebratory day
(0.364896)
- Just begun
(0.364621)
- Happy Father's Day
(0.364221)
- Happy Easter!
(0.359438)
- Love bugs
(0.352041)
All
June 14, 2013
Auntie Yukiko surprised Uncle Chris with a secret bbq party for the whole family. I nearly burned the potato skins because he came home right while I had them on the grill and had to go hide in panic!
There was much discussion about what to get him. My dad said: "An appropriate gift would be something very adventurous - a skydiving course, a Harley-Davidson motorcycle, or a fast sports car." Apparently we have a number of family members who secretly would like more adventure, but we didn't think Chris is among them so Yukiko's going to take him to Europe instead. (That sounds quite adventurous to non traveller me!)
You might also like
- Easter
(0.336923)
- Farewells
(0.334375)
- Wedding prep
(0.328869)
- What's in a name?
(0.320988)
- Early Christmas
(0.315328)
All
June 13, 2013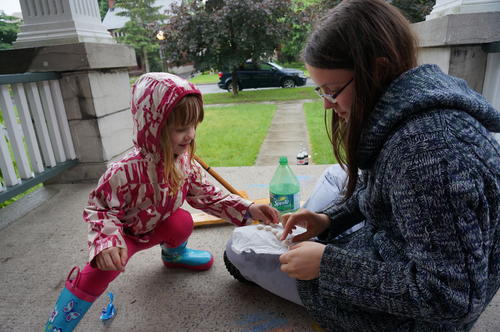 Auntie Janice and Elizabeth have been doing lots of messy science lately.
Right now they are perfecting an experiment that Auntie Janice is going to do for the Canadian Aviation and Space Museum summer camps this summer. If you are in the Ottawa area, with kids ages 6-12 and are looking for a great camp - these look really fun! And really, how can you go wrong with Auntie Janice in charge?
Janice has collected an epic number of pop bottles and the neighbours have started preemptively moving their vehicles further down the street as the experiments have gotten more and more successful. I think the record is 61 feet, using baking soda and vinegar.
You might also like
- Airplanes
(0.347826)
- What's in a name?
(0.302849)
- Space Bubble
(0.297839)
- Braking Leaves
(0.296552)
- Great Glebe Garage Sale
(0.295866)
All