July 4, 2013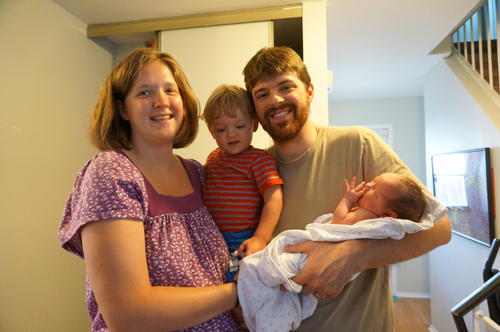 My beautiful niece Isabelle Ruth was born at home at 4 am July 4th, weighing 8 pounds 3 ounces. That evening we picked cherries from the tree in the backyard while Xander and Elizabeth played. There was a lovely rainbow in the sky - the photo doesn't do it justice!
She sounds almost exactly like Matthew when she cries (Auntie Karen and I are having trouble telling them apart by sound!)
Xander likes to give gentle kisses to baby sister. Momma Karen and Papa Dave are very proud.
You might also like
- Wedding prep
(0.299689)
- 2 weeks old
(0.298507)
- MosaiCanada
(0.296358)
- Theo: A special Father's day gift
(0.295527)
- Geoboard
(0.293015)
All
July 2, 2013
Uncle Chris, Auntie Yukiko, Erika and Maria joined me and the kids at Auntie Heather's to help pick her bumper crop of sour cherries! There's been quite a lot of cherry picking recently; Uncle Dave and Auntie Karen have a tree as well!
Although quite a few were at child height, the little girls lost interest after a while (especially after I declined to allow Elizabeth up the 6ft ladder - she was way too excited for it to be safe!). So they invented a "super fun" running game and then I let them take pictures on my phone...
You might also like
- Hi Uncle Mark
(0.373737)
- Magic Show
(0.335185)
- Come sing Messiah Rehearsal 2
(0.332727)
- New Year's Day
(0.330632)
- Vera, Astra and Magnus
(0.327869)
All
July 1, 2013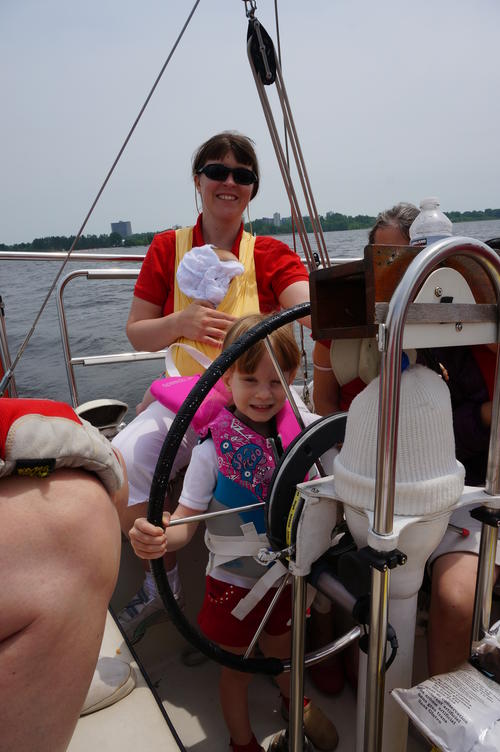 Despite a slight lack of competition for our race (hey - we came first, right?) we had a fine birthday sail.
Twelve mostly very inexperienced crew meant we sailed with the main only, dramatically reducing potential for disaster. The girls wanted to climb ALL over the boat - up to the bow then below and back around.
Three generations steered the boat, but only one of us did so while eating and holding a baby. Apparently my focus has improved slightly, since I didn't drive into anything despite a high level of distraction. And I didn't even gybe when I meant to tack today...
I had a lovely day! Thank you family and especially Mike who took us on his boat!
You might also like
- LRT Grand Opening
(0.327965)
- Little red wagon
(0.31891)
- Gatineau Park Ski
(0.317716)
- Maggie's birthday pinata
(0.316667)
- Orange swimsuit please
(0.316327)
All
June 30, 2013
Yukiko, Erika, Maria, Elizabeth, Matthew, Auntie Janice, Auntie Janice's friend Jess and I all met up at the RCMP Stables to see the Musical Ride. We only had the manual lens due to the other lens malfunctioning (boo!), hence blurry photos.
Elizabeth was very excited to see "dancing horses". We thought we'd been very clever in going an hour early to secure a parking space and piece of lawn. Let's just say that there is a lot more to the event than the Musical ride. Safety Bear was parading around the grounds, volunteers were handing out stickers and tattoos, mounties were available for photos and were letting small children climb all over their vehicles while activating their sirens. Everyone else arrived much earlier than we did, but luckily St Columba was offering paid parking fairly close by!
Elizabeth had her fingerprints taken and did a colour changing experiment. There was cotton candy. And popcorn. And ice cream. And lollipops. (So much for our brilliant idea of brushing teeth before leaving the house!)
The police dogs did an agility competition. Gunmen shot at balloons and waved around swords while jumping their horses over obstacles. The Emergency Response Team demonstrated the world's slowest high speed chase, disabling the car amid billows of smoke and taking down the "bad guy" with great vim and vigour in a kind of strange ad for joining the RCMP. I mean, surely the kind of person attracted to joining the RCMP on the basis of throwing smoke bombs at cars isn't the kind of person that would pass their pysch profile. Right??? There was a pipe and drum band. And highland dancers.
And then the horses danced.
You might also like
- Family Day
(0.376318)
- Winter Celebration
(0.370577)
- Halloween
(0.369471)
- London
(0.366548)
- Good Friday 2015
(0.364717)
All
June 27, 2013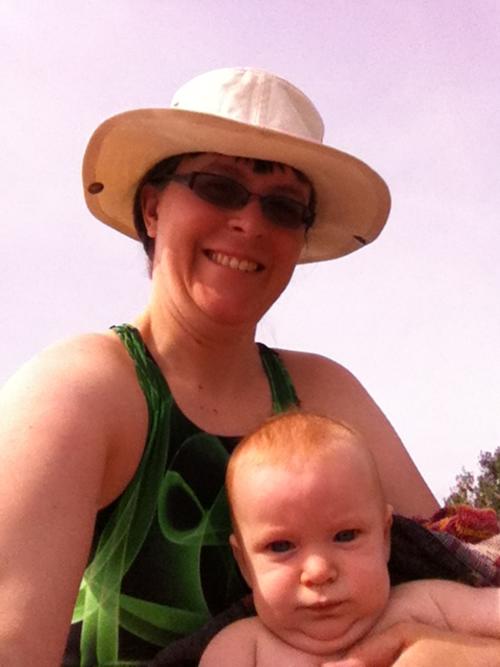 Elizabeth has been lobbying to go to the beach (inconveniently good memory strikes again!). "Matthew has never been at all, Mommy" she said. "Don't you think he might need to go?"
It hadn't rained in a few days and the green flags were flying so with no e. coli excuses I decided it was time. Now, I hear many moms routinely take their offspring places like the beach and the grocery store ALL by themselves. I do not, being blessed with both job and husband that lets us do most things as a family. All that to say that I made Elizabeth wear her life jacket while she ran up and down the beach like a wild thing while asking if maybe we couldn't stay forever.
Matthew was fascinated by the water and puddled trying to catch the fish nibbling his toes.
You might also like
- Waterskiing, fish and clams
(0.366906)
- Smiley Face Pancakes
(0.333841)
- Ice Cream Festival
(0.329688)
- Dance Camp
(0.326115)
- Sleepover
(0.326087)
All