July 8, 2013
We celebrated Grandma and Grandpa H's birthday today. Grandpa was especially surprised since his birthday isn't for a few weeks but since they are headed back to Angola soon it seemed like the thing to do.
We had sausages and many salads for supper. Potato, strawberry and chèvre, broccoli... I made Shrimp-a-doodle-doo. Two birthdays meant two cakes. Grandma's was almond torte with cherry jam filling and whipped cream. Grandpa's was almost Black Forest cake (but with crushed strawberries so that those allergic to cherries could have some). The cherries came from cousin Heather's tree, the strawberries from our berry picking expedition.
The H cousins made shirts as gifts. On Grandma's shirt, Elizabeth and Matthew jointly made the blue butterfly. Xander and Isabelle made the green and yellow one. Grandpa's lion shirt shows Elizabeth in yellow, Xander in orange, Matthew in red and Isabelle in brown. Originally we were going to handprint Isabelle but Matthew's lack of cooperation made us reconsider that! He did NOT want to open his hand (silly grasp reflex). Finally we decided to paint his knuckles instead. As soon as we did, THEN he opened his hand, but not really long enough to get good prints. It reminded me why we used to do these projects with Elizabeth naked except for her "painting diaper". Imagine how fun it was to clean the paint off afterwards with his hand tightly closed around the paint.
I was happy enough with the end results though :)
You might also like
- Owie
(0.379276)
- Decision making study
(0.372399)
- Flattening Grandma and Grandpa
(0.371184)
- Matt and Kelly wedding reception
(0.370327)
- Happy Easter!
(0.369931)
All
July 6, 2013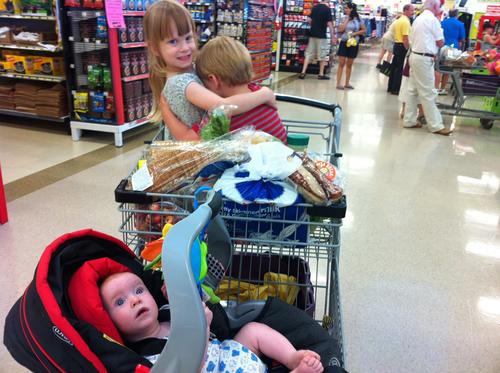 Xander came to play with Elizabeth and Matthew so that his parents could get some sleep the day Isabelle was born. We gardened, we played in the sandbox, we teapartied, we made brownies, and we practised not waking younger siblings during their naps. I have been really impressed by how well Elizabeth and Xander have been playing together. Then Mommy took all three kids to the store to buy supper for everyone before heading to meet Isabelle for the first time. It took me so long in the store that I ended up feeding the bigger kids their supper in the car, so we were able to put them to bed somewhat on time. Elizabeth had a little nest in the basement and wanted to stay there overnight...
I've decided that the secret to shopping with three kids four and under is proper restraints. I could totally manage a fourth on my back, but after that things would get complicated!
You might also like
- Three at a time
(0.386777)
- Sheep Shearing Fest
(0.386395)
- Vera, Astra and Magnus
(0.370861)
- Wedding prep
(0.369723)
- Earth Day
(0.367429)
All
July 5, 2013
Claire brought her parents to visit Elizabeth and her family. Matthew's play mat promptly turned into a bear cave and there was much playing. Then we went to the park and got wet, sandy and soapy. Not in the right order...
You might also like
- Beach
(0.375527)
- First smile
(0.371841)
- Snow
(0.366438)
- Decorating
(0.360231)
- Say Ah!
(0.360119)
All
July 4, 2013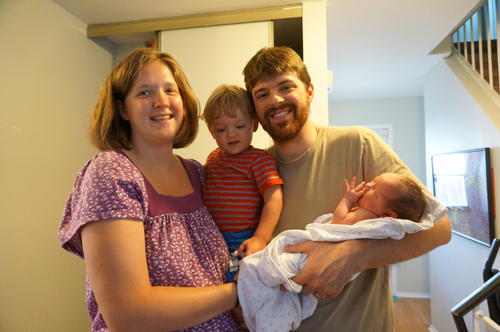 My beautiful niece Isabelle Ruth was born at home at 4 am July 4th, weighing 8 pounds 3 ounces. That evening we picked cherries from the tree in the backyard while Xander and Elizabeth played. There was a lovely rainbow in the sky - the photo doesn't do it justice!
She sounds almost exactly like Matthew when she cries (Auntie Karen and I are having trouble telling them apart by sound!)
Xander likes to give gentle kisses to baby sister. Momma Karen and Papa Dave are very proud.
You might also like
- Wedding prep
(0.299689)
- 2 weeks old
(0.298507)
- MosaiCanada
(0.296358)
- Theo: A special Father's day gift
(0.295527)
- Geoboard
(0.293015)
All
July 2, 2013
Uncle Chris, Auntie Yukiko, Erika and Maria joined me and the kids at Auntie Heather's to help pick her bumper crop of sour cherries! There's been quite a lot of cherry picking recently; Uncle Dave and Auntie Karen have a tree as well!
Although quite a few were at child height, the little girls lost interest after a while (especially after I declined to allow Elizabeth up the 6ft ladder - she was way too excited for it to be safe!). So they invented a "super fun" running game and then I let them take pictures on my phone...
You might also like
- Hi Uncle Mark
(0.373737)
- Magic Show
(0.335185)
- Come sing Messiah Rehearsal 2
(0.332727)
- New Year's Day
(0.330632)
- Vera, Astra and Magnus
(0.327869)
All