July 20, 2013
Matthew learned about grass for the first time. Elizabeth brought him all kinds of things to look at. He was fascinated! Then we went to the park in our "dear little wagon". Matthew sits well enough that he could ride too. He fell asleep on Elizabeth's lap on the way home. Heart melting to see her gently patting his head.
I mentioned that Elizabeth is starting to include Matthew in her play in lieu of stuffies. Here he is taking the role of "doctor". She has since had him be the patient, because the doctor shouldn't eat his stethoscope!
You might also like:
-
First meal outside of the season!
-
Cousin Marc
-
Sleepover
-
Acro viewing week
-
Museum of Nature
July 19, 2013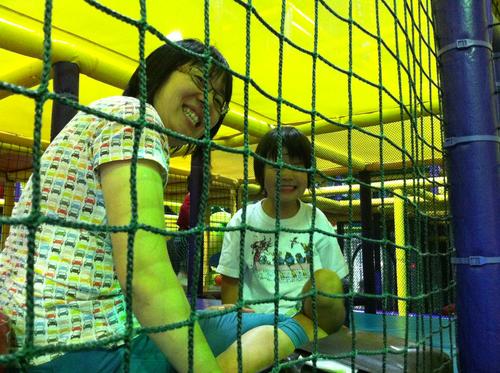 Yukiko and I took the girls (and Matthew) to Cosmic Adventures.
The last time the cousins went together was in 2009! Maria was still in utero and Elizabeth was 2 months old. I spent the whole time crawling in the tunnels with Erika. We went again when Elizabeth was 11 months old but it was so traumatic for this slightly germ phobic mom that we haven't been since.
I'm happy to report that there was no vomit this time. It wasn't super busy but it's still a rather intense experience. Elizabeth and Maria weren't quite sure about the big tunnels full of shrieking pushy strangers so Yukiko and I ended up taking it in turns to crawl through the tunnels with the kids. Matthew even made it up the tunnels with Mommy at one point to watch them going up and down the slides.
Elizabeth really enjoyed herself, but I was exhausted afterwards!
You might also like:
-
Three at a time
-
Do you ever feel like a gerbil?
-
Butterfly Show
-
Pregnancy Announcement
-
Elizabeth end of year concert
July 16, 2013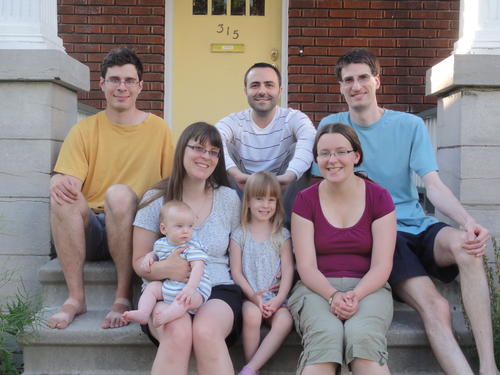 Reza (Ray) and Jesse have lived with us so long that Elizabeth can't remember a time when they didn't!
In fact, Ray predates Elizabeth and is responsible for the fact that Elizabeth has had a facebook and gmail account since birth. Jesse's been around since before Elizabeth could walk. Before they arrived, we had new tenants nearly every year, but Elizabeth doesn't remember that. We are out of practice, but all good things must come to an end and they are both leaving us this summer.
Ray's new job is in Toronto and he couldn't be convinced to telecommute. Jesse is heading to Waterloo for his masters.
The house is very quiet without them. They will be missed.
Elizabeth is mollified by the promise that she gets her very own room now that we have more space (we won't rent out both rooms anymore). She doesn't really fit that well on the old crib mattress anymore. Must be growing up!
You might also like:
-
First day of Maternelle
-
Katelyn
-
Waterskiing, fish and clams
-
Family time
-
Auntie Muriel's
July 15, 2013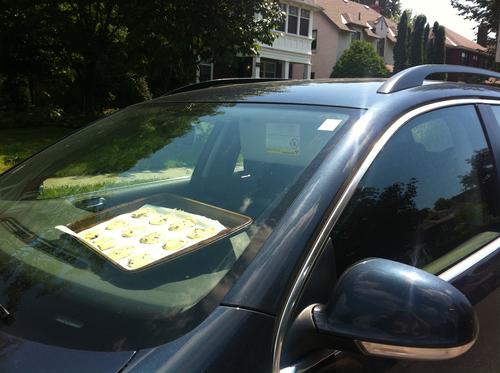 Early on in my journey as a parent, I read Gene Weingarten's award winning article about how it happens that a parent can forget their child in the car. (If you haven't read this, you should, even though it is deeply disturbing.) We have tried to make sure we are always mindful of our children around the car as a direct result of that article.
I read recently that some kids have experienced hyperthermia after hiding in a car too long. Elizabeth knows she isn't allowed to hide in enclosed spaces in general but wanting to make doubly sure she wasn't inclined to hide in the car we decided it was time to show her just how hot the car gets.
It's hot enough to bake cookies!
You might also like:
-
Preparing for Gingerbread
-
First day of grade 3
-
Vote Ontario
-
We may never have to clothe our daughter
-
Rainbow Camp
July 14, 2013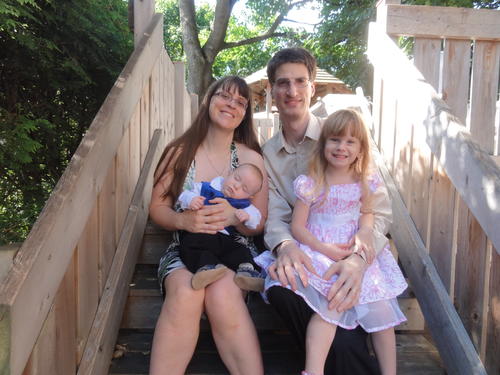 One of the "kids" from youth group back in the day got married today, making us feel all nostalgic.
We're really missing our "real" camera; it has a defective sensor on the lens. Sigh. We did get some cute photos of Matthew all dressed up for the first time.
When we got home after the wedding, Elizabeth wanted to know if perhaps we could ask Kate and Joel to "do it again, but maybe a little shorter". I gather she likes weddings! It was a lovely ceremony.
You might also like:
-
Daddy and the buck bucks
-
End of the canal
-
Ron Harrison
-
Music Recital
-
Summer school jul 13-17 Circus week