August 15, 2013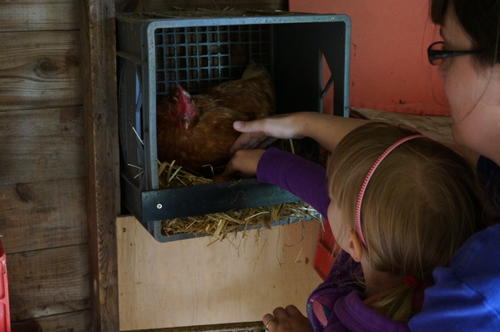 9:00 am Elizabeth, Grandma J and I act as safety boats for some of the nine brave souls that swam from the dock to the point and back. Three of them swam back to the point again - I think Kevin was trying to impress Jenna (who rather proudly told me during the bear hunt that she is a competitive swimmer - she was pretty fast!)
10:00 am Elizabeth and Mom head to the beach. It was super windy, so after a mere twenty minutes Elizabeth was persuaded to head back to the cottage.
10:20 am Matthew and Daddy were napping. Elizabeth and Mommy went to play ping pong in the barn. Then we rode on the tire swing horse. And fed it. And watered it. And rode it some more. We ordered corn from the office for dinner.
11:00 am Elizabeth sees some other kids getting ready to play frisbee golf. Next thing I know we're playing our own version. We take turns. Elizabeth always gets to make the last shot.
12:15 pm Everyone is awake, so it's time for lunch. Elizabeth eats a "Moose hoof" from Henrietta's for dessert.
We do a little reading practice. Elizabeth writes a couple of letters.
1:45 pm Nancy drops some eggs off in our cottage. We go to find out if we can collect some too. She gives us a bucket and instructions. Brendan giggles at the creative use of horseshoes and hockey sticks as chicken perches. Elizabeth marvels at the eggs that are still warm! Three were on the ground and cracked, but Elizabeth is careful and doesn't add to them. She's quite concerned about whether there are baby chicks in the eggs. We chat with Nancy while she mucks out the horses stalls and Elizabeth runs around "feeding" the chickens and trying to pet / catch them. Elizabeth is an expert at feeding chickens after her week at Farm camp, she informs me.
3:15 pm. Matthew is awake again. We hop in the car to make promised visit to the bear at the Trading Post. It's a shadow of its former self unfortunately but Elizabeth enjoyed herself immensely. We were very tempted by a t-shirt that encourages you to flip up the bottom to reveal a bear.
5:15 pm. Watch Carol pick our corn. Elizabeth helps Grandpa walk it back to the cottage where we cook and eat it. Yum.
10:00 pm Brendan is lured outside to enjoy the fullish moon reflecting off the lake and some more lovely stars.
You might also like
- Triathlon
(0.428571)
- Sportball
(0.415816)
- Cottage Days:Swim, visit and treasure hunt
(0.414025)
- Cumberland Heritage Museum
(0.411147)
- The Big Clock
(0.410172)
All