August 31, 2013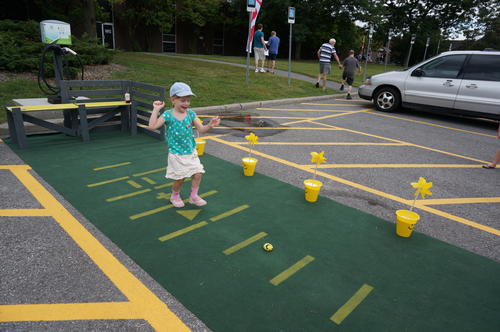 Elizabeth, Matthew and I went to the Maker Faire!
We met all the cousins while we were there (and it was only sort of planned that way). Elizabeth was not a fan of all the cool stuff that you could look at but not touch. The foosball table hooked up to an automated score keeper (because they got tired of keeping score manually) was vaguely interesting and the pinball machine was fascinating even if she *totally* did not understand what she was supposed to do. But by the time we got to the lego that she could not touch she had had enough. Cue spectacular meltdown and quick hustling outside where luckily we found her cousins AND a kid friendly hands-on activity hosted by the city of Ottawa: making paper circuits.
We participated in an art experiment and fed a stair climbing robot frisbees to hurl across the lawn. Inside we met a violin maker who runs workshops where you can learn how to make your own. She had her violin hooked up to a computer. As she played it analysed which bird songs her song sounded the most like and tweeted the result.
Elizabeth danced on a strange moving dance floor and indulged mama in looking at some of the cool 3D printers (replicators!) - at least for a nanosecond. Then she wanted to go and visit the trains. So we saw trains and more trains.
But by far her favourite activity was hopscotch. She'd never tried it before but it ties in nicely to her current obsession with hopping on one foot and you get to throw things as a bonus. She ended up going back to the hopscotch three times. And when we got home she promptly made her own.
You might also like
- Adventure
(0.392157)
- École LaGlace
(0.386189)
- 5th Birthday Party
(0.378615)
- Cottage Days: Party time
(0.37844)
- Rainbow Camp
(0.377588)
All
August 29, 2013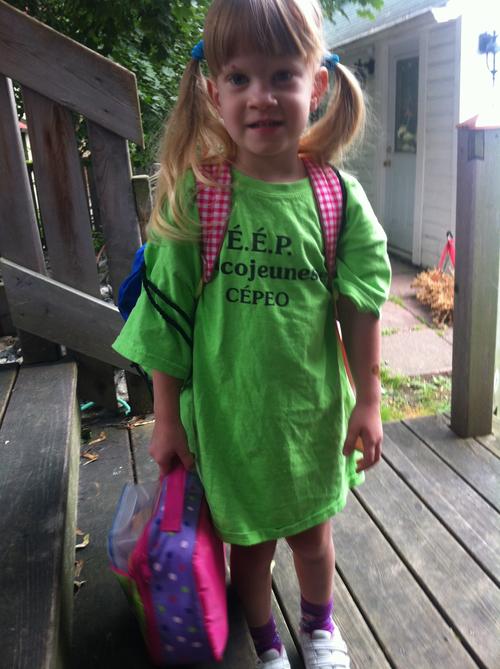 School started for real today. Elizabeth was very excited but worried about leaving mommy behind.
We opted not to send her on the school bus in the morning. We had visions of her refusing to stay seated and crying all the way there; which wasn't how we wanted the first bus ride to go. Besides I wanted to meet the teacher and see her classroom!
I was dismayed to find out that she not only wasn't in the same classroom as the Je d'école program, but most of her classmates aren't in her new classroom either! Only a third of the class was invited to this first day as this week is phasing in the kindergarden students. So Elizabeth was there with only four other kids! I guess her overall class is somewhere between 15 and 20 students. She has two teachers - Mme Francine (the "real" teacher) and Mme Josée (the early childhood educator). She didn't particularly want me to leave. Even the appeal of crafts and playing with some rather cool new toys didn't make up for not being able to keep her mommy close beside her.
In the afternoon she took the bus home. The whole family came to the bus stop. Brendan insisted we go twenty minutes early. Boy are there a LOT of school buses that come down our street in the afternoons. Very few drivers seem to understand they should stop when the bus stops! That's a bit scary.
Brendan brought his camera in order to record the moment, but when Elizabeth actually arrived he was too overcome to do anything but give hugs :) Elizabeth is SO proud of having taken the school bus all by herself. It's by far her favourite part.
You might also like
- Virtual School: Week 39
(0.413119)
- Sheep Shearing
(0.404309)
- Virtual School: Week 34
(0.399371)
- Halloween
(0.395297)
- Dovercourt
(0.394799)
All
August 28, 2013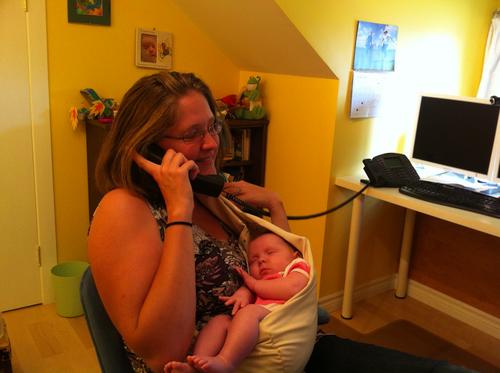 With Uncle Dave on parental leave, I guess we currently all qualify as "work at home parents". Brendan and Auntie Karen have been working hard on a website project together the last couple of months so I've had a chance to see how well behaved Isabelle is when she goes to work with Mommy!
You might also like
- Curly hair
(0.345771)
- Bubbles
(0.339181)
- First smile
(0.335404)
- Isabelle is TWO
(0.331263)
- O Christmas Tree
(0.330688)
All
August 27, 2013
We checked out the The Adventures of MR. POTATO HEAD at the Children's Museum today.
Aside from randomly having potato head figures on display, I didn't quite understand the connection between Mr Potato Head and the various components such as the archeology dig that occupied Elizabeth for nearly 45 minutes moving "rocks" up and down the conveyor belt. The actual exhibit is pretty cool. Not sure about the branded stuff.
Elizabeth interacted with the museum staff entirely in French. Even when one spoke to her in English!
In the theatre, Elizabeth told me quite seriously that she wanted to work the lights and sounds. "Not everyone needs to be on stage, Mommy" she said. "Someone has to be the person making the dragons come to eat us."
You might also like
- Curly hair
(0.334552)
- Spring walk
(0.332759)
- Music Recital
(0.328125)
- Andrew Haydon Park
(0.327935)
- Aqua-culture
(0.315394)
All
August 24, 2013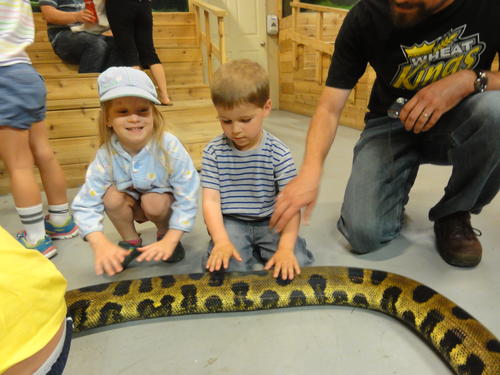 We went to Little Ray's Reptile Zoo with Dianne, David, Aidan and Caitlin. Daddy had to stay home to work.
I knew they had amphibians too, but I didn't know about the birds or mammals (time for a new name?). Apparently 80% of their collection consists of rescues. I still find it amazing that folks think an alligator is going to make a good pet!
Loved the snake named Jay (name written on his scales) - so pretty. Elizabeth refused to touch the spider but now wants one for a pet, provided she can have a smaller one. I told her they are too messy...
Afterwards, David and Dianne treated us to McDonald's. Elizabeth has a love/hate relationship with the tunnels in the play place. She clearly wanted to follow Aidan and Caitlin who were climbing all over but any time I talked her around a bend in the tunnel she panicked and let out great screeches. The echo made everything seem even more frightening but with a lot of coaxing (try touching the green tunnel segment.. now the blue), a lot of promising not to move one single step AND company in the form of Dianne she finally went in one entrance and out another. I should have taken a picture of the sign that read: "this structure accepts a maximum of children" (they didn't fill out the number)!
In the evening Uncle Murray, Aunt Judy and cousin Lauren came to visit us. Lauren was on her way up North to Pangnirtung to visit Auntie Mary and looking forward to her first flights! Elizabeth wished they could stay longer but was mollified with a strategic kinder-egg.
You might also like
- Apple Picking Reprise
(0.39595)
- Good Friday 2015
(0.377778)
- Gingerbread
(0.377119)
- Happy Earth Day!
(0.375112)
- Virtual School: Week 20
(0.374542)
All