September 5, 2013
Elizabeth is so very proud of reaching halfway between four and five. Anytime someone asks how old she is, she now adds the half.
She also prefaces every other sentence with "Just so you know..." At least those sentences in English! (Boy has her French improved in the last two weeks. Rather frightening!) She talks non-stop. And bounces.
Her reading is improving as well. She's still sounding out everything she sees ("Mommy, what does wuh wuh wuh mean?") and we're into two consonant blends now. That's interesting because she's starting to correct some of her lisps. "swit" is what she hears. But now that she sees "SP-it" on the page she is realizing that she's not quite got it right. Depending on her mood these tongue twisters lead to tears and dramatic announcements that "talking is too twicky for me!" or helpless giggles. Never sure which it is going to be.
She can also ride her pedal bike without trouble now, starting by herself and stopping too.
You might also like
- The Cat
(0.39497)
- Smiley Face Pancakes
(0.352855)
- Amelia is 2
(0.347938)
- Orange swimsuit please
(0.347645)
- LRT Grand Opening
(0.347586)
All
September 4, 2013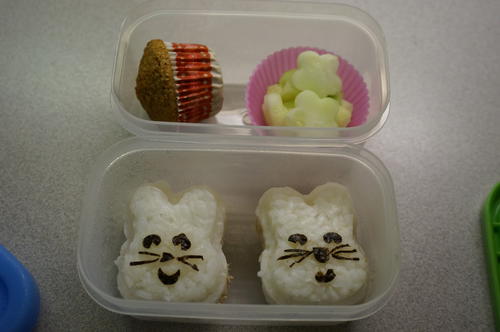 Going to school is still a big hit. Elizabeth is loving the bus. She very excitedly tells anyone who will listen (even people like our lovely, but apparently normally totally terrifying next door neighbours whom she has only spoken to under serious duress) about how she took the bus to and from school all by herself with no mommy and no daddy. Mommy seems to also be enjoying the experience but perhaps not for the reasons one might think. Lunches are fun. Who knew? Elizabeth doesn't seem to mind either.
You might also like
- Grade 2
(0.335294)
- Smiles melt a Daddy's heart
(0.307427)
- 10 days
(0.30695)
- Spring
(0.306159)
- Waterskiing, fish and clams
(0.303846)
All
September 3, 2013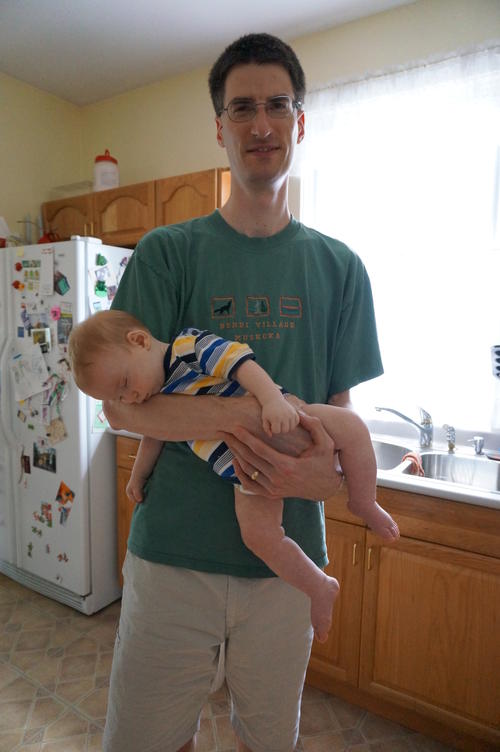 Matthew is apparently still a baby. At least that's what the pediatrician (Dr Lynn Jacoby) says. We're never quite sure what to think these days but she did seem pretty sure about it. She's amazing so we'll have to take her word for it. She also said that he looks exactly like his big sister (we can agree with that I guess), that he is still tall (75th percentile) and a little below 50th for weight. After cooing over him for a bit she proceeded to try and check up on his various bits and pieces. She tried to pin him down for his hip check and found that she was pretty much unable to do so. She ended up resorting to checking each side one at a time. Apparently he is a STRONG baby. That would explain why changing his diaper is getting to be a real challenge. He tends to want to roll over and crawl away. Given his speed and strength he often manages... After the checkup Daddy did his best to hold mister wiggle monster still while he got his shots. For some reason this job always falls on Daddy. Matthew screamed as was expected but after a quick nurse he was fine just like last time and returned to his usual sunny disposition for the rest of the day.
You might also like
- New doctor
(0.391667)
- Four month checkup
(0.373967)
- One week
(0.370238)
- MosaiCanada
(0.365651)
- Bat
(0.364812)
All
August 31, 2013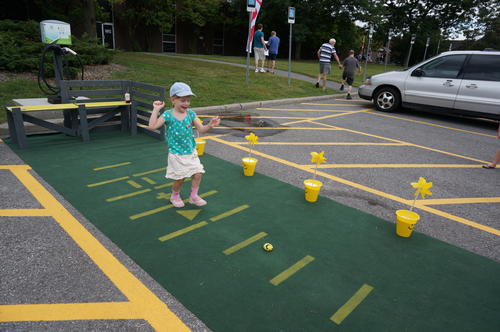 Elizabeth, Matthew and I went to the Maker Faire!
We met all the cousins while we were there (and it was only sort of planned that way). Elizabeth was not a fan of all the cool stuff that you could look at but not touch. The foosball table hooked up to an automated score keeper (because they got tired of keeping score manually) was vaguely interesting and the pinball machine was fascinating even if she *totally* did not understand what she was supposed to do. But by the time we got to the lego that she could not touch she had had enough. Cue spectacular meltdown and quick hustling outside where luckily we found her cousins AND a kid friendly hands-on activity hosted by the city of Ottawa: making paper circuits.
We participated in an art experiment and fed a stair climbing robot frisbees to hurl across the lawn. Inside we met a violin maker who runs workshops where you can learn how to make your own. She had her violin hooked up to a computer. As she played it analysed which bird songs her song sounded the most like and tweeted the result.
Elizabeth danced on a strange moving dance floor and indulged mama in looking at some of the cool 3D printers (replicators!) - at least for a nanosecond. Then she wanted to go and visit the trains. So we saw trains and more trains.
But by far her favourite activity was hopscotch. She'd never tried it before but it ties in nicely to her current obsession with hopping on one foot and you get to throw things as a bonus. She ended up going back to the hopscotch three times. And when we got home she promptly made her own.
You might also like
- Adventure
(0.392157)
- École LaGlace
(0.386189)
- 5th Birthday Party
(0.378615)
- Cottage Days: Party time
(0.37844)
- Rainbow Camp
(0.377588)
All
August 29, 2013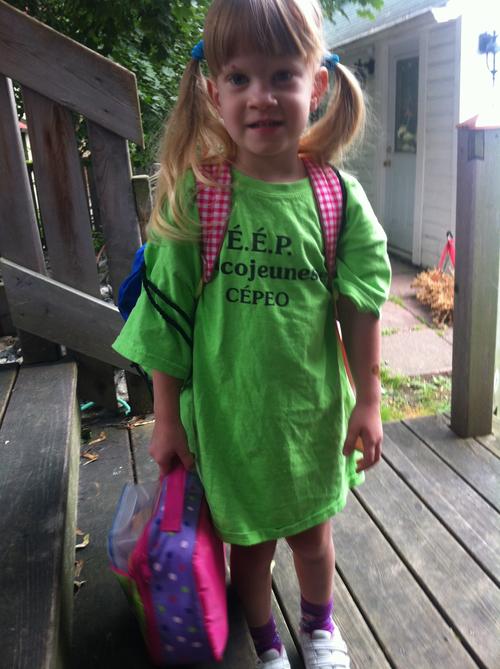 School started for real today. Elizabeth was very excited but worried about leaving mommy behind.
We opted not to send her on the school bus in the morning. We had visions of her refusing to stay seated and crying all the way there; which wasn't how we wanted the first bus ride to go. Besides I wanted to meet the teacher and see her classroom!
I was dismayed to find out that she not only wasn't in the same classroom as the Je d'école program, but most of her classmates aren't in her new classroom either! Only a third of the class was invited to this first day as this week is phasing in the kindergarden students. So Elizabeth was there with only four other kids! I guess her overall class is somewhere between 15 and 20 students. She has two teachers - Mme Francine (the "real" teacher) and Mme Josée (the early childhood educator). She didn't particularly want me to leave. Even the appeal of crafts and playing with some rather cool new toys didn't make up for not being able to keep her mommy close beside her.
In the afternoon she took the bus home. The whole family came to the bus stop. Brendan insisted we go twenty minutes early. Boy are there a LOT of school buses that come down our street in the afternoons. Very few drivers seem to understand they should stop when the bus stops! That's a bit scary.
Brendan brought his camera in order to record the moment, but when Elizabeth actually arrived he was too overcome to do anything but give hugs :) Elizabeth is SO proud of having taken the school bus all by herself. It's by far her favourite part.
You might also like
- Virtual School: Week 39
(0.413119)
- Sheep Shearing
(0.404309)
- Back to School
(0.404255)
- Virtual School: Week 34
(0.399371)
- Halloween
(0.395297)
All