September 11, 2013
Matthew at seven months is very, very, very busy. Apparently Elizabeth was "bear crawling" at the same age, but we didn't comment on whether she was getting into EVERYTHING the way her brother does.
He's discovered doors and drawers this month. And is learning how to open them. If I open the fridge, there's Matthew slithering his way across the floor and then pulling himself up to play with the bottles.
While he is able to get up on all fours and occasionally demonstrates "normal" crawling, his locomotive method of choice is definitely to pull himself along mostly with his arms. He has gotten seriously fast and we all know to keep our toes out of his mouth (toes are a favourite target, especially mom's toes!).
Favourite toys are anything shiny, pointy, dangerous or belonging to his sister. Electrical wires are particularly attractive. He has peculiar genius for finding things we were sure we didn't have to babyproof yet. I am sure he has go-go gadget arms...
Today he pulled himself to standing for the first time. Eek!
You might also like
- Picture with a bear - Six months
(0.3947)
- 21 months
(0.356511)
- Shark!
(0.355198)
- 23 months
(0.35419)
- Crawling...
(0.353362)
All
September 7, 2013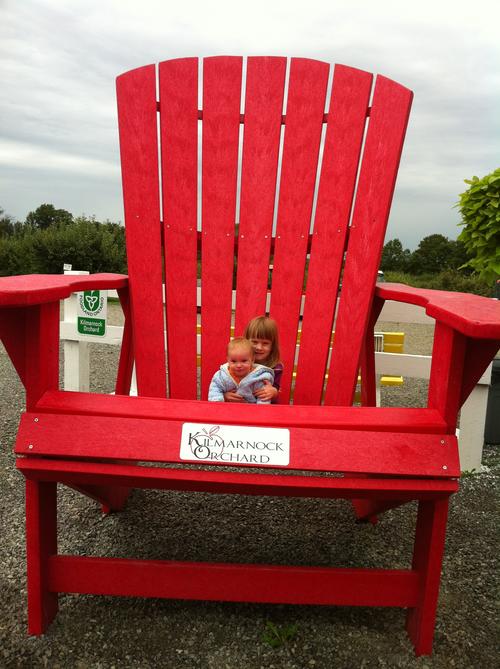 I've never been apple picking before, but I've always wanted to!
I finally promised Elizabeth we'd go Saturday. Daddy had to work but I bundled the kids in the car and drove to Uncle Chris' favourite spot, about an hour away.
It doesn't have corn mazes and hay jumps like some of the other more commercial places but that suited us just fine. There was a little train pulled by tractor. We rode it four times because Elizabeth "badly" wanted to walk the little trail ("That man SAID it was good for kids. And I'm a kid, right mom? Do you think he meant it was okay for babies too?" eyes Matthew doubtfully) I didn't want to walk the trail while loaded with two ginormous bags of apples and thought it wise to pick the apples first, so four rides it was! Elizabeth did not object...
I'm happy to report that Elizabeth picked apples more diligently than strawberries earlier this summer. Matthew had a very happy time crawling from one worm eaten apple to another.
Elizabeth enjoyed the play structure very much too.
The ride back was rather stressful because the car dinged low on gas just before we arrived. I asked for the closest gas station, and the farmers reckoned I'd have to drive to Smith Falls or Ottawa. So I duly checked on Google maps. 14 km to nearest gas station. Car said: you have 12 km range. I was driving around on 0 km praying that I wouldn't have to call someone to rescue me. Meanwhile my phone battery was dying too (I took too many videos at the orchard or something). One thing you might not know about me is that I hardly ever fill the car (maybe a dozen times ever in nearly two decades of driving). This now makes the second time that I have frantically been searching for a gas station while watching the range left flash 0km at me. It was about as stressful as I remembered the last time! But I did make it and had just over a litre and a half left in the tank...
You might also like
- Apple Picking Reprise
(0.411894)
- Race weekend 2017
(0.397059)
- Recovery
(0.389849)
- Bloodwork
(0.388672)
- TriKids Triathlon 2017
(0.387597)
All
September 5, 2013
Elizabeth is so very proud of reaching halfway between four and five. Anytime someone asks how old she is, she now adds the half.
She also prefaces every other sentence with "Just so you know..." At least those sentences in English! (Boy has her French improved in the last two weeks. Rather frightening!) She talks non-stop. And bounces.
Her reading is improving as well. She's still sounding out everything she sees ("Mommy, what does wuh wuh wuh mean?") and we're into two consonant blends now. That's interesting because she's starting to correct some of her lisps. "swit" is what she hears. But now that she sees "SP-it" on the page she is realizing that she's not quite got it right. Depending on her mood these tongue twisters lead to tears and dramatic announcements that "talking is too twicky for me!" or helpless giggles. Never sure which it is going to be.
She can also ride her pedal bike without trouble now, starting by herself and stopping too.
You might also like
- The Cat
(0.39497)
- Smiley Face Pancakes
(0.352855)
- Amelia is 2
(0.347938)
- Orange swimsuit please
(0.347645)
- LRT Grand Opening
(0.347586)
All
September 4, 2013
Going to school is still a big hit. Elizabeth is loving the bus. She very excitedly tells anyone who will listen (even people like our lovely, but apparently normally totally terrifying next door neighbours whom she has only spoken to under serious duress) about how she took the bus to and from school all by herself with no mommy and no daddy. Mommy seems to also be enjoying the experience but perhaps not for the reasons one might think. Lunches are fun. Who knew? Elizabeth doesn't seem to mind either.
You might also like
- Grade 2
(0.335294)
- Smiles melt a Daddy's heart
(0.307427)
- 10 days
(0.30695)
- Spring
(0.306159)
- Waterskiing, fish and clams
(0.303846)
All
September 3, 2013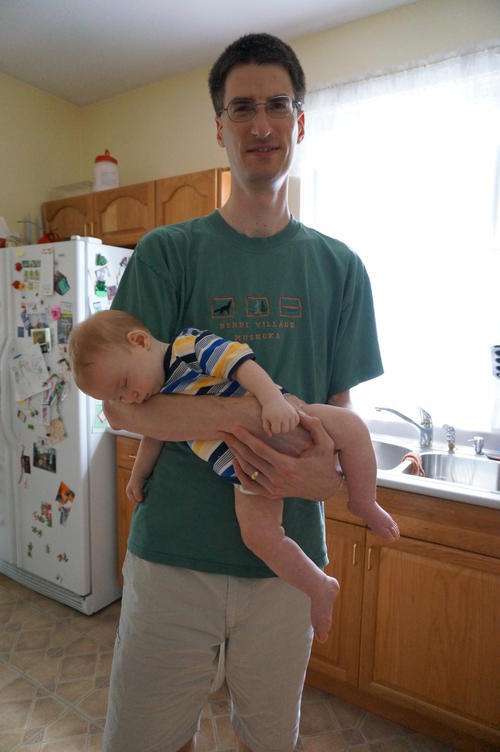 Matthew is apparently still a baby. At least that's what the pediatrician (Dr Lynn Jacoby) says. We're never quite sure what to think these days but she did seem pretty sure about it. She's amazing so we'll have to take her word for it. She also said that he looks exactly like his big sister (we can agree with that I guess), that he is still tall (75th percentile) and a little below 50th for weight. After cooing over him for a bit she proceeded to try and check up on his various bits and pieces. She tried to pin him down for his hip check and found that she was pretty much unable to do so. She ended up resorting to checking each side one at a time. Apparently he is a STRONG baby. That would explain why changing his diaper is getting to be a real challenge. He tends to want to roll over and crawl away. Given his speed and strength he often manages... After the checkup Daddy did his best to hold mister wiggle monster still while he got his shots. For some reason this job always falls on Daddy. Matthew screamed as was expected but after a quick nurse he was fine just like last time and returned to his usual sunny disposition for the rest of the day.
You might also like
- New doctor
(0.391667)
- Four month checkup
(0.373967)
- One week
(0.370238)
- MosaiCanada
(0.365651)
- Bat
(0.364812)
All