September 17, 2013
The danger of making cute lunches is that the lunch recipient might find it "too cute to eat".
I am now under strict orders to take a photo of lunches before they leave the house so that no one goes hungry...
You might also like
- Lunches
(0.257143)
- Lunch
(0.256667)
- Lightning Storm
(0.250951)
- Xander's birthday
(0.250814)
- Footprints
(0.246637)
All
September 16, 2013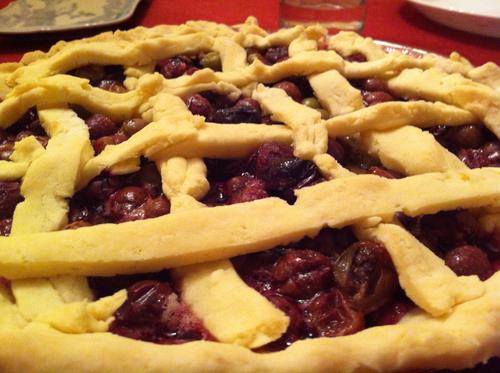 Grandma B's Recipe for Grape Pie Filling
Grandma says: For best results you have to pick your own grapes in Crosshill on a ladder.
Mary says: Use Ontario Grapes (these are from Auntie Heather's vine!)
Andrea says: If you leave the seeds in it tastes like there are insects in it.
3 cups grapes (remove seeds if you like)
1 cup sugar
3 Tbsp flour (or cornstarch!)
1 Tbsp butter
1 Tbsp lemon juice (or a dash of cinnamon)
Pour into pie crust, cover with top crust or strips.
Bake 425F for 10 minutes, then 350F for 30 minutes.
You might also like
- GF Girl Guide Cookies
(0.260684)
- Magic Mud
(0.255319)
- Happy Birthday Janice
(0.251082)
- First Steps
(0.25)
- Tulips
(0.247601)
All
September 15, 2013
The other day I told Elizabeth we were going to have pork chops for supper. "Oh GOODY!" she declared. "I get to use my chopsticks!"
Turns out she loooves eating with chopsticks. Actually she loooves eating Japanese food in general, making Auntie Yukiko very happy.
So we were very happy to indulge Auntie Janice when she declared that we needed to get back into the habit of eating sushi at home, since we can't order allergy safe sushi here!
You might also like
- More snow
(0.306667)
- Brownies
(0.304478)
- Olympic skater
(0.297445)
- Hashi
(0.297436)
- Rain rain go away
(0.293399)
All
September 14, 2013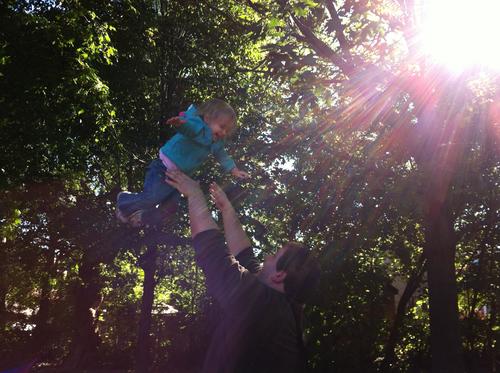 Kids! They grow! All the babies have morphed into these little adorable people who look exactly like their parents.
You might also like
- Bus stop cute
(0.207692)
- White gi
(0.184615)
- St Peter and St Paul
(0.184524)
- Michael at tournament team
(0.18018)
- Grandma and Grandpa H
(0.177885)
All
September 11, 2013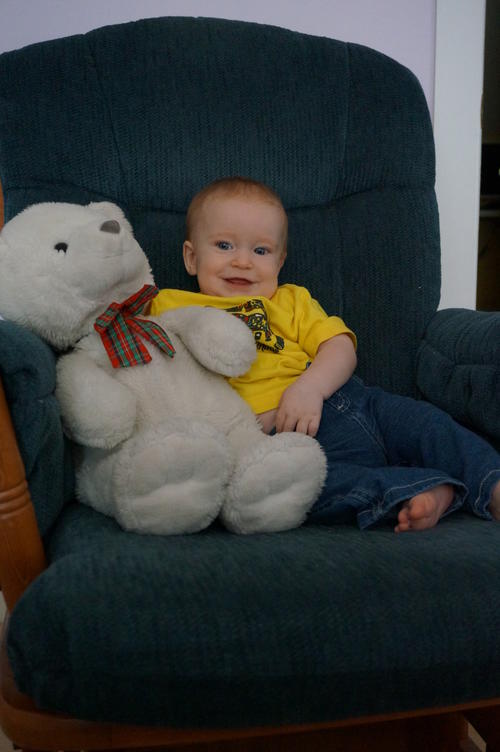 Matthew at seven months is very, very, very busy. Apparently Elizabeth was "bear crawling" at the same age, but we didn't comment on whether she was getting into EVERYTHING the way her brother does.
He's discovered doors and drawers this month. And is learning how to open them. If I open the fridge, there's Matthew slithering his way across the floor and then pulling himself up to play with the bottles.
While he is able to get up on all fours and occasionally demonstrates "normal" crawling, his locomotive method of choice is definitely to pull himself along mostly with his arms. He has gotten seriously fast and we all know to keep our toes out of his mouth (toes are a favourite target, especially mom's toes!).
Favourite toys are anything shiny, pointy, dangerous or belonging to his sister. Electrical wires are particularly attractive. He has peculiar genius for finding things we were sure we didn't have to babyproof yet. I am sure he has go-go gadget arms...
Today he pulled himself to standing for the first time. Eek!
You might also like
- Picture with a bear - Six months
(0.3947)
- 21 months
(0.356511)
- Shark!
(0.355198)
- 23 months
(0.35419)
- Crawling...
(0.353362)
All